August 24, 2021
Loss of drug substance - the challenges
In recent years, if not decades, gene therapies have proven to be key drivers of growth in the pharmaceutical industry. Production is often complex, challenging manufacturers with new hurdles: The fragile nature of medical drug products has forced the industry to find new approaches for filtering and fill finish as well as the logistics process.
In an extremely complex, competitive and constantly evolving field like the biopharmaceutical industry, the tiniest mishaps have far-reaching consequences on several levels. In order to get a valuable drug product to its final destination without compromising quality or risking loss of drug substance, an efficient and reliable bulk drug substance management is required. Read on if you want to find out what is or can be done to minimize biotherapeutic product loss and how scalable and agile solutions are offering innovative ways forward.
Minimizing biotherapeutics product loss
Even though they are often overlooked, fill/finish operations fulfil an important task when manufacturing biotherapeutics. They cover a critical step in the drug production process, especially during early-phase clinical evaluation: Medical drug products are a complex and highly sensitive matter that require a sterile environment and absolutely reliable logistics processes - terminal sterilization is not an option.
This means that irrespective of volume, any medical product needs to be sterilized by point-of-fill filtration, which poses a number of challenges, both in regulatory and operational terms. And if anything goes wrong, it will lead to dire consequences for both the manufacturer: The loss of just 1 L of drug substance may incur exorbitant costs and pose a danger for the patient whose life might depend on the timely delivery of said drug (for instance in the case of CAR-T therapies).
This is why the loss of drug substance during filling, storage and shipping needs to be kept to an absolute minimum, be it for clinical trials or during bulk production. Fill/finish facilities are challenged to address these issues and find ways to reduce the loss of drugs to an absolute minimum while complying with regulatory standards as well as testing and quality guidelines.
Drug substance manufacturing - the scale-up challenges
While drug substance is needed in small amounts for a large number of safety studies and clinical trials, production needs to be scaled up once a product has been approved. There is an increasing demand for greater quantities, quality and documentation when moving from the pre-clinical phase towards authorization and bringing a product to the market.
This brings with it its own set of challenges and it is essential for the drug substance manufacturing process to be scalable, both from a technical and economic perspective. It is imperative for manufacture to be scaled up from milligrams to large volumes without impacting the quality or the performance of the active pharmaceutical ingredient (API).
The time required for the complete process of moving a substance from preclinical into early-stage clinical development phases can vary and depends on several factors such as complexity. This is why it is important to deal with scale-up challenges early on and develop a solid, possibly modular, process that is both flexible and agile. Such a process should cover all steps and comply with safety protocols in order to ensure that timelines and quality standards are met, be it for early-phase API deliveries or an approved drug substance.

Loss of drug substance regarding Car NK or Car-T therapy
In 2012, 6-year-old Emily Whitehead, who was suffering from leukemia, received a promising new CAR-T cell therapy. None of the other applied therapies had proven successful, and specialists had already given up hope. Against all odds and thanks to a novel therapeutic approach, Emily could be healed and has remained cancer-free since. Her case was a breakthrough and signified the start of a new era in the fight against cancer.
The basic idea behind CAR-T and CAR-NK therapies is to attack tumorous cells with the patient's own cells. NK and T-cells are elements of the human immune system that can be genetically manipulated to recognize cancerous cells as a threat to the body and will thus start to attack them. What may sound simple is in reality a highly complex and time-consuming developmental process. Every single therapy has to be tailored to the respective patient, which makes it a laborious and challenging process.
The volumes required for such personalized therapies are naturally much smaller than for blockbuster medication. However, loss of drug substance remains an issue even - if not even more so - with small amounts, and the pharma industry is challenged with finding logistical solutions that are 100 % safe and reliable.
Scalability and agility in drug manufacturing - as solution
Today's market is more complex than ever before - timelines are shortened thanks to technical progress and the number of new products being developed and brought to the market has reached an unprecedented scale. There is a noticeable shift to niche therapies that increases the need for more flexibility and agility. The market requires versatile manufacturing processes and supply solutions that can be scaled up or down more or less effortlessly as required while at the same time preventing any loss of drug substance.
Selecting the appropriate manufacturing scale to satisfy individual process yields is key when wanting to ensure that product demands are met at every stage - from trials to final launch. In order to keep costs down and minimize risks, scalable solutions are the way forward. Thanks to their modular nature, solutions based on single-use technologies offer a comprehensive and elaborate logistics approach, at the same time ruling out risks of incompatibility and potential product loss or other damages caused by human error.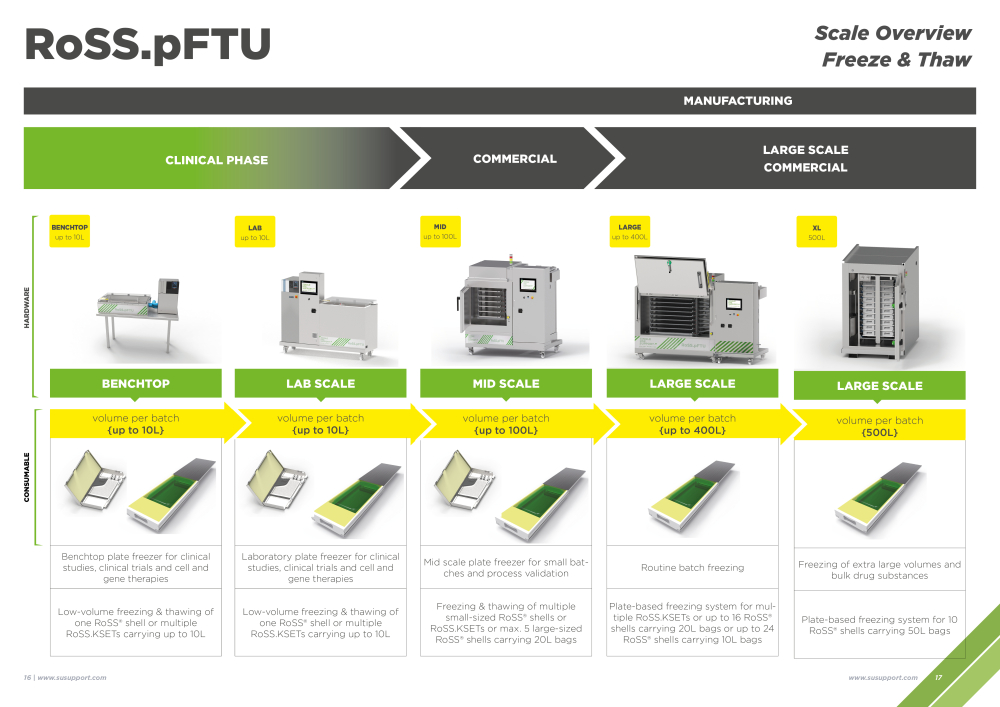 Solution & Conclusion
Size may matter but so does a sophisticated scalable manufacturing and logistics process that is consistent in its flexibility and agility. A closed system that can be adapted offers a versatile solution that can be utilized from early-stage trials and lab purposes all the way to blockbuster production.
With their BULK.STREAM, Single Use Support are closing the gap between downstream and the fill & finish process, while their RoSS shell system makes sure that every filled single-use bag is protected during the entire freeze and thaw process, covering storage and shipping. On the basis of single use bags, they are providing access to a new, reliable and secure logistics process for liquids, allowing you to safely store high-quality substances in a faster and more secure manner, and at a lower loading volume than to date.
Automated processes help increase transparency and improve confidence of delivery. They allow for new levels of transparency and reliability all the way from fill to finish. Single Use Support are utilizing these automated processes in order to minimize the risk of biocontamination and product loss towards 0%, at the same time minimizing the potential for human error and increasing patient safety.