November 25, 2021
Success rate of a CAR T-cell therapy
CAR T-cell therapy (short for Chimeric Antigen Receptor) is a new type of cancer treatment. It works on the principle of extracting blood cells that help to protect the body from infection and disease from the patient's blood. Before being re-injected they are genetically modified in order to target and fight cancer cells.
The CAR T-cell therapy's effectiveness has been proven: It has verifiably cured people where all other treatments have failed. Over time and thanks to ongoing development, experts are expecting the success rate of this novel treatment to increase, their positive outlook being backed by several studies.
High effectiveness of CAR T-cell therapy
About half of the patients treated so far could be cured, which in medical terms means that two years after treatment they are still without relapse and free of cancer cells. Clinical studies have proven that up to 92 % of treated patients suffering from Acute Lymphatic Leukemia (ALL) could be fully cured. Current findings show that the therapy is particularly effective in the treatment of lymph node cancer and leukemia, as has been highlighted by a global study with more than 1,000 patients.
Success rate
As far as the CAR T-cell success rate goes, there are several studies to prove that this new approach is working: According to data provided by the Medical University of Chicago​1​, the CAR T-cell therapy success rate is about 30% to 40% for lasting remission, with no additional treatment.
Another clinical study involving CAR T-cell therapy for patients with lymphoma or leukemia confirms this hopeful outlook: Out of eleven patients participating in the study, seven had a complete remission, as was reported by the New England Journal of Medicine.​ 1
Experts are optimistic that engineered CAR T-cells can be the way forward for cancer patients that did not respond to any other treatment. The FDA has currently five CAR T-cell therapies approved.2
How long does it take for a successful CAR T-cell therapy?
Before the doctor can start a CAR T-cell therapy, the patient receives a short course of chemotherapy over two to three days. This is in order for the normal immune system to not reject any CAR T-cells. But even prior to that T-cells need to be extracted from the patient's blood in an elaborate process.
The cells are then sent to a lab to be turned into CAR T-cells in a process that typically takes about three to six weeks. During this time, the T-cells are activated, multiplied, and infected with a virus, which results in genetic modification. Once the process is completed, the CAR T-cells are frozen for transportation and shipped to the doctor treating the patient, so the infusion can be initiated.
Due to the sensitive nature of the matter, a reliable and controllable logistics process is specifically important. Only protected storage and transportation will ensure the cells' safe arrival at their final destination. As such, reliable providers of end-to-end solutions like Single Use Support are the only way to guarantee and maintain the therapy's success rate.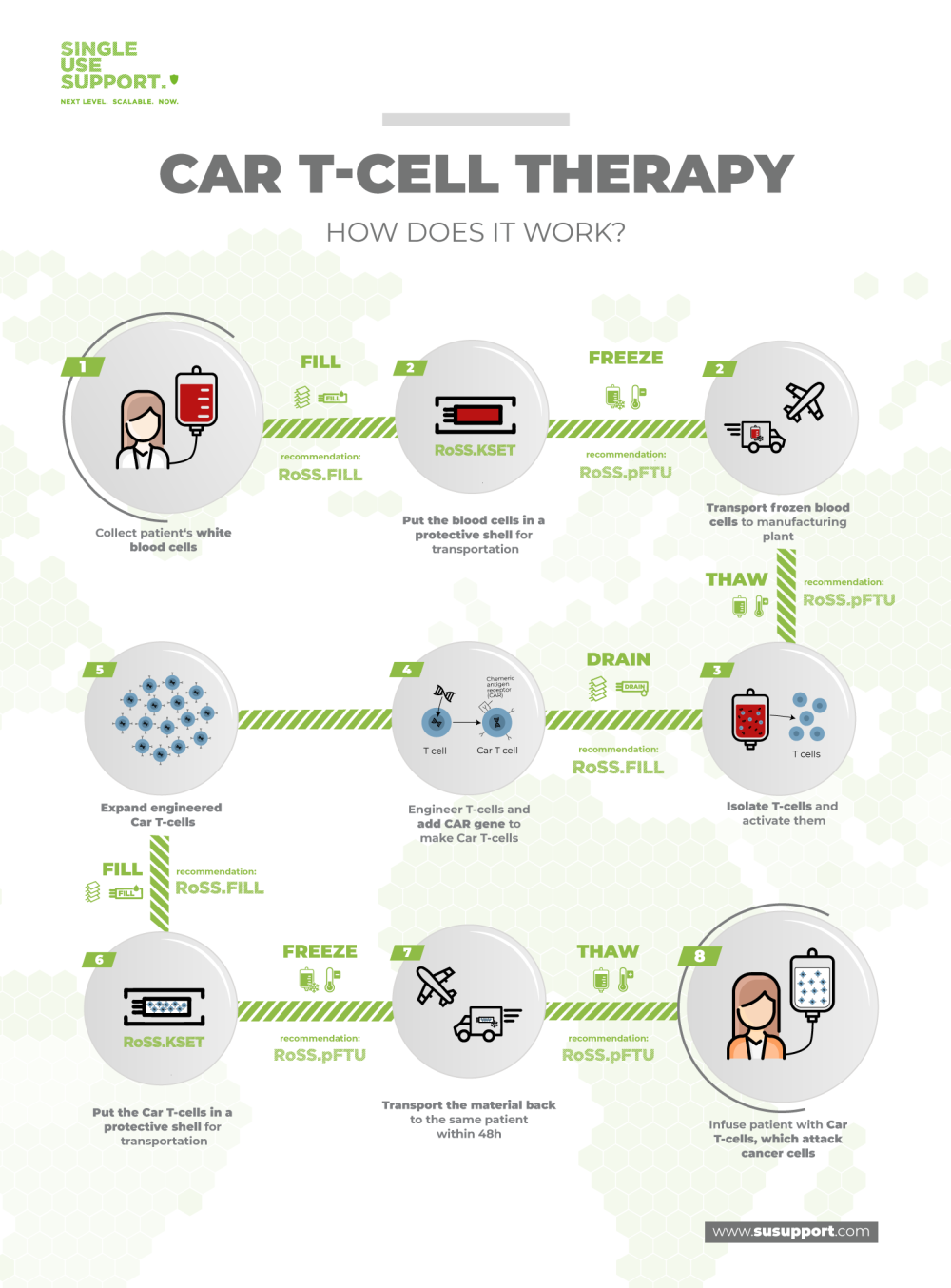 CAR T-cell costs as a limitation to treat a wide range of patients
Extensive cancer research regarding the CAR T-cell therapy's future potential is underway, with a focus on finding new fields of application. Currently, only patients suffering from specific types of cancer (blood cancer), and who did not respond to traditional chemotherapy and stem cell transplants, are being treated.
So far, the CAR T-cell therapy is a complex procedure with exorbitant costs of approximately EUR 275,000 (USD 312,500) per patient before treatment costs. However, medical experts have high hopes and they see this personalized treatment options as nothing less than a quantum leap forward in cancer treatment.
Challenges in extending CAR T-cell therapy
In order to not jeopardize the CAR T-cell therapy's success, an absolutely reliable and sterile logistics process with automated steps is crucial – including for storage and shipping. The Austrian company Single Use Support with its headquarters in the Tyrolean Alps has set itself the goal to address the potential bottlenecks of the pharmaceutical logistics process and to offer solutions that are scalable so they can be adapted to the actual need.
What are the potential risks of the CAR T-cell therapy?
As mentioned before, the chances for success are cause for hope – after all, the majority of patients treated remains cancer free after two years. However, due to the CAR T-cell therapy's relative "youth", its lasting effects are not yet extensively researched nor are they proven. There is just not enough scientific data to rely on for long-term prognoses.
The patient's blood is extracted and infused via the veins in order to keep the risk of infections as well as physical stress during transplantation at a minimum. However, the patient's system has been weakened by the preceding chemotherapy, while the CAR T-cell infusion can lead to a number of side effects, which can differ in both impact and severity for each patient. There is furthermore a risk that the cells cannot be multiplied at the lab or that they do not show the desired effect.
Innovation & progress in cell and gene therapies
Germany is calling for a measured introduction of the CAR T-cell therapy to the standard care system that postulates thorough and comprehensive evaluation regarding the therapy's proven benefits. In order to regulate prices for new medications, there is a call for new and complex cell therapies to be researched and developed not only by established big market players but also by independent labs.
This would mean that in future, labs can produce their own compounds beyond the phase of research and development. And this is where Single Use Support's scalable and agile systems based on single-use compounds come into play. Their end-to-end process solution for cell & gene therapy is a game changer. Find out in which countries CAR T-cell therapy is available.