July 11, 2019
Start small but think big & endless scalability all the way from the lab to blockbuster level!
According to the 2017 CPhI annual report the market for biological pharmaceuticals is projected to reach approx. USD 390 billion in the coming two years; the need for efficiency and speed is likely to surpass the market. The emergence of personalized medication calls for smaller batch sizes while new drug product modalities and production technologies highlight the need for adaptable manufacturing environments.
Why single use systems will replace stainless steel
Manufacturers of biopharmaceuticals need to exhibit an increasing degree of flexibility. Optimum scalability will become an evermore important factor for biopharmaceutical corporations looking to adopt new technologies.
It is a development that calls for dynamic process economics in terms of the transition from blockbuster drugs manufactured on the basis of established production schemes for large batch sizes to small batch sizes and innovative technologies.
This change of thinking in turn benefits the establishment of single use technologies as a biopharma industry standard. Single use technologies offer a high degree of flexibility and efficiency in the biopharmaceutical manufacturing process.
The numbers from recent years can prove that:
The global market for all types of biopharmaceutical single use products amounted to almost USD 1.4 billion in 2013 and grew to USD 1.7 billion in 2014. For 2019, the projected market growth amounts to USD 3 billion. (BBC research)
The amount of work between batches is considerably lower with SUT as the CIP- and SIP processes that are necessary for stainless steel become void. According to GE Healthcare Life Sciences, the changeover time between batches is up to five times shorter for single use systems than for stainless steel reactors, which allows for the production of an additional seven batches annually.
Single use facilities have the capacity to produce and expand batches in a short timespan, which has proven as an attractive asset both for emerging markets and for start-ups. There is no doubt that single use systems are going to be part of any future production strategies put in place by the biopharma industry.
Single Use Support offers maximum scalability and patient safety
At Single Use Support we have recognized this trend and have adapted our single use technologies to the current market needs. Our facilities allow manufacturers to manage the entire liquid logistics process all the way from Down.Stream to fill & finish – single-use filtration system
On the basis of standardized single-use bioprocess containers, manufacturers of biopharmaceuticals have access to a new and reliable logistics process for liquid goods. All our facilities are compatible with single use bags of all established sizes and manufacturers, in turn facilitating an easy switch from small to large batch sizes.
Our freeze-thaw platform is a prime example for systems that allow for a fast and secure freeze- and thaw process for any given batch size – all the way from the lab to blockbuster scale.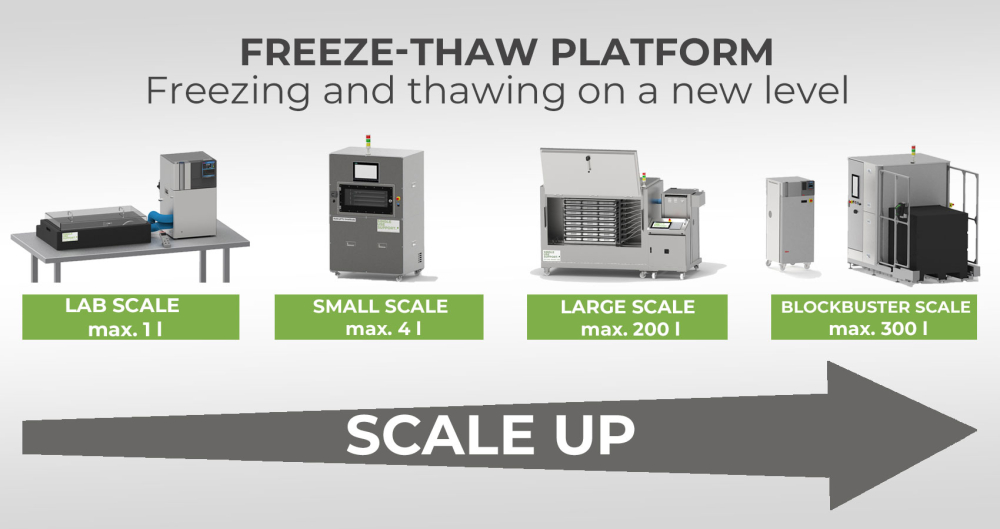 The perfect single-use solution for the freeze&thaw process
In order to guarantee full scalability, we have developed freezing units for lab studies, small batches, and large volumes of "bulk drug substance". Furthermore, all single-use bags protection units are compatible with single-use bags of all sizes and from any established manufacturer:
Our "lab scale" freeze-thaw platform is ideal for lab studies and the implementation of regulated freeze-thaw processes.
The "small scale" freezing unit is a compact freeze & thaw platform that is ideal for studies and small batches.
"Large scale" is our "standard" freeze-thaw unit for various batch sizes.
And for "bulk drug substance" of up to 300 l in a single single-use unit we have developed "blockbuster scale", our large freeze and thaw unit.
Apart from maximum scalability, the RoSS.pFTU freeze-thaw platform offers further advantages:
On the basis of our plate-based technology, liquid drugs can be frozen and thawed in a particularly quick and constant manner, thus increasing patient safety. The plate-based freeze unit and our RoSS Shells are an ideal combination: The stainless steel shell allows for a consistent temperature transfer; like this, the single use bags and the drug substance contained within are subject to an optimally regulated freeze-thaw process.
And in case you are not fully convinced yet, you can rent our "lab scale" platform for three months and find out for yourself.