October 20, 2021
Single-use design made simple with our configurator
Flexibility and the option to customize are key for any company wanting to make it in today's highly competitive and highly regulated market. Customizable solutions are needed in order to fulfill those requirements. And while single-use systems have been adopted in a number of areas, aseptic processing and sterile filling have been somewhat neglected - until recently.
Lately, a growing number of CMOs have started to recognize the gap in terms of single-use tubing assembly solutions. They are offering biopharmaceutical tubing and manifold sets and assemblies that can be more or less customized to meet changing needs in lab and full-scale production environments.
Custom silicone tubing offers a seamless transition from the production line to the filling system, speeding up your entire operation and adding to a safe and comfortable filling process. It is the missing piece to complete a range of customizable systems. However, not all systems are necessarily compatible with one another - but this is about to change with the free and simple, easy-to-use single-use assembly configurator on configurator.susupport.com that is taking customization, compatibility and flexibility to the next level. Find out how and why in this article.
Single-Use Assembly Configurator: next level of Custom Single-Use Tubing Assemblies
Single-use tubing makes it easy to provide individual and customized solutions, thus offering a new degree of flexibility that is certainly needed in the highly competitive biopharmaceutical market. With single-use filling systems gaining ground, easy configuration of manifolds assemblies - and of any assemblies for that matter - should be a given.
The easy and straightforward design of custom single-use systems has become reality in the shape of a user-friendly configurator on configurator.susupport.com. It offers a customized single-use assembly & tubing system based on different sterile consumables that can be combined in practically any fashion, thus offering a myriad of options as well as the following benefits:
Easy customization of a standard prototype
Custom-made connections
Highest degree of flexibility and scalability
The quality required for sterile/aseptic operations
Shortest possible lead times
Individual selection of your parts
In order to really achieve the greatest degree of flexibility and customization, customers need to be able to freely select and choose the parts required for their respective single-use assemblies. This not only includes different components such as tubings and connectors but also various sizes and parts made of a choice of materials.
Customized, flexible single-use tubing assemblies can come in any size and complexity, and they can include any number of connections, fittings and accessories in order to be adaptable to any kind of lab and/or production set-up.
Simply click on add a preset in the configurator to choose from a range of options and to configure an assembly that meets all your needs - it really is that simple.
Simple configuration of your manifold assembly connections
Simple solutions require straightforward approaches. One such approach is our configurator that provides you with an easy way to design your custom-made single-use manifold assembly.
Another approach is the right choice of components: In order to reduce assembly time, downtime and costs while at the same time providing you with a reliable, uninterrupted, sterile fluid pathway, we are using clamps and ties instead of molded or barbed fittings to connect our single-use assemblies.
Our connectors include ​​
Y and T connectors
crosses
filters
custom-made designs including elbows and special sizes
Find a comprehensive list of options by clicking on add a preset in the configurator. All parts used in our assemblies are made of a choice of high-quality, medical-grade materials that meet the needs and standards of the biopharmaceutical industry.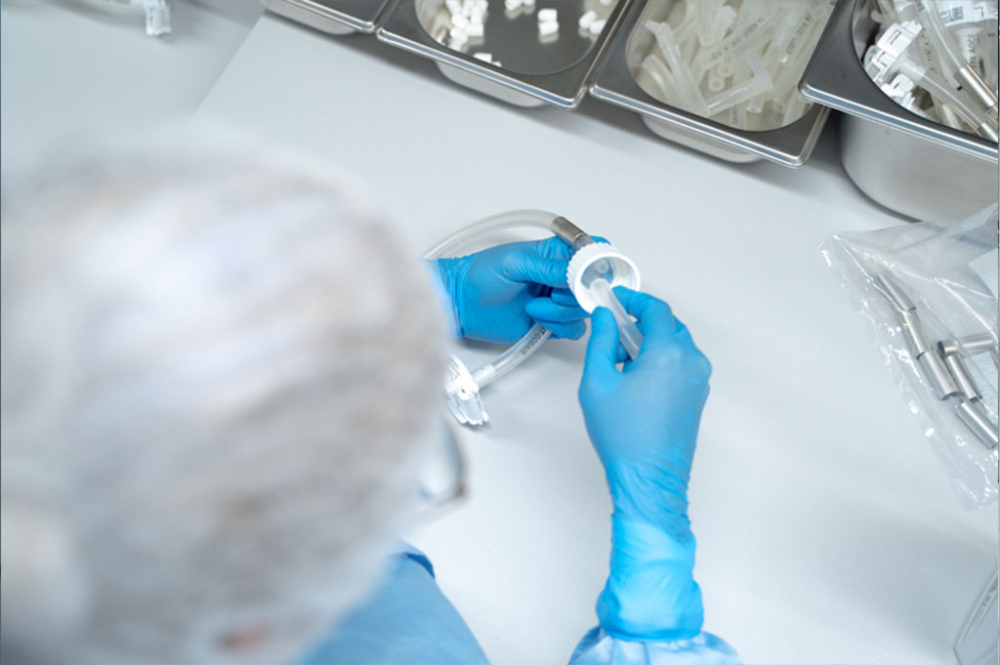 Who benefits from the single-use assembly configurator?
While single-use tubings are utilized in a number of industries, they are particularly prominent in the pharmaceutical and biopharmaceutical industries, as they are ideally suited for aseptic processing and aseptic bag filling purposes.
Single-use assemblies are easier to customize but also more sterile and cost-effective than traditional stainless-steel systems. And while customized single-use filling solutions are not completely new, the approach offered by our configurator is taking customized solutions a step further, with bioprocessing and other high-purity processing operations profiting the most:
Bioprocessing: Biopharmaceutical tubing assemblies can be easily configured and assembled to meet the growing demand in terms of biologics and biosimilars; they help optimize the supply chain and improve lead times
Other high-purity processing operations: Sterile single-use assemblies for pharmaceutical industries and similar areas eliminate the need for expensive sterilization procedures and traditional processing technologies; they prevent cross-contamination and add to the overall product safety
Where to configure single-use manifold assemblies?
As mentioned above, customized single-use tubing assemblies are quickly gaining ground in a number of industries, which is why they are also being offered by a growing number of CMOs. At configurator.susupport.com we are taking the call for flexible solutions and for simplicity literally, making simple configuration a reality.
We strive to always be one step ahead in terms of simplification and optimization: On our website, we are offering a unique configurator that allows customers to create, configure and modify their custom manifold assembly design. By simply choosing the components they need - from sterile silicone tubing to filters and bags - they can create exactly what they need with just a few clicks. Once they are satisfied with their new single-use assembly, they can download and start implementing their design with the support of our engineers.
How will you benefit from our simple single-use assembly configuration?
Customized manifold assemblies are the missing link connecting established industry standards, allowing for increased levels of compatibility. They can be utilized for a number of procedures including filtration and aseptic filling. Sterile silicone tubings made of medical-grade materials reduce, if not eliminate, the risk of contamination and, in extension, costly product loss.
Our single-use assembly configurator is a logical advancement of the single-use tubing approach. As a customer you benefit from:
Free 3D planning software and comprehensive service from a single source: With just a few clicks, you can configure your assemblies according to your specifications and requirements.
Highly individual consultation, prototyping as serial production: Work with our design team to benefit from individual support and all the help you need in order to tackle your bioprocessing challenges.
Fast delivery: If something does not fit, we make it fit - or find an alternative solution without impacting your processes or speed to market.
Independence from manufacturers: A process made easy with the free online configurator on configurator.susupport.com.
Reproducibility as needed: As an external CMO we command all the developing skills and resources necessary for intelligent and lasting designs that will help you bring your technology to the next level.