March 11, 2022
Grand opening of Single Use Support's second location
With the official inauguration of its second site in Hall in Tyrol, the Austrian biopharma fluid management specialist is increasing its capacities of office spaces, warehouse and production of single-use systems threefold.
Single Use Support GmbH has already started production in its new location in late October 2021. Now the time is upon us for the official opening of the second site. Officials from regional and national politics have followed the invitation to the festive inauguration of the pioneering company, such as Austrian federal minister for digitalization and economic location Margarete Schramböck, mayoress of Hall Eva Maria Posch, provincial councilor of Tyrol Johannes Tratter and President of Chamber of Commerce Tyrol Christoph Walser.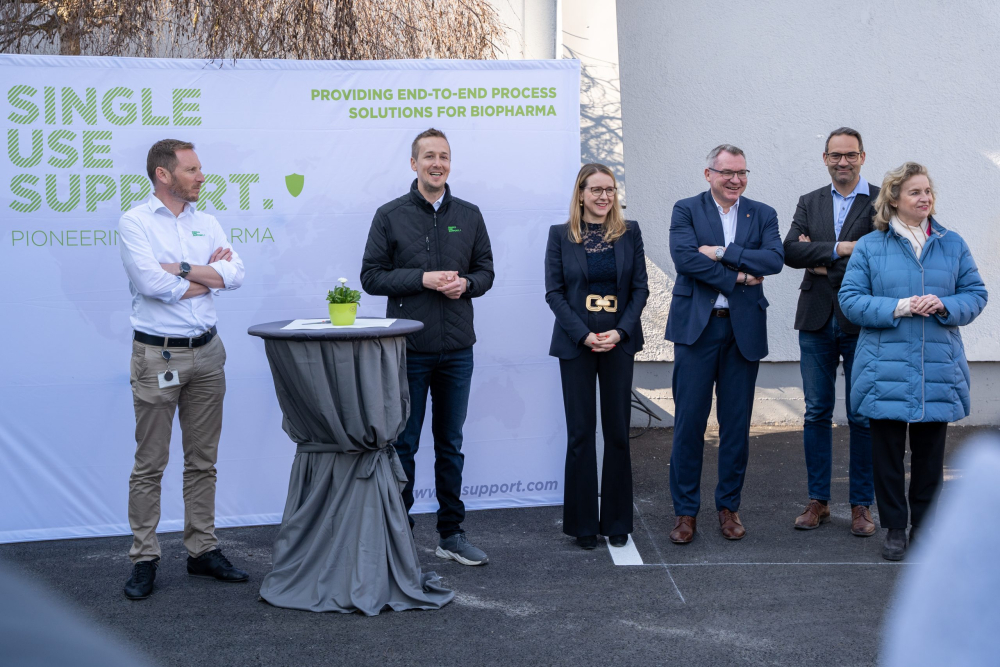 Threefold increase in size of company premises
Single Use Support has amplified manufacturing and assembly of single-use systems: the new location in Hall in Tyrol added significant overall capacity of 8500m2 for office, warehouse and production space servicing global pharmaceutical companies. The award-winning "rising star" thus grows threefold.
"We keep our promises to serve the needs of our customers in the biopharma industry with mission-critical single-use consumables at shortest lead times", states Christian Praxmarer, Managing Director and Chief Customer Fulfillment Officer.
"By doing so we increased storage and cleanroom capacities to deliver single-use solutions faster and more independently from procurement chain", he adds. Single-use systems currently produced include both the self-designed RoSS® tray for the protection of fragile single-use bags and tubing systems used to fill and transfer liquid medicine in a sterile and standardized manner.
Global Supply from Austria
Located one driving hour away from its headquarters in Kufstein, the new facility expands Single Use Support's capabilities to manufacture, package and deliver single-use solutions globally. In Q2 the production of Single Use Support's own single-use bioprocess containers will be released.
With its innovative product portfolio, the Austrian solution provider meets the growing demand for speed and quality of single-use systems supplying all stages of biologics manufacturing including upstream, downstream and fill-finish.
Photos may be used free of charge if the copyright ©Single Use Support is given.