July 29, 2020
Seed train intensification - the next big step in biopharma?
The pharmaceutical – and especially the biopharmaceutical – industry doesn't know any such thing as standstill. It is driven by ongoing research regarding new compounds and therapies, and the requirements in the laboratories and production facilities are changing accordingly.
With the growing demand for new drugs – not least triggered by the corona pandemic – and just in line with our generally fast-moving times, labs and manufacturers feel the pressure to deliver at a constantly accelerating pace while remaining flexible. While generally applicable standards must always be adhered to, labs and plants are expected to operate as cost-effectively as possible in all phases of process intensification process development and production.
In response to the changing requirements, more and more players are choosing an approach that is based on recyclable and extremely flexible single-use technologies . Novel processes such as seed train intensificatio by SUSupport are being implemented increasingly, utilizing lab and production systems that are based on single-use components. Single-use technologies and components are far more flexible and adaptable than conventional systems and stainless steel reactors.
From traditional approach to innovative and agile seed train intensification
Infrastructures and production processes are changing along with the varying volumes. Traditional compounds and blockbusters are usually produced on a large scale. However, the production of new drugs and personalized therapies such as CAR-T cell therapy or gene therapy requires only miniscule amounts of substances and/or cells. This entails a departure from established production methods, which come with their own benefits, particularly with regards to time and cost efficiency.
In line with the change requirements, any new approach in that field focuses on increased levels of agility and scalability. Processes and applications based on the lean production principle are on the advance. The term "lean production" refers to the time and cost-effective use of various resources, such as equipment or staff, in all business activities. As a result, it allows for a quick adaptation to new or changed customer needs thanks to a streamlined and flexible design of the production process.
Seed train intensification is a typical lean production process. It allows labs and manufacturers to grow an adequate number of cell lines for the inoculation of production bioreactors used in production. And even though it is a relatively new method, seed train intensification is gaining traction globally.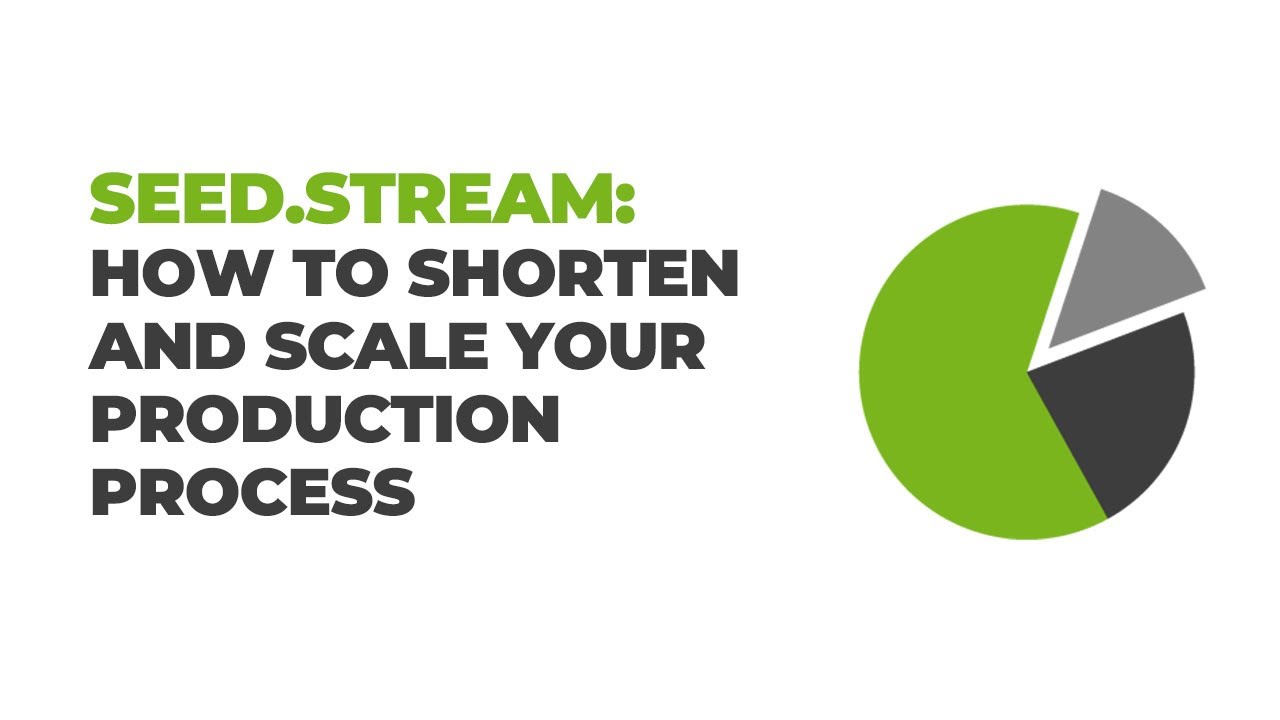 Why seed train intensification helps save time and costs
Seed train intensification based on modern technologies applying High Cell Density Cryopreservation (HCDC) is both time-saving and cost-effective compared to conventional alternatives, like fed batch production processes.
Single use technologies are suitable to satisfy the varying needs of the pharmaceutical industry while complying with modern standards. They are not only more agile than tried-and-tested conventional stainless-steel bioreactors but also benefit from high degrees of flexibility and scalability. In other words, seed train intensification based on disposable single-use components allows small labs and global players alike to grow the exact amount of cell culture required, irrespective of whether they are needed for a clinical study, a new therapy or a personalized treatment.
While the traditional approach involves the cultivation of cell banks in stainless steel reactors, flexible systems based on the lean production approach can produce small batches in large quantities. Consequently, this increases effectiveness: Instead of constantly having to start the entire process from scratch, labs and manufacturers can simply fall back on already cultivated cells as intermediates.
SEED.STREAM – innovative platform for a scalable and agile process
The innovative SEED.STREAM upstream process platform developed by Austrian start-up SUSupport enables the cultivation cells as well as their preparation for the logistics process. If necessary, the cells can be filtered using single-use filtration and filled into single-use bags in an automated filling process before being frozen for sterile cell retention. Following lean production principles, the freeze-thaw process is fully automated, ensuring sterility while simplifying all process steps.
However, the system is not only scalable but can also be adapted to the respective needs, for instance by adding single-use filtration. Additionally, a freeze-thaw process employing single use bags achieves significantly lower levels of cryoconcentration than conventional plate freezers, which has a positive effect on the quality of the frozen goods.
The components used can be easily disposed of, making tedious cleaning processes a thing of the past. In line with the lean production principle – and medical research – this can significantly accelerate the process of seed train intensification. In the end, this saves time and money while also contributing to increased levels of patient safety.

SEED.STREAM for more agility and independence in research and production
While agility and scalability (seed train expansion) are the main features of the SEED.STREAM platform, the system based on single-use technologies is also characterized by an automation of previously manual steps. The result is a reliable process with guaranteed sterility, which is a non-negotiable factor of any successful production, especially in the pharmaceutical sector.
SEED.STREAM is a holistic and integrable platform that covers the entire process of seed train intensification. Starting with the protected cultivation in single use bags to a fully automated single use filling and freeze-thaw-process to safe and reliable shipping thanks to single use bag protection, the entire process is served from a single source.