October 28, 2021
Green light for the expansion of Single Use Support
The internationally operating company Single Use Support is expanding its location in Kufstein. On Thursday, October 28, 2021, the foundation stone for a 3-story office and production building was laid with the ceremonial groundbreaking.
Single Use Support has become a big player in the biopharma market within a very short time. The Kufstein-based company develops and produces technologies for the sterile and safe handling of liquid pharmaceuticals, generating revenues in the triple-digit millions. The high demand is now resulting in further expansion in the fortress town Kufstein, Austria. The site in Endach, which currently employs 120 people, is being expanded to include a 3-story office and production building. "In the future, we would like to further expand our product portfolio and conquer the market with new technologies. These progressive growth plans require infrastructural expansion. The proximity to the highway and the central location in several directions make Kufstein the ideal starting point for our plans," says CEO Thomas Wurm, who founded the company together with Johannes Kirchmair in 2016.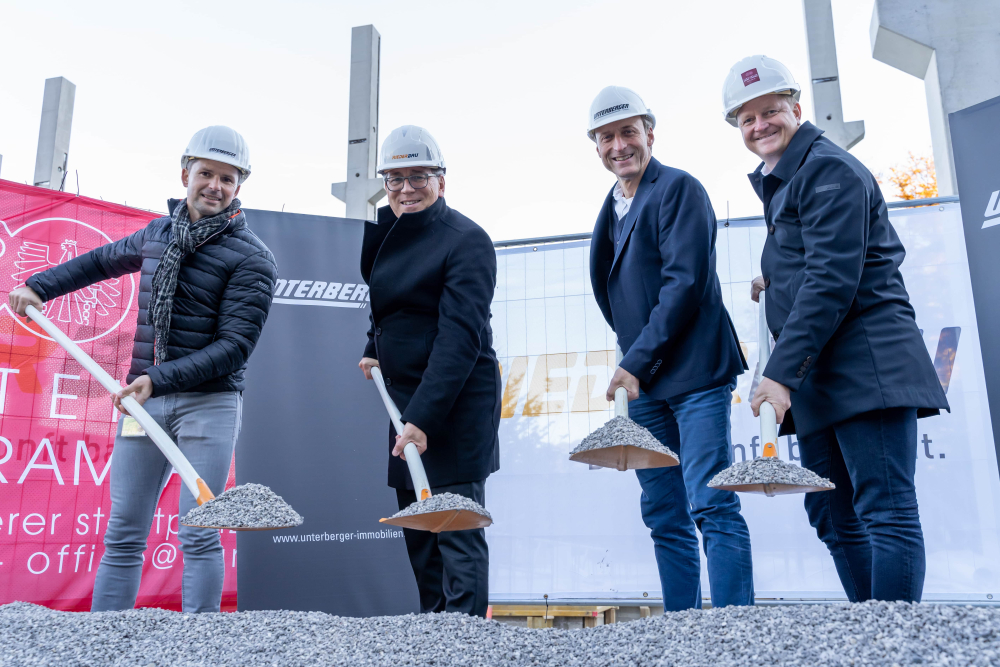 Creation of 100 jobs
Since the time of its foundation, the curve of Single Use Support has been pointing steeply upwards - parallel to this, the need for space is growing. This is where Unterberger Immobilien comes into play. The Kufstein-based family business is constructing another building with an additional area of 2,280 m2 next to its existing headquarters. "The decision for the expansion underpins the commitment to the location in the Tyrolean lowlands. The added value for the region is extraordinary - more than 100 jobs will be created in this way," says Josef Feichtner. During the groundbreaking ceremony, the managing director of Unterberger Immobilien also thanked the Kufstein municipal building authority for the good and fast handling of the official procedures. CEO Johannes Kirchmair is also convinced of the cooperation: "Unterberger Immobilien is a company with handshake quality that looks to the future with courage. These values match our philosophy perfectly." Completion of the building is scheduled for the end of 2022.
On the picture: (left to right): Elisabeth Haas-Karagiannidis (Single Use Support), Philipp Hribar (Single Use Support), Christian Praxmarer (Managing Director / CCFO Single Use Support), Mayor Kufstein Martin Krumschnabel, Peter Ramsauer (Managing Director Architekten Adamer°Ramsauer), Thomas Hörfarter (Project manager Unterberger Immobilien), Josef Feichtner (Managing Director Unterberger Immobilien), Anton Rieder (Managing Director RIEDERBAU) und Christian Fritz (ÖBA / Bauleitung Architekten Adamer°Ramsauer).