September 9, 2020
Unprecedented flexibility to fill well
Automated Bulk Drug Substance Filling Systems fully embedded in end-to-end process streams.
Several surveys have shown that more than the half of CMOs and Biopharma manufacturer still use manual filling to dispense and aliquot drug substance into primary packaging, such as single use bags and bottles.(1) Manual handling comes along with a higher potential risk of "human error". With 7 out of 10 cases, human error is the biggest cause of operational errors.(2)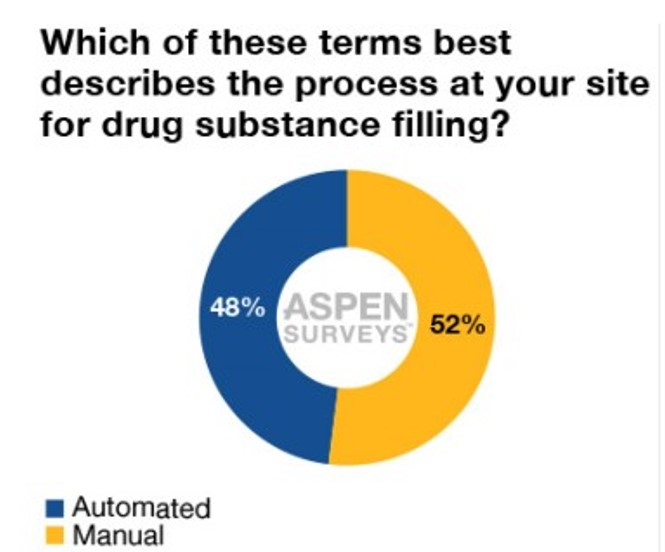 Automated filling systems are recommended by many market experts to reach the next level in drug substance management. Many users are starting to have initiatives for automation that proves the overall trend towards automated filling.
7 reasons why RoSS.FILL outperforms
Automated systems, in general, help to reduce both contamination risks and the risk of human errors. Among all available systems for automated filling of drug substance RoSS.FILL, as bulk filtration, filling and draining platform for primary packages such as single use bags, bottles and vials, outperforms over its competitors with regards to several product characteristics.
1. Limitless Scalability
RoSS.FILL opens doors to unprecedented scalability in terms of both, number of bags and size of bags. For example, per rack it deals 100 single use bags with each 500mL or also 20 single use bags with each 20L and is therefore suitable for small volumes of cell and gene therapy, mABs or other early phase studies, but also for commercialized bulk drug substance. It is even possible to attach a second filling rack or more to the control unit which allows dispense and filtration of 400L or more of drug substance in one batch run.
2. Configurable for unprecedented process flexibility in bulk fill systems
Not only the option to attach additional bag or bottle filling racks to enlarge the batch volume size, but also flexibility in consumables is limitless. RoSS.FILL allows users to attach different manifold systems, pump and sampling tubings, bulk filtration filters and bag. The customized supply by Single Use Support and options to easily and quickly reconfigurable to different processes are well accepted among its customers and partners.
3. Resolving complexities in bulk filtration
A reservoir of knowledge and expertise at Single Use Support and its partners has relieved customers their worries – also with regards to filtration of bulk drug substances during filling process. Single Use Support literally filters complex influences to consider into hands-on and effective solutions.
4. Unrivalled throughput and speed
200 liters of bulk drug substance within 60 minutes helps the industry to skyrocket the efficiency and creates resources to improve the performance whilst reducing product loss through a closed and automated process system. On top of that, holdup volume is limited to only few ml due to the smart manifold design and construction of the platform.
5. Reliable availability with fast delivery
Tired of waiting for single-use bags with volatile lead times? Pave your way to independent reliability with Single Use Support and debottleneck your supply chain with fast delivery times from concept to shipment.
6. Independence of size and type of primary packaging and consumables
Choose your preferred single use container – Single Use Support takes care of the rest. The same applies to consumables e.g. single-use tubing assemblies
If you do not have preferences, we help you find the most optimal solution based on your requirements.
7. Part of an End-to-End solution
It will be of bigger importance to break free from silo thinking and to streamline the production environment. The risk of product loss will be diminished once the whole ecosystem from downstream to fill and finish is covered from one hand and the primary packaging is protected robustly through its whole journey.
This already is reflected in our BULK.STREAM process, which covers all relevant touchpoints: from testing, to filling, freezing, shipping, thawing and draining to fill the vials and syringes. This approach will be crucial to guarantee a controlled manner of transportation and will eliminate any chances of incompatibilities or damages.

Overview
In the maze of information provided around the topic of drug substance management, it is difficult to determine the most suitable method to improve the performance whilst maintaining flexibility, avoiding product loss, and reducing the risk of (human) errors.
Find below key factors that may help you to put RoSS.FILL from Single Use Support in contrast to similar automated filling systems and to evaluate the best approach for your application.
| Parameters | Other automated filling platform | RoSS.FILL |
| --- | --- | --- |
| Stardard Range of filling volumes | 50mL to 20L | 10mL to 200L |
| Speed/Throughput per batch | 20L in 20min; 200L in 200min | 20L in 20min; 200L in 60min |
| Scalability | Medium | High: scale-up to 400L optional: 2nd filling rack or more to be connected |
| Number of max. filling points | Max. 12 per cycle | On request: Per rack up to 20 for 10L bags or up to 100 for 500mL bags. More racks to attach optional. |
| Potential for operator error | Low: Recipe driven for standardized processes. Improved and UX-tested software manual to ensure clear operator instructions. | Low: Recipe driven for standardized processes. Improved and UX-tested software manual to ensure clear operator instructions. |
| Time from concept to delivery | Min. 16 weeks | Approx. 12 weeks after receipt of PO |
| Level of customization | Wide range of products to create a fully customized single-use assembly. Different manifold to attach. Bulk Filtration to attach | Modular product elements (consumables, manifolds, filtration, etc) on request. Manifold agnostic. Bulk Filtration to attach. |
| Holistic system | Only filling and filtration | Part of BULK.STREAM, an end-to-end system for drug substance management designed for RoSS. Seamless and compatible system for protection, filling, filtration, freezing, shipping, storing, thawing, and draining of drug substance |
There is no relevant difference in the following standard product characteristics for automated filling and filtration systems:
Designed for single use bags, bottles and vials
Flow rate: 0,04L/min to 12L/min
Dispense Accuracy: +/-10g for 1000-2000ml (depending on dispense rate)
Consumables adaptable: all manifolds, filtration, connectors
Compliance: 21 CFR Part 11
Software: developed to GAMP5, HMI based PLCs
Commissioning & Maintenance: FAT & SAT included. IQ/OQ, Training and Maintenance/Support optional
Staff Training: on request
Contamination risks: Low. When granting a closed system, contamination risks can be drastically reduced.
(1) Aspen Alert Survey, June 2020, data on file.
(2) Parker, 2020: Available on: http://blog.parker.com/protecting-your-bioprocess-from-the-risk-of-human-error [4.9.2020]