April 1, 2021
State-of-the-art single-use technologies to protect your bulk drug substance
SUSupport is a leading provider of safe, reliable and user-friendly solutions when it comes to protected storage and/or shipping of highly sensitive and at the same time highly valuable drug substance contained in single use bags.
In addition to their flagship product, the RoSS shell, which protects 2D single-use bags of various sizes, the Austrian solution provider has now developed a stainless-steel 3D bag holder that offers reliable protection for all single use bags of up to 1.000L.
The credo remains the same: Full protecting of all single use bags and all sizes.
While being robust and rigid, the smart and compact single-use bag tote offers a small footprint - the same as a standard pallet - to keep in line with the spatial circumstances that characterize most of today's biopharmaceutical processing environments: With space being restricted in many labs and manufacturing plants, a compact design was one of the focus points during development of the stainless steel tote for liquid drug substances - it is considered one of RoSS.LIQU's key characteristics.
Another major focus in development was the digital level detection. With smart integrated sensors the GMP-compliant container for single-use bags gives full transparency of the filled volume and meanwhile also provides highest accuracy.
RoSS.LIQU - smart single use bag tote for reliable and efficient logistics
A rigid construction is key for totes made of stainless steel when it comes to efficient logistics solutions. But today's market is not only about being space-saving. While it may be true that storage space/capacity are one of the main concerns in many processing environments, scalability and compatibility with a number of bag models and volumes should also be among the main characteristics of any advanced and smart container used for protection. After all, both 2D and 3D single-use bags are required for a range of applications.
These include, but are not limited to:
Preparation
Storage
Transport
Dispensation
of biopharmaceutical solutions, intermediates and final bulk products.
In order to keep their contents safe and protected from contamination, the single-use bags need to be housed in a rigid shell, which in the case of large-volume bags comes in the form and shape of a stainless-steel container, also known as a 3D bag holder.
3D bag holder in a smart, compact and robust design
This 3D bag holder allows for easy handling during the entire process. Once the bag is attached in the container, it can be filled and either stored or immediately shipped to its final destination, all the while remaining safely held in place and being protected by the rigid stainless-steel shell.
Being both aseptic and sterile, the RoSS.LIQU - the protective shell housing the 3D bag - is constructed with robust edges that have been reinforced with stainless steel.
The stackable container has been specifically designed for large-scale applications in downstream of Bioprocessing and is available for bags with any volume up to 1.000L. Apart from the 3D bag holder, the smart design of the RoSS.LIQU includes:
Integrated digital level detection to enable highest accuracy during the filling process
Forklift pockets to facilitate easy in-house and long-distance transportation
Protected area for tubings to allow for simple and safe draining without spillage
Thanks to its standard pallet footprint, the single-use bag tote can be placed on any dolly in order to provide for easy maneuvering, which, in addition to its stackable and collapsible features, allows for maximum flexibility in any biopharmaceutical environment.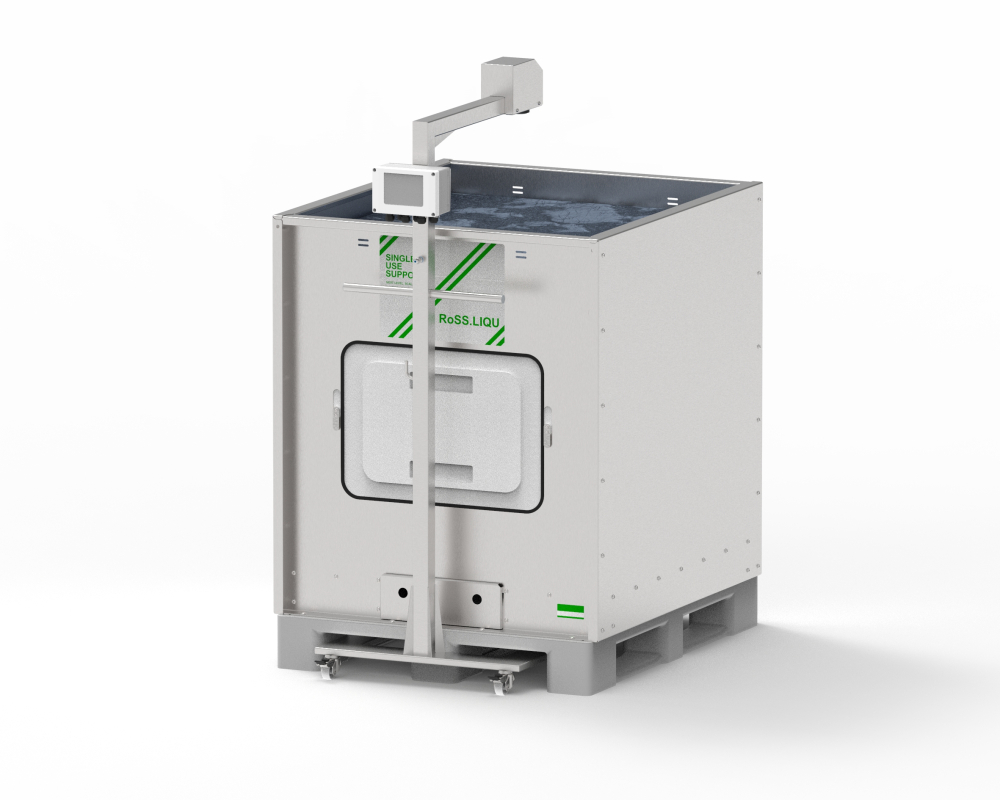 Customizable and scalable containers to provide maximum flexibility
RoSS.LIQU is both scalable for 3D bags with a volume of up to 1000 l and customizable to different lab and manufacturing environments. The rigid container offers full mobility and compatibility with various single-use platforms. While it comes in standardized sizes of 500 respectively 1,000 l, the single use bag tote can be scaled and adapted to meet any given needs, always keeping in mind the necessary quality requirements and adhering to all applicable biopharmaceutical standards.
In order to comply with all standards applicable in the biopharmaceutical and life-science industries, RoSS.LIQU 3D bag holders are made of stainless steel which is sterile and GMP compliant, so it can be utilized in cleanrooms. The containers are compatible with a range of single-use platforms and technologies, which makes them the go-to solution for anyone in search of systems offering flexibility, scalability and ease of use. And with an ever-growing range of modular single-use solutions you can be sure to always have options and choices when it comes to migrating or upgrading your facility.