June 6, 2019
Drug substance logistics – Advances with single-use technologies
In drug substance logistics, it is not easy to choose the right technology when it comes to handling valuable pharmaceutical products! It is important for frozen storage and shipping solutions to be safe and cost-effective at the same time, especially as drugs transition from R&D through clinical trial and to higher volume production.
Single-use technology offers a high degree of flexibility and efficiency in the biopharmaceutical manufacturing process – take a look!
End-to-end solutions for bulk drug substance logistics
We are always focusing on the development of single-use systems and the entire logistics process for medical liquids in single-use bioprocess containers. Our single-use technology comprises advanced systems for the entire process all the way from downstream to fill & finish, and is compatible with single-use bags of various sizes and from any established manufacturer.
As you can see, our process includes an automated integrity test for single-use bags, maximally compact and reliable trays, a flexible and fast fill-and-drain solution, plate-based freeze and thaw units for stability studies and small to large batch sizes, as well as highly robust, stackable and coolable containers for shipping and storage.

Integrity testing of single-use containers
Before being filled with valuable pharmaceutical products like vaccines, gene therapies or APIs, it must be made sure that single-use containers like single-use bags are fully functional. An according validation includes integrity testing, in order to avoid leakage or penetration of bacteria, and can be facilitated by MITS.2D® – the integrity testing system is able to test single-use bags with a capacity of up to 20 liters and from various manufacturers within less than 60 seconds per bag.
Why do we work with single-use bags and systems?
Single-use bags have become an integral part of the biopharma industry, because they offer many advantages that allow for smooth handling. The entire drug substance management process can be managed with one single-use bag.
Factors like scalability, efficiency and patient safety play a major role. That is why the single-use bag has become an indispensable tool when it comes to the biopharma logistics process.
But despite all the advantages it cannot be denied that single-use bags can be faulty. Therefore we have found solutions that allow for a 100% safe use of single-use bags despite its weak points. The risk of high-quality drug substance loss can be minimized towards 0%, thus ensuring patient safety. e.g. with single-use bags protection.
But check out yourself:
Single-use filling and draining of pharma products
The filling and draining process of biopharmaceuticals brings several challenges for the pharmaceutical industry. Sterility is to be guaranteed, as accidental contamination of drug products results in them being unfit for use, which consequently can cause crucial delays in drug substance logistics. Product loss, on the other hand, has to be avoided, considering the high value of many biologicals. Furthermore, staff have to be protected from being exposed to often hazardous substances. Therefore, Single Use Support has developed the RoSS.FILL platform for automated filling processes, allowing for high flexibility as well as enormous speed and safety in the handling of liquid drug substances.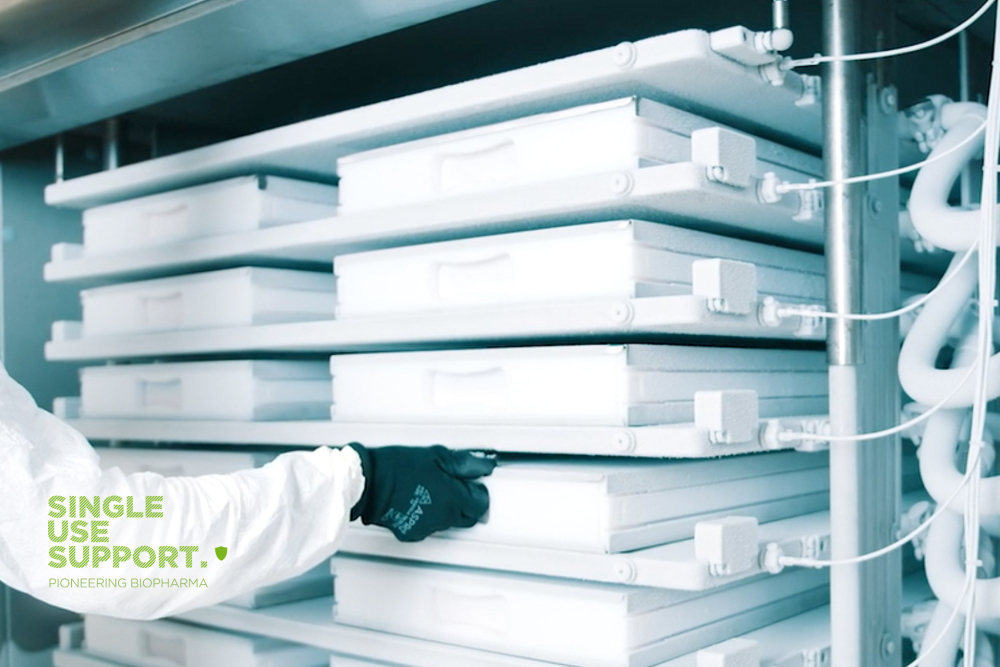 Controlled freeze-thaw processes for advanced cold chain management
Controlled freeze-thaw processes have to be installed in the supply chain of those drug products which would otherwise deteriorate at room temperature or in a refrigerated environment. In fact, a great deal of biopharmaceuticals need to be frozen before they can be passed to shippers or made ready for storage.
Within the freeze and thaw process, great diligence is needed as each product comes with individual requirements in terms of freezing/thawing rates or temperature ranges. Additionally, regulatory requirements, e. g. by the U.S. Food and Drug Administration (FDA) have to be met.
Single Use Support's RoSS.pFTU high-performance freezers rely on extremely efficient plate freezing technique, allowing for controlled freezing rates at high speed.
Read more: Pharmaceutical cold chain management - overview of all freezing ranges
Drug substance logistics – storage and shipping with single-use systems
In times of CMOs providing bulk drug substances, drug manufacturers, distributors and healthcare providers often being geographically detached from each other and relying on dedicated logistics services, specialized storage and shipping solutions are necessary for drug products to reach their destination.
Especially temperature-sensitive substances, therefore, need to be stored in a temperature-controlled environment, ideally with real-time temperature monitoring. This environment has to be kept stable during shipping as well, which is why Single Use Support has developed dedicated storage and transport solutions. With products like the cold storage freezer RoSS.FRDG or the cold chain shipping container RoSS.SHIP, we want to make sure that highly valuable drug substances are safe and intact when they reach their destination.
End-to-end solutions for optimized drug substance logistics
End-to-end solutions are comprehensive systems that cover entire processes and procedures in various areas and industries from beginning to end – mechanically, of course. In the case of biopharmaceutics they facilitate safe and reliable transport of highly valuable and sensitive drug substances from A to B.
They also allow for stringing together several process steps without subjecting the substances to any form of contamination risk. In other words, advanced end-to-end solutions allow manufacturers to fill and freeze their product on site before shipping it to its final destination – and all this by employing a single platform.
Single Use Support's end-to-end solutions are scalable both in size and use, which gives the customer full control over optimization processes and areas of application.
There are three process steps in the industrial biopharmaceutical production chain:
Upstream
Downstream
Fill & Finish
There is a severe technology gap in the interface between downstream and fill & finish. These two areas are geographically detached, so the reliable, high-level handling of bulk drug substances is a prerequisite. Single Use Support is offering an elaborate end-to-end platform on the basis of a closed system that covers everything from filling and filtration to the freeze-thaw process and shipping. This solution allows customers to reduce human error to a minimum thanks to its controllable automatic design and with the substances being protected by single-use bags throughout their journey.
FAQs
What is pharmaceutical logistics?
Pharmaceutical logistics describes measures that are taken related to the supply of pharmaceutical products, which includes their transportation, storage and handling. With new technologies emerging in the biopharmaceutical sector, drug substance logistics are becoming increasingly complex, often requiring specialized techniques and devices.
What is the role of logistics in the pharma industry?
Logistics plays a significant role in the pharma industry, as CMOs, manufacturers and healthcare providers are often geographically detached from each other. As a result, drug substances have to be prepared for transport and storage, paying attention to their safe and adequate handling.
How are pharmaceutical products transported?
The transportation of pharmaceutical products depends on their characteristics and special needs. While some pharmaceuticals may be delivered in an insulated or refrigerated environment, others need to be transported in a frozen state. This, for instance, applies for antibody products or certain vaccines, which are highly perishable as well as sensitive to variations in temperature and demand specialized equipment to avoid quality loss along their supply chain.