March 14, 2023
Cold chain handling for fermentation: Single-use solutions to lower costs
Pharmaceutical fermentation is a multi-stage process that not only facilitates high-cell density, but also a high yield in terms of final culture generation. Whether the final product requires microbial fermentation or the fermentation of mammalian cell culture, the process leads to a boosted output. However, microbial fermentation has become the preferred method in the manufacturing process of smaller biologics such as ADCs (antibody-drug-conjugates) or vaccines.
As expert for cold chain handling in bioprocessing, Single Use Support is providing solutions to meet challenges for safe storing and shipping associated with right freezing and thawing methods and temperature control for long-term storage.
The global operating company provides solutions for said challenges and also considers other complicating factors such as inadequate packaging and the simple fact that different requirements call for different solutions.
Their development approach leads to innovative systems that enable manufacturers to replace manual processes with fully automated end-to-end processes that not only push efficiency but also increase output.
Pharmaceutical fermentation and its cold chain requirements
The process of handling highly sensitive drug substances, such as pharmaceutical fermentation, requires strict temperature control. The requirements differ depending on the method: microbial fermentation or mammalian cells.
No matter if they are needed for antibody-drug conjugates or other therapeutic products, drug substances have one necessity in common: process control and reproducibility. And in order to maintain their characteristics and quality, they also have special cold chain requirements.
A functioning and reliable cold chain is important in order to ensure the fermented matter remains active and produces the desired drug substance. For guaranteed product integrity during storage and transportation, the frozen goods need to be handled in a protected and secure manner. This calls for special processes and equipment:
Enabling fast, high-quality freezing to counter both friction and cryopreservation and maximize the quality of frozen biopharmaceutical substances
Allowing for scalability and the handling of large volumes
Protecting single-use bags from ruptures and breakages during freezing at temperatures of -80 °C
Allowing for controlled and traceable shipping in containers that keeps the sensitive ferments cold and safe over long distances
Enabling an entire process infrastructure to handle large volumes during upstream bioprocessing, but also downstream and sterile fill and finish operations
If you want to learn more about pharmaceutical cold chain management read the article about this topic: Pharmaceutical cold chain management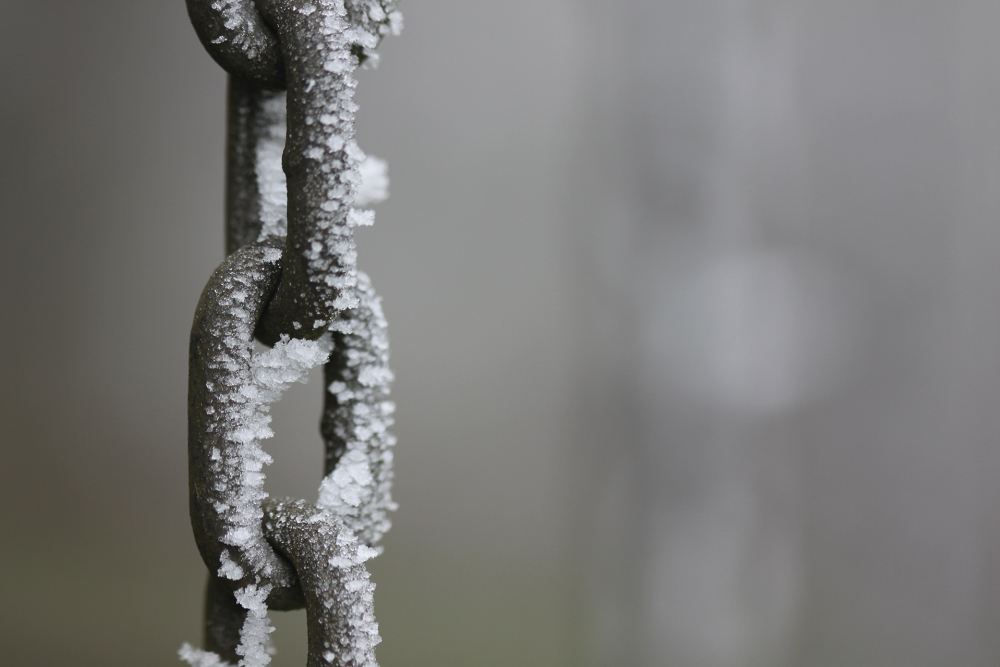 Cold chain solutions based on single-use technology
Until now, there have been major gaps in biopharmaceutical production, especially in the reliable filling, freezing and shipping of drug substances. Product loss and contamination were rather common occurrences during storage and transportation of frozen goods, caused by poorly protected packaging and inadequately equipped shipping containers.
By utilizing innovative single-use solutions and automated platform systems, Single Use Support now offers standardization in these critical process steps in addition to protective biopharma packaging and containers.
The highly valuable APIs (active pharmaceutical ingredients) are automatically filled into single-use bioprocess containers and frozen in a freeze-thaw platform at optimal freezing conditions. Securely stored in a stainless-steel shell, the frozen liquids are safely and quickly prepared for further processing, storage or transport.
Thanks to integrated data logger in the transport containers they can be tracked and localized throughout their journey. At the same time those chips allow for a constant monitoring of the temperature inside the containers to guarantee for a reliable and safe frozen shipment.
Such automated processes for aseptic fluid management and controlled cold chain management are the basis for optimized manufacturing and increased volumes. At the same time as improving efficiency, they also enable scalability, allowing for quick freezing and thawing of large volumes of up to 1,000 L.
Higher efficiency & lower costs
More and more, bioprocessing is moving from traditional stainless steel to disposable single-use components that are agile and scalable. Once implemented, such single-use systems can easily be adapted to meet varying bioprocessing needs, including those of both mammalian cell and microbial fermentation.
In combination with controlled freezing and thawing, highly accurate and automated filtration and aliquotation leads to reduced product loss. This approach not only comes with the promise of increased productivity; in addition, the use of single-use components allows manufacturers to reduce their cost of goods and streamline supply chains.
Time savings, energy savings and water savings of single-use technologies all ensure reduced costs. Further cost savings are due to lower investment costs and less instrumentation or utility demand.
Fast freezing of large volumes in fermentation
Fermentation, as a whole, includes upstream good manufacturing practice processes with the purpose to yield pure and active material. It can use either genetically modified or unmodified cells such as bacteria, fungi, plant and mammalian material and may require the handling of large volumes of up to 1,000 L.
This calls for controlled - and quick - freezing to ensure consistent quality of the final drug product, which will further be maintained by uniform conditions during freezing, storage and shipping.
Being able to control the freezing behavior of drug substances, preferably at any scale, is the ultimate goal in pharmaceutical manufacturing, as it will open doors to process reproducibility. Scalability around freezing, on the other hand, provides the ability to guarantee constant stress on proteins in all scales, filling volumes and loading scenarios.
By standardizing the icefront growth speed (IFGS), Single Use Support is able to provide the biopharmaceutical industry with solutions for any possible scenario, regardless of filling volume.
Whitepaper: How controlled freezing enables scalability