March 2, 2022
5 critical considerations for aseptic bag filling
Aseptic bag filling is a process that is very important to the biopharma industry. For the process, aseptic bag filling machines are used specifically.
The technique of aseptic packaging is applied when sterilization of medical applications is not possible after the packaging step. This is very common for sensitive high-value biopharmaceutical products like CAR-T cells and related Cell and Gene therapies (CGT). The same process is also used in the food industry to package purée, dairy products or fruit juice to enhance their shelf life.
This article will give you the basics of aseptic bag filling, highlights the most critical factors of the technique and discusses key considerations pertaining to the commercial use of aseptic bags.
The aseptic bioprocess container
Aseptic bioprocess bags are sterile plastic containers that are available in multiple bag sizes ranging from a few milliliters well into the multi-liter range. They are usually manufactured from polyethylene (PE) foils. This material has proven ideal for biopharmaceutical products and food alike, due to its biocompatibility (non-toxic and FDA-compliant), outstanding mechanical properties even at low temperatures (hard to tear or break, while being very flexible), great resistance against chemicals, and it's ease to be sterilized by several methods (irradiation, treatment with ethylene oxide, high pressure steam).
During filling of drug substance in bags, the sterilized bags are filled with an aseptic product using fully or semi-automatic filling machines in a sterile environment and finally sealed to prevent contamination. Specialized filling equipment (bag-in-box fillers) allows to manufacture bag-in-box packagings (BIB), which contain the PE bag inside of a cardboard box, or analogously bag-in-drum packages.
In Q2 in 2022, Single Use Support will launch its own single-use bioprocess containers that are optimized for use with biotechnological intermediates and biopharmaceutical substances. In the next section, we will elaborate the critical factors to consider when using aseptic bags.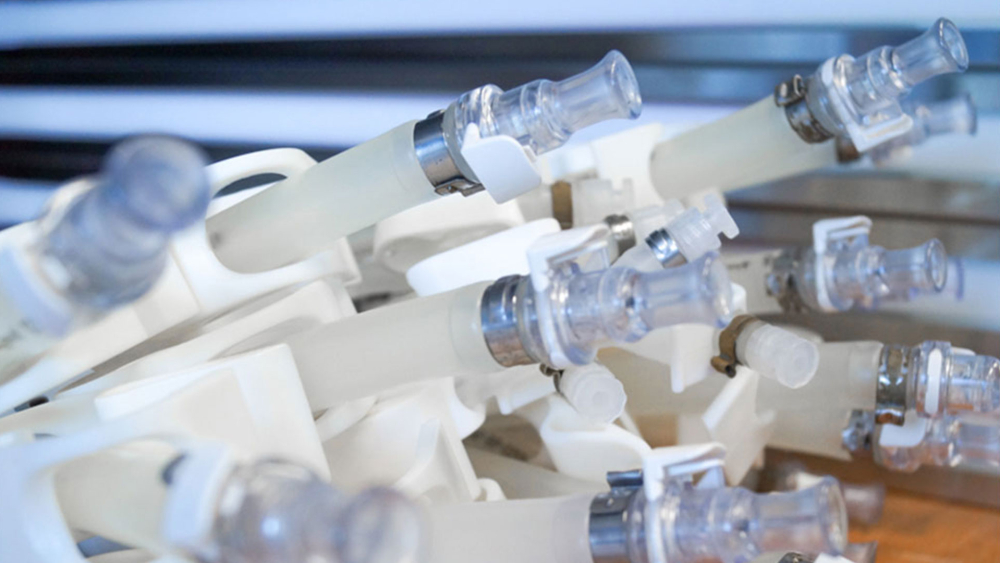 1. Compatibility - a key aspect for aseptic filling systems
Many manufacturers strive to secure their market share by the use of proprietary fitments, valves, capping, spouts, connectors and other accessories for their aseptic bag fillers and production lines.
However, compatibility across all component manufacturers is of utmost importance for efficient production lines. It is our goal to supply our customers with single-use components that are compatible with all major brands (e.g. Sartorius, Thermofisher, Merck Millipore).
2. Speed - the faster the better
Time equals money. This statement holds in every business sector. In biopharma, time equals lives saved and patients treated, too. That's why high speed without compromising high quality during manufacturing and processing steps is of crucial importance.
Single Use Support single-use tubing assemblies are compatible with all major manufacturers and aseptic filling machines, therefore simplifying all steps including handling of components (attaching and removing bags, fitments, tubing, etc.). Moreover, full compatibility reduces the likelihood of errors leading to leaks and contamination.
3. Safety - sterile and smart without product loss
A critical safety consideration for aseptic bag filling is ensuring the sterility of the bags' contents. Single-use bags are supplied after sterilization with either high pressure steam, gamma irradiation or through chemicals that permeate the bag (e. g. ethylene oxide).
The components of an aseptic filler that are in contact with the sterile goods (filling heads, tubings, etc.) are made of materials like stainless steel that are compatible with clean-in-place and sterilize-in-place (CIP & SIP) procedures. In addition, the filling step is executed in a filling chamber, that is kept aseptic through various methods.
4. Costs - as low as possible
The employment of single-use components is economic. At first sight, this appears counterintuitive and not sustainable.
On the contrary, single-use components reduce equipment down-time for cleaning and sterilization procedures. These processes are time and energy consuming and possibly involve the use of hazardous chemicals, which leads to hazardous waste.
Moreover, single-use components decrease the risk of product loss to contaminations, thereby increasing the efficiency of manufacturing plants.
5. Scalability - customizable solutions
Novel biopharmaceuticals like CAR-T cells and similar cell and gene therapies (CGT) come with challenging supply chain bottlenecks inherent in their underlying biology. Single Use Support is a front-runner in supplying major CGT manufacturers with scalable customizable solutions, from single milliliter scales to intermediate bulk container (IBC) components.
Single Use Support offers a proprietary online configurator tool to assemble custom designs to fully match the customer's needs. It automatically moves all needed components to the shopping cart and hence saves the customer from time consuming exploration of catalogs with individual parts. Moreover, it avoids complications with questionable compatibility between components.
Pioneering Biopharma with Single Use Support Configurator
The Single Use Support manifold tubing configurator allows the customer to draw and assemble designs according to his unique needs. The configurator tool offers a graphic interface and is easy and intuitive to use. Never has ordering of single-use components been more convenient.