September 27, 2021
5 advantages of a single-use manifold configurator
It is an old truth rather than a myth that the search for simple solutions can often lead to nerve-wrecking and complicated processes that take too much time and require too many resources. In the pharma especially biopharma industry, single-use systems are an increasingly popular approach to tackle the myriad challenges posed by the fast-moving and complex nature of these fields. They offer manufacturer-independent solutions for aseptic processing as well as manifold systems that can be fully customized thanks to being made up of single-use tubings and other single-use components.

The single use manifold configurator offers fully customizable single-use assemblies that help the industry deal with several pain points by being flexible, adaptable and scalable. Simply use our manifold configurator to get the design you need - quick, simple and intuitive.
Single-use filling assemblies - connecting the standards but not without risks
The utilization of single-use technologies for biopharmaceutical purposes is advancing, and along with it the number of suppliers for single-use filling assemblies is growing. The use of single-use parts and assemblies is an increasingly popular alternative to traditional stainless-steel systems and an apt approach in the face of the problems to solve.

One of the major advantages of such assemblies is their modular nature, which allows for a range of customized and scalable designs, be it for filtration, filling or draining of various batch-sizes. These systems can include components like bags, filters, silicone tubings, sterile connectors and other fittings and parts necessary for biopharma production. They reduce, if not eliminate, the risks posed by systems that are rigid and fixed in place, thus turning minor changes into major hurdles.

While single-use bags are a relatively new addition to the scene, they have become an accepted standard thanks to their ability to deliver quality without compromising in terms of speed and performance. Single-use manifolds are the missing link to seamlessly connect bags to filling assemblies - and thanks to the user-friendly configurator available on single use manifold assemblies, they can easily be adapted to meet different needs and requirements.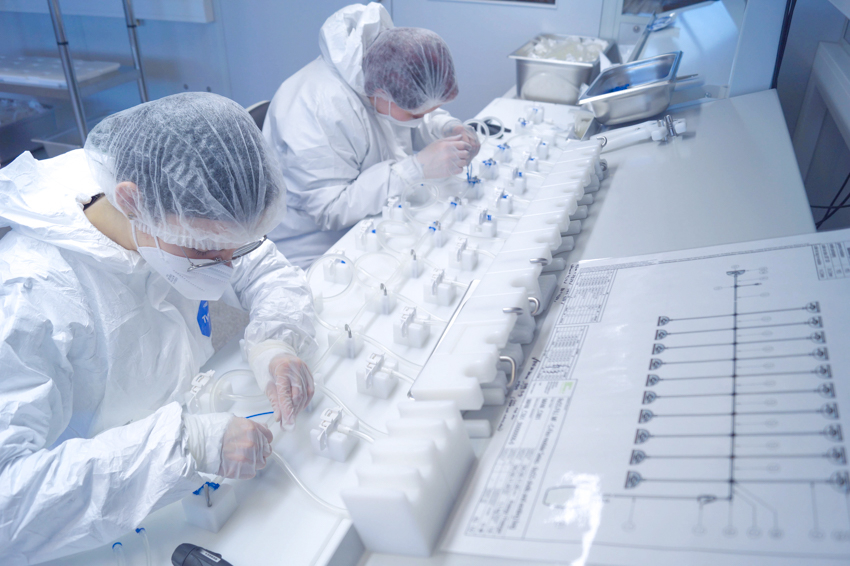 Single-use manifold - the missing link connecting industry standards
As already mentioned, there has been a gap between filling systems and single-use bags, which have become an established standard in recent years. The interface between system and bags - or bottles - often proves to be a bottleneck and it becomes difficult if not impossible to connect the one with the other. While there are a number of systems available, not all of them are scalable - as should be the case in order to meet the complex requirements of biopharma processing - and not all of the scalable solutions offer the desired degree of flexibility.
And this is where mymanifold comes in: Thanks to our configurator, customers can now become manufacturer independent and enjoy a greater degree of flexibility. They can adapt their single-use filling assemblies to meet changing needs and continue their production and filling process.
1) Free planning software as free data export of your individual manifold
Comprehensive service from a single-source: The online configurator, which is free of charge, is at the core of single use manifold assemblies. With just a few clicks, you can configure your manifolds according to your specifications and requirements, and to match your existing single-use filling system. Simply download and print the finished design from the single use manifold configurator and have all your single-use tubings and, connectors, bags, bottles, filters, fittings and other components compiled and delivered accordingly.
2) Highly individual consultation, prototyping as serial production
Solve your problems - from concept to fully scalable production: At single use manifold assemblies, we offer custom single-use assemblies that can be seamlessly integrated with your existing production infrastructure. Work with our design team to benefit from individual support and all the help you need in order to tackle your bioprocessing challenges. Based on your configuration, we are able to provide important feedback on your process and help you in implementing or improving your fully customized single-use assemblies for all your bioprocessing needs.
3) Fast delivery - speed matters in times of scalability
We take individual requirements seriously: If something does not fit, we make it fit - or find an alternative solution that works with all your systems without impacting your processes or speed to market. The outbreak of the current COVID pandemic has highlighted once again that not only speed to market but also fast lead times matter. This is why at mymanifold we don't believe in minimum order volumes. What we do believe in is speed and a fully scalable production of your single-use assemblies.
4) Single-use assemblies - manufacturer independent
Independence is key: In a complex field such as the bioprocessing industry, flexibility, agility and scalability are key. Only manufacturers that are able to stay ahead of the ongoing changes will be able to survive in this constantly evolving market. Adapting to new requirements and shifting productions without losing precious time and/or resources is made much easier by employing fully customized single-use assemblies and manifolds that are manufacturer-independent - a process made easy with the free online manifold configurator.
5) Reproducible at any time
The next level of drug substance filling and draining: Not only does mymanifold allow you to quickly and easily design your customized single-use filling assembly, but you can also scale your prototypes to meet your changing needs. As an external CMO we command all the developing skills and resources necessary for intelligent and lasting designs that will help you bring your technology to the next level. Let's partner up!
Conclusion
We know the market. We believe in transparency and partnerships based on mutual trust and understanding. We listen to what is needed and come up with the necessary solutions - either in cooperation with our customers or independently - but always with the same result: Intelligent and flexible, scalable solutions that are innovative, reliable, fast and lasting.