March 8, 2022
All parts at a glance of Single-use tubing assemblies
If you are considering switching your operation to single-use tubing assemblies, you are not alone: With more and more manufacturers in the pharmaceutical and bio-processing industries replacing their established systems with single-use set-ups, all kinds of single-use components are becoming increasingly important.
In the following, we show you more about the separate components that single-use tubing assemblies and manifolds are made up of and their specific functions.
Single-use Bioprocess Containers
Single-use bioprocess containers (also known as single-use bags) are primary packagings of liquids primarily used for transportation and storage: They are made of strong, durable and temperature-resistant materials, thus offering reliable, sterile protection for liquid drug products, both during shipping and storage.
Single-use bags from several manufacturers are available in a variety of sizes and are compatible with various single-use manifold assembly systems, making them a flexible and scalable solution for the requirements of state-of-the-art biopharmaceutical manufacturing processes.
Connectors - sterile and non-sterile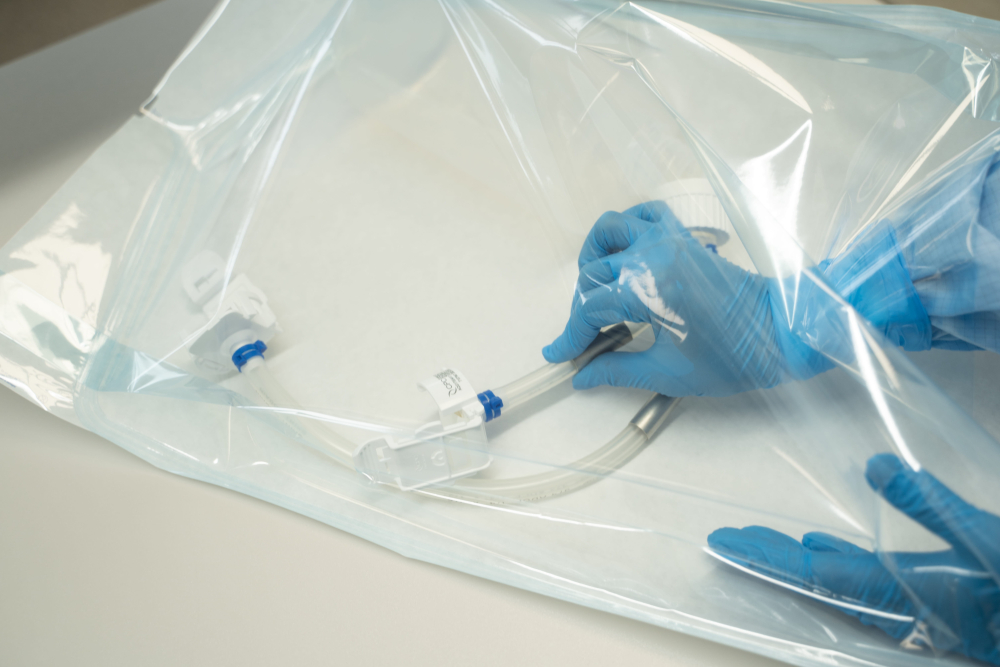 As the name suggests, connectors (also known as sterile tubing connectors) are used to connect two separate tubes in order to ensure an uninterrupted pathway. Available in genderless and gendered design, sterile or aseptic single-use connectors provide a secure, simple, and economical connection for high fluid throughput, even in non-sterile environments.
Non-sterile compounding allows manufacturers to customize strength or dosage and remove unwanted inactive ingredients, making it just as significant as sterile compounding. This is why customers can choose between sterile connectors and non-sterile connectors.
Disconnectors
As much as fluid pathways have to be connected reliably, their safe and protected disconnection is equally important in order to meet product quality standards and process compliance.
Maintaining sterility, respectively purity, is critical, and disconnectors provide an easy-to-use, secure method for the sterile disconnection of flexible single-use tubing assemblies.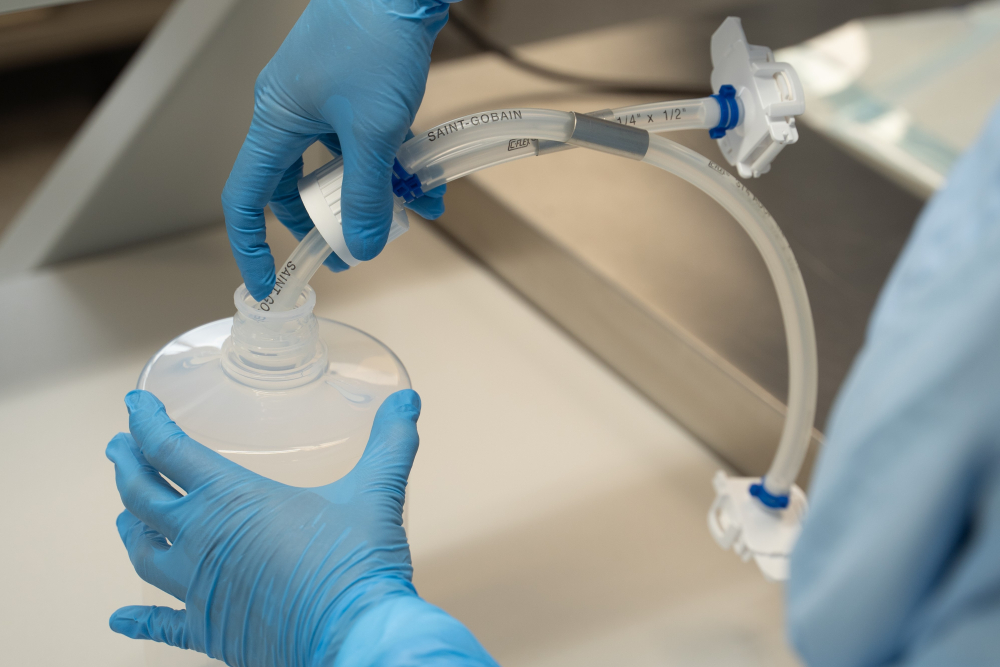 Single-use filler bottles (or sometimes called carboys) have long been the go-to solution for filling liquid drug substances, making them the more traditional alternative to single-use bags. Like bags, they are available in a range of sizes to cater for different volumes.
One of the benefits of single-use tubing assembly and manifolds systems is their compatibility with both bags and bottles. This means that, depending on choice and needs, the customer can choose between filler bottles and bags.
Hybrid single-use technologies enable dispensing your drug product into both bottles and bags at the same time.
RoSS.FILL Bottle - learn more!
Filter
For purification purposes, disposable single-use filters are an integral part of any biopharmaceutical processing plant. They are available in various micron sizes and materials and are commonly used to help sterilize and deionize water that will later be used within the industry to comply with sterility requirements.
There are various filtering systems, such as, for example, surface or ultrafiltration available from a number of established manufacturers. Again, the flexibility of single-use systems generally allows for the utilization of filters (or brands) of choice.
Clamp
Lightweight and easy-to-handle clamps are specifically designed to meet the needs of busy pharmaceutical and bioprocessing laboratories.
There are different types of clamps, such as pinch clamps, which serve as a shut-off valve to stop the flow of the liquid inside the tube. Other types of clamps can be used to connect different components securely and reliably.
Fittings
Fittings play an essential role in any single-use tubing assembly, and are available in different formats and types, such as:
X fittings
Y fittings
T fittings
I fittings
Elbow fittings
Reducers
While all of the listed fittings are used to aliquote fluids in a predefined manner, reducers have the added task of reducing a tube's inner diameter so as to allow for a seamless fit with a smaller-size tube. Single-use fittings are necessary to realize basically any design and configuration requirements, making them the real star when it comes to the flexibility of single-use components.
Single Use Support Online Configurator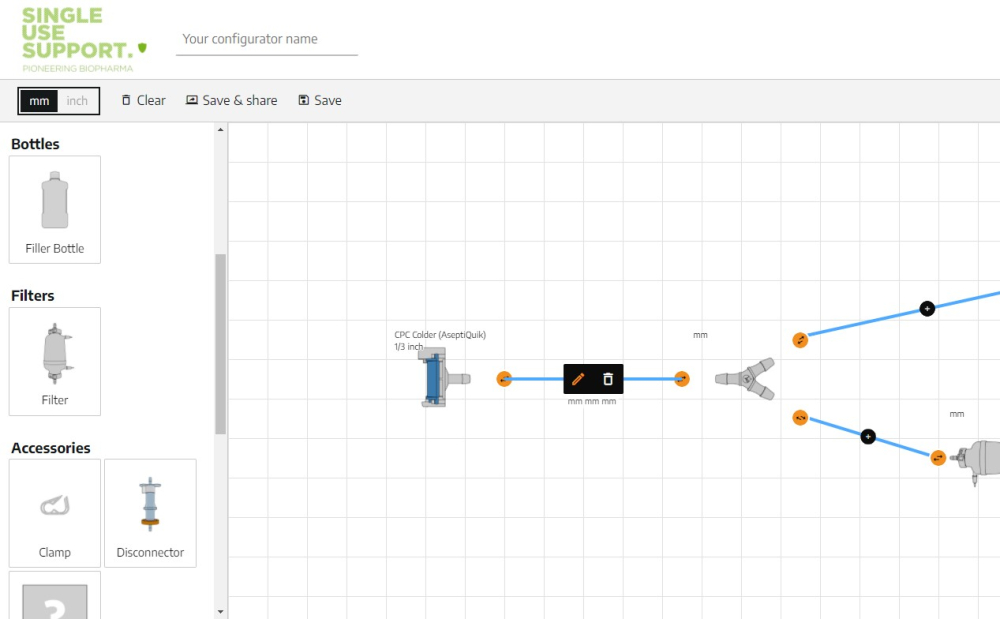 As mentioned earlier, the range of different single-use components makes it easy to realize single-use solutions that are tailored to the respective need. However, coming up with the customized design may seem a daunting task. This is why Single Use Support has launched an easy-to-use online configurator to help you along the way.
The configurator allows customers to design their own single-use manifold assembly in a user-friendly and easy-to-understand, logical manner. The entire system can be configured according to respective needs and requirements. Those who are less confident can choose from several presets or opt for support from a consultant.