December 1, 2021
How this service will convince you: Single-use tubing assemblies & Configurator
When it comes to highly valuable - and highly sensitive - drug substances, every drop counts and losing a batch due to cross contamination or issues in the cleanroom is just not an option. Reliability is key, be it in terms of filling assemblies or other applications necessary for production.

Single-use filling systems offer a number of advantages, such as flexibility in manufacturing or reduced validation efforts. The systems' modular design is made up of single components such as silicone tubings. Those are offering the benefit of its flexible adaptability, or the advantage of customized fill assemblies and the easy scalability. The single-use approach offers a valuable solution to some of the major challenges without impacting speed, productivity or standardized processes.
Find the right supplier of single-use assemblies - that's easy to say
With a growing demand for customizable solutions in a generally complex field such as biopharma, single-use technologies are gaining momentum and they are increasingly taking over from the established stainless-steel systems that have proven to be reliable yet rigid and inflexible. Single-use components address long-standing challenges such as sourcing and lead times in the ever-changing and fast-paced pharmaceutical production industry. However, as various players point out, assemblies composed of single-use components that have possibly been sourced from various suppliers may complicate things rather than alleviating them.

Nonetheless, combined cleverly and implemented correctly, single-use assemblies - either as an alternative to or in combination with traditional stainless-steel equipment - offer undeniable advantages in pharmaceutical manufacturing. Amongst them are reduced costs, higher speed and, above all, an increased degree of flexibility as well as agility.

Manifolds consisting of single-use components such as silicone tubings, sterile connectors and filters can be seamlessly integrated into existing systems without the need for major changes in the supply chain. Not only in terms of manifolds, but also for storage and shipping, SUS, short for single-use systems, are clearly the way forward.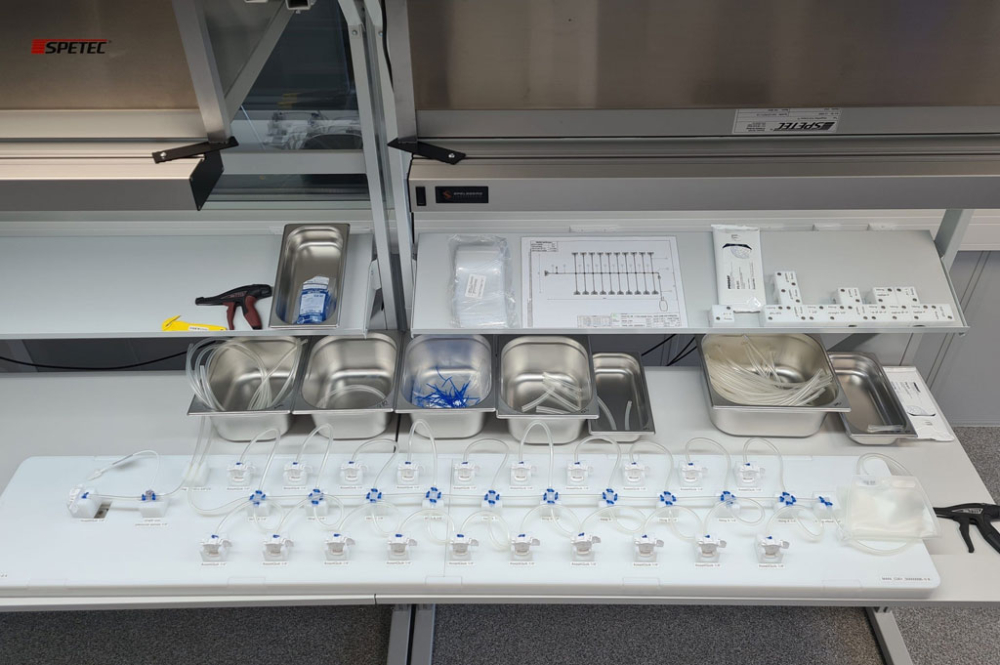 How to fix these challenges?
But how exactly are single-use technologies and systems playing their part in fixing the challenges mentioned above? If different components are sourced from various suppliers, time-consuming and resource-intensive procurement and other processes become necessary. For instance quality control may differ from supplier to supplier. Add to that the need to design customized assemblies and any manufacturer will want to source everything from a one-stop shop.

While the number of suppliers specializing in single-use assemblies may be increasing, many of these suppliers only offer all-in-one solutions that are hard, if not impossible, to customize and lack in terms of flexibility and scalability. This can only be changed by an independent gamechanger who is willing to tackle and overcome any hurdles, a supplier who will provide fully customizable solutions that are both transparent and comprehensible. Only by focusing on what the bioprocessing market requires, such a supplier will be able to offer solutions that can - just like a black box - address the industry's complexities and absorb any irregularities.
Single-use assemblies markets and service providers need a change
The single-use assembly market is one of the things that need to change in order for a single-use service provider to be able to offer such solutions. The industry as a whole needs to take a leap of faith, a step forward, if it really wants to achieve lasting change and improvements. It is a relatively young and emerging field in the biopharma sector and while certain solutions may already be established, it should be easy for suppliers to adapt to changing needs and come up with new approaches that have what it takes to become established standards of the future.

In order to do so, suppliers of single-use tubings and manifolds can only provide advanced solutions and services as long as the necessary components are available to them. In addition, they need to be able to listen to their customers - not least by providing top-notch customer service - and offer customized single-use manifolds and other modular systems that can be integrated in existing manufacturer plants and easily adapted to meet changing needs.
mymanifold.com - bringing single-use assemblies on another level
Mymanifold.com has listened to its customers and came up with a user-friendly design based on single-use technology to address the market's issues and challenges. All our single-use assemblies consist of modular tubings, sterile connectors, filters and other components of the highest quality that can be adapted, added or neglected at will. This allows drug substance manufacturers to implement necessary changes quickly and timely - to act rather than to react.

CMOs or service providers specializing in offering a missing piece that is both easy to use and affordable, as well as manufacturer-independent, have been long overdue. Our single-use manifold configurator, which is available online free of charge, is a first step in bridging the gap and bringing the necessary solutions to the market.