March 9, 2023
Microbial cGMP production: complete guide & manufacturer's overview
Microbial fermentation refers to the production of microbial products, which can be enzymes, vaccines or other drugs, by the use of microorganisms. For this process, compliance with cGMP (Current Good Manufacturing Practice,) and the FDA's regulatory standards ensures quality, safety, and efficacy of the drug product.
This article covers an introduction to microbial production before explaining cGMP-compliant fermentation. Subsequently, renowned CDMOs (contract development and manufacturing organizations) and other manufacturers in the field and their services will be presented. Single Use Support is not a provider of microbial fermentation, but offers process solutions which are highly relevant for this field, as elaborated below.
Microbial fermentation manufacturing
Microbial fermentation manufacturing is the process of using microorganisms such as bacteria, yeast, or fungi to convert raw materials into desired products through a series of biochemical reactions.
Contract Development and Manufacturing Organizations (CDMO) use these as the basis to bring numerous different pharmaceuticals such as different vaccines, antibody-drug conjugates, biologics, and other drug products. These are effective therapies to treat cancer, infectious diseases, hormonal disorders, and much more.
E. coli is the most notable expression system following Chinese hamster ovary (CHO) cells. It remains the leading microbial host for producing antibodies and recombinant proteins due to its resilience and cost-effectiveness. The wide range of drug products that can be generated through fermentation, makes fermentation technology a multidisciplinary approach that combines microbiology, biochemistry, and molecular biology. Microbial fermentation manufacturing most often takes place in large bioreactors or other controlled environments.1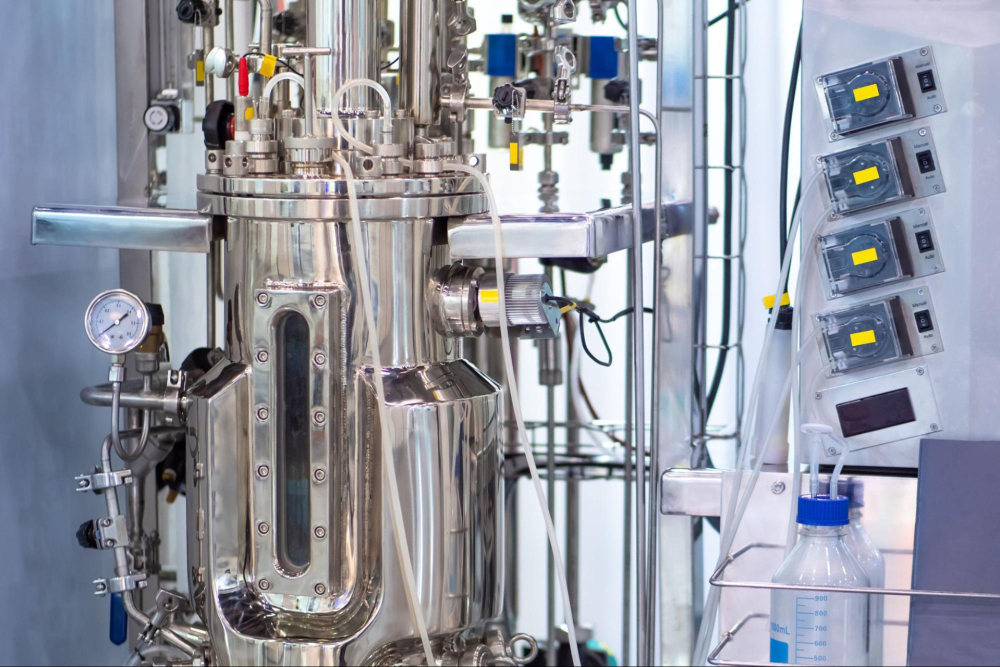 Fermentation in cGMP facilities
Recombinant pharmaceutical products produced by microbial fermentation are in most cases approved for human use by the Federal Food and Drug Administration. The FDA also sets forth the current Good Manufacturing Practice (cGMP): In the context of microbial fermentation, cGMP regulations ensure that standards and guidelines are followed throughout the process through documentation, design, monitoring, and control. This includes the manufacturing facility and equipment, raw materials, and the staff ensuring that the microbial products manufactured are safe, effective, and of high quality.
CDMOs offering microbial cGMP production
To benefit from a cGMP-compliant manufacturing site, microbial production is often outsourced to CDMOs. Especially biotech startups can leverage the expertise for their products: CDMOs usually comply with the latest standards and also possess experience and expertise as well as the necessary resources to handle all aspects of manufacturing in-house.
Here's a list with examples of experienced manufacturers with cGMP compliant facilities:
Creative Biogene
Creative Biogene offers cGMP compliant E.coli and yeast fermentation. The US-based manufacturer commands licensed facilities to manufacture the bacterial therapeutics and can thus meet the cGMP standards in the associated downstream processing, validation, and purification. Additionally, it has a dedicated facility for cell bank preparation and storage.
Lonza
The Swiss company Lonza offers a wide range of services from strain development to large scale manufacturing. The firm's expertise includes BLA (Biologic Licence Application) design and execution, as well as bringing products to the market with tailored solutions for each project. Leveraging 30 years of experience in microbial fermentation for biopharmaceutics, Lonza has advanced development, engineering, and manufacturing capabilities in microbial processes. This includes a proven track record in creating scalable, commercially viable processes from pre-clinical development to commercial-scale manufacturing.
BOC Sciences
BOC Sciences is a CDMO service provider with over 20 years of experience in fermentation technology development and microbial production. The company's one-stop fermentation service provides a streamlined production process, resulting in reduced costs and future turnaround times for its customers. BOC Sciences' microbial production systems strictly adhere to GMP and are equipped with state-of-the-art fermentation facilities as well as downstream isolation and purification equipment. The CDMO is committed to work closely with its customers from project design and evaluation, over strain selection and development, media and process optimization, fermentation and scale-up to microbial GMP production and project delivery.
FUJIFILM Diosynth Biotechnologies
Fujifilm Diosynth Biotechnologies is a world leader in the cGMP manufacturing of proteins derived from microbial hosts. The firm has extensive experience in the development of Paveway™ PLUS for efficient protein expression in E. coli, as well as working with a wide range of hosts and expression systems including E.coli, P. pastoris, and S. cerevisiae. Additionally, the company is dedicated to the cGMP production of clinical and commercial products and has completed and dispositioned over 2.000 batches with many more to come as Fujifilm is currently expanding its production capacity of the microbial manufacturing facility. The extensive experience and expertise make Fujifilm Diosynth Biotechnologies an ideal partner for companies looking to develop and manufacture protein products derived from microbial hosts.2
AGC Biologics
AGC Biologics offers a wide range of services including cell line development, process development, analytical development, and clinical and commercial manufacturing. Using microbial express proteins and various modes of expression, the reputable, global CDMO has produced over 100 products to date. The manufacturer relies on stainless steel fermenters to guarantee cGMP compliance. With its seven strategically positioned facilities, AGC Biologics ensures that the diverse needs of clients from different regions are met.
Cytovance Biologics
Cytovance® offers a comprehensive manufacturing solution that utilizes cutting-edge technology. Its services encompass cGMP manufacturing, process development, and manufacturing support. The company is specialized in cGMP microbial manufacturing up to 1.000L and mammalian manufacturing up to 2.000L, cGMP cell banking for both microbial and mammalian cells, customizable and adaptable GMP manufacturing services, as well as R&D, Cytograde™ and CGMP grade plasmid manufacturing. The microbial manufacturing capabilities are part of an over 13.000m2 space, equipped with state-of-the-art facilities and specifically designed to enable cGMP production of a variety of biopharmaceutical products. On top of the cGMP fermentation processes at 10L, 200L, 300L, and 1.000L scales, there are two downstream recovery process suites that feature 2 x 5.000L refolding tasks available.

Single-use solutions for Microbial Production
The use of microbial and bacterial fermentation has opened up new opportunities in the development of biologics and advanced therapies. However, there are challenges to overcome in fermentation development to enhance growth rate, cell viability, and productivity.
These include scalability, process solutions for large volumes, and adherence with the complex and time-consuming regulatory compliance. This is where the single-use technologies of Single Use Support for advanced fluid management and freeze-thaw logistics comes into play. It ensures high product potency during the cold chain with less than 8 hours required to perform rapid, automated aliquotation into single-use bioprocess containers, followed by controlled freezing to -80°C. Moreover, the flexible end-to-end process solutions can be customized for evolving requirements and comply with current good manufacturing practices.