March 7, 2022
PUPSIT - Benefits of single-use technology in pre-use post sterilization integrity testing
PUPSIT stands for pre-use post sterilization integrity testing. This method is performed once a sterilizing filter has been installed, and serves the purpose of filter integrity testing. In other words: PUPSIT ensures that the installed filter is functional during the sterilization and after installation process and that it complies with any regulatory requirements.
The general shift towards single-use technology in the pharmaceutical and biopharmaceutical industry can in part be attributed to the desire to eliminate certain elaborate steps like autoclaving. As systems made up of single-use components are sterilized in forehand by the supplier, autoclaving becomes obsolete and potential risks are reduced.
Regulatory obligation to perform PUPSIT
In line with current good manufacturing practices (GMP), different regulatory bodies such as the Food and Drug Administration (FDA) make it mandatory for pharmaceutical and biopharmaceutical manufacturers to perform pre-use post sterilization integrity testing processes. The European Medicines Authority (EMA) introduced PUPSIT to their GMP guide for medicinal products as early as 1997 for purposes of sterility assurance respectively to reduce the risk of contamination and bioburden.
According to several guidelines by the WHO, the FDA, EMA, PDA, ISO and other institutions, PUPSIT has to be performed after the sterilization process but prior and afterwards to the filtration of the product in question.
PUPSIT - The process in detail
Membrane filters have been used in bioprocessing for many years. Any undetected flaws in the filter membrane could lead to malfunction due to clogging or cross contamination due to insufficient filtration during batch processing. Due to the nature of the membrane, a non-destructive integrity test is necessary so as not to strain the filter prematurely.
The PUPSIT procedure is such a non-destructive testing method: By using PUPSIT for integrity testing, manufacturers can ensure and confirm that the filter is compliant, as well as properly installed and intact during filtration. They have the choice of 3 major PUPSIT testing methods, with the so-called Bubble Point Test being the most widely used non-destructive integrity test.
It uses water for injection (or WFI in short) that is compliant with ISO standards to moisten the filter. All three different PUPSIT tests can be applied to both filtering options - either using stainless steel filter housings or single-use systems.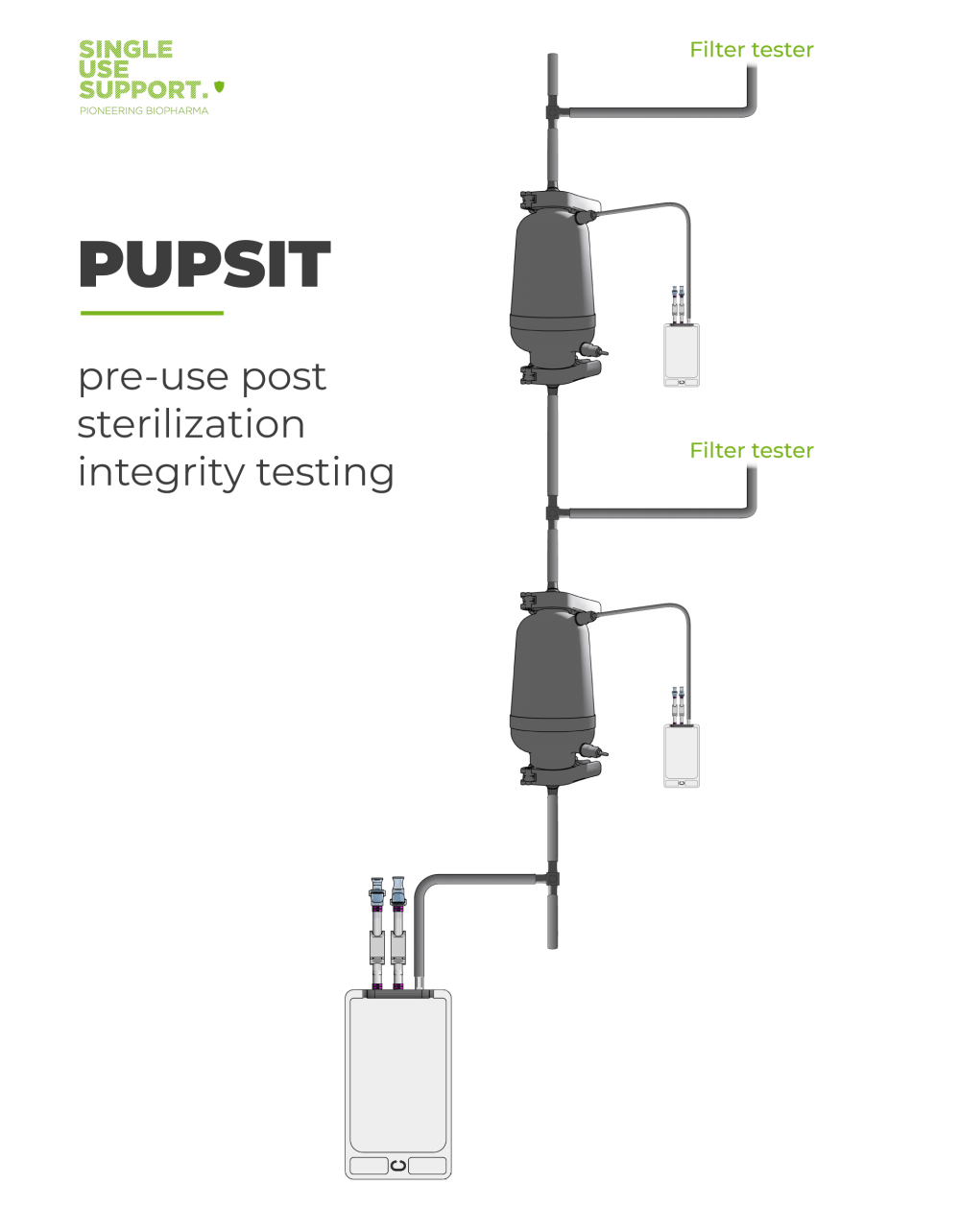 The trend towards single-use technology
While pharmaceutical manufacturing plants have installed fixed pipings for fluid management made of stainless steel, medical drug product manufacturers are increasingly changing their setup to single-use technologies. One of the main advantages of single-use components is their high degree of compatibility and, as a consequence, flexibility.
In addition, single-use tubing assemblies are made up of individual components - such as sterilized connectors, tubes, filters, as well as bioprocess containers - that can be combined as needed to create a closed system. This means that there is - other than with stainless-steel installations - no more need for autoclaving, thus saving valuable resources.
PUPSIT with stainless steel facilities
While stainless-steel facilities in bioprocessing undeniably have certain pros going for them, there are also a number of cons. While certain procedures, such as installation processes, can be automated, the set-up is generally more complex and risk-prone than with single-use assemblies.
Furthermore, the nature of stainless steel bioreactors calls for a sterilization process after every single processing run, as the filter needs to be exchanged every single time. Autoclave sterilization works by using steam to kill microorganisms such as bacteria and spores. While this process is absolutely necessary to preclude any type of (cross) contamination and to ensure aseptic processing, it also leaves behind water.
This poses a problem for many manufacturing facilities: Even the smallest amount of water will dilute the drug product to be processed and may thus corrupt the formulation. Naturally, this can have dire consequences for the end user. This is why the biopharma industry has been looking for alternatives that eliminate the need for autoclaving.
PUPSIT with single-use technology
Such an alternative is now available in the form of single-use technology. Single-use filtration assemblies are composed of various sterile components, such as connectors, tubes and - obviously - filters. Due to its customization to each drug product manufacturing process, they are ideally suited to replace stainless-steel components.
PUPSIT is compatible with single-use technology and offers advantages compared to stainless-steel systems. With single-use assemblies, the entire system rather than just the filter is replaced.
While filter integrity testing is still necessary for sterility assurance purposes, autoclaving procedures are no longer necessary in order to comply with ISO, PDA or FDA regulations. So, in addition to added agility, single-use systems also work in favor of risk mitigation since there is no more need for autoclaving. Thus, it is ensured that the formulation of the drug product will not be modifiedby dilution.
Single-use technologies also have an advantage in terms of sustainability. In contrast to hard pipes, much less water, chemicals and energy is used, which is ultimately more environmentally friendly.
Consequently, players in biomanufacturing and pharmaceutical manufacturing have one less process to worry about when it comes to cleanroom requirements and aseptic processing. At least it comes to the outsourcing of this aspect. Single-use suppliers are responsible for qualitative, sterile components and the user is therefore more or less dependent on the supplier.
Pre-use Post Sterilization Integrity Testing Outlook
As already mentioned, the pharmaceutical and biopharmaceutical industries are experiencing a trend towards single-use assemblies. Higher degrees of flexibility, scalability, and compatibility are one of the advantages: Single-use manifold assemblies are compatible with PUPSIT integrity testing devices from all established providers, both for redundant or serial filtration processes.
So while pre-use post sterilization integrity testing will remain an integral part of bioprocessing and drug product manufacturing processes, it is safe to say that single-use technologies are favorable and beneficial to aseptic processing.
They will contribute to simplifying not only integrity testing and validation but manufacturing processes in general, while keeping in line with current good manufacturing processes and any standards and guidelines defined by major authorities such as FDA and EMA.