May 8, 2023
FDA approved ADCs for cancer therapy
The number of FDA approved antibody-drug conjugates has rapidly risen in the last decade and promises to continue to do so. ADCs are very effective drugs used in the treatment of metastatic diseases and anticancer therapy.
Many cancer patients could already benefit from the synthesis of a monoclonal antibody (mAb) with a cytotoxic agent as a treatment option. Compared to common antitumor therapeutics, ADCs bear less risk of damaging normal tissue.1
In this article, we will explore this promising new drug class in oncology, explain the mechanism behind ADCs, how they are used and where their future is heading.1
Structural characteristics of ADCs
ADCs consist of three components: the antibody, the linker and the payload. Payloads are toxic pharmaceutical molecules which dictate the drug's potency by their concentration in tumor cells.2 There are two different kinds of cytotoxic payloads which operate in different ways:
Tubulin inhibitor payloads: They are the most commonly used payloads and act during cell growth and kill cancer cells by mitotic arrest. Examples for tubulin inhibitors are maytansinoids, auristatins, or taxol derivatives. Examples for payloads inhibiting tubulin polymerization are the tissue factor directed monomethyl auristatin E (MMAE) and monomethyl auristatin F (MMAF), compounds derived from dolastatin 10. Examples of antibody-drug conjugates carrying MMAE are brentuximab vedotin, polatuzumab vedotin, and enfortumab vedotin.
DNA-damaging payloads: They act independent to cell growth and cause cell death by cleaving the DNA and causing DNA alkylation by disrupting the microtubule network within the cell. Examples of DNA-damaging molecules are duocarmycins, calicheamicins, pyrrolobenzodiazepines and SN-38.2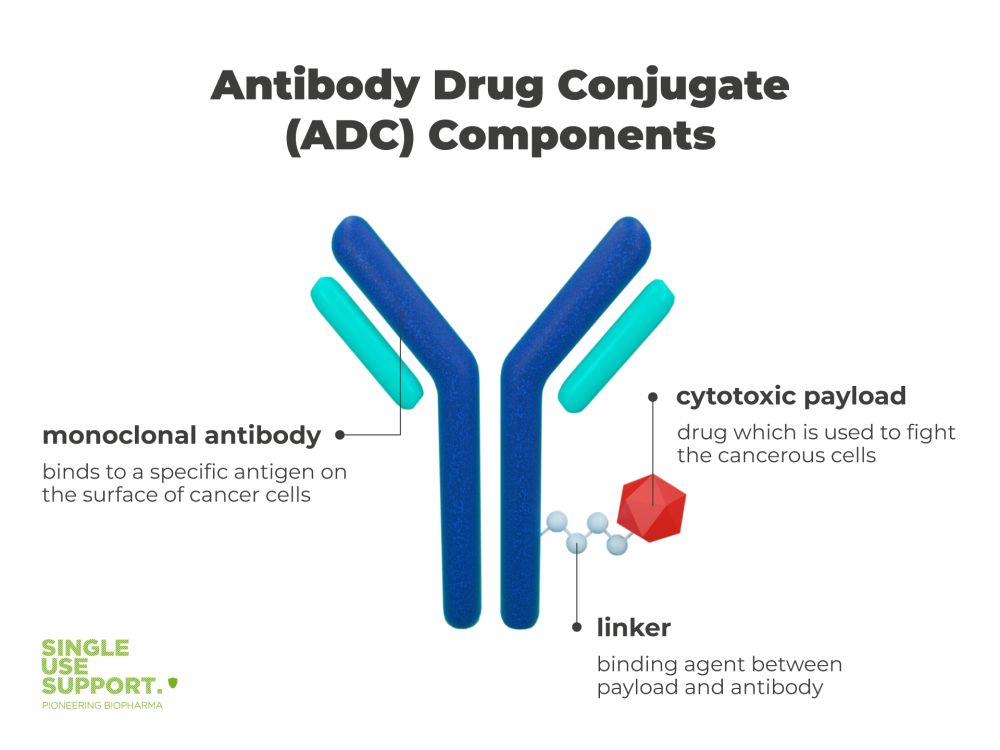 Antibody-drug conjugates – mechanism of action
The mechanism of action of ADCs sounds simple in theory. Their manufacturing, however, is a laborious process. In ADC technology, an antibody that specifically targets the receptors of a tumor cell antigen, and a highly cytotoxic drug are combined with a cleavable or non-cleavable linker. The monoclonal antibody is designed to recognize a target antigen on the cell surface of the cancerous target cell.
Linked to the cytotoxic agent, it delivers the small molecule drug to these cells. The ADC degrades in the lysosome, the peptide linker releases the cytotoxin, which is internalized through receptor-mediated endocytosis. It then proceeds to kill the tumor cell.
It is important to control the drug to antibody ratio (DAR) and regulate drug toxicity to avoid the so-called bystander effect in targeted therapy, where the cytotoxic agent breaks through the cancer cell's surface and starts to attack healthy cells. Further, linker design impacts pharmacokinetics, tolerability and efficacy.3
Mylotarg
The ADC with Gemtuzumab ozogamicin as a payload was developed by Pfizer/Wyeth. It is used in therapy of relapsed acute myelogenous leukemia and got its FDA approval in 2017.
Adcetris
The payload of Adcetris is Brentuximab vedotin, which is used against relapsed Hodgkin lymphoma and relapsed systemic anaplastic large cell lymphomas. Developed by Seagen Genetics, Millennium/Takeda, it was approved in 2011 by the FDA. 4
Kadcyla
Using trastuzumab emtasine as a payload, Kadcyla is used against HER2-positive metastatic breast cancer. The ADC was developed by Genentech and Roche and approved in 2013.
Besponsa
Besponsa uses the payload Inotuzumab ozogamicin and was developed by Pfizer/Wyeth for the therapy of relapsed or refractory CD22-positive B-cell precursor acute lymphoblastic leukemia. It was approved in 2017 by the FDA.
Lumoxiti
Lumoxiti is regarded as an immunotoxin and uses the payload Moxetumomab pasudotox. It was developed for the therapy of relapsed or refractory hairy cell leukemia or HCL by Astrazeneca and was approved in 2018.
Polivy
The payload of this ADC is called Polatuzumab vedotin-piiq and is used in the therapy of relapsed or refractory (R/R) diffuse large B-cell lymphoma or DLBCL. It was developed by Genentech and Roche and approved by the FDA in 2019.
Padcev
The payload used in Padcev is Enfortumab vedotin. The drug was developed by Astellas/Seagen Genetics for the therapy of adults with locally advanced or metastatic urothelial cancer who have already received a PD-1 or PD-L1 inhibitor and PT containing therapy. It was approved by the FDA in 2019.
Enhertu
Enhertu was developed by AstraZeneca and Daiichi Sankyo for the therapy of adults with unresectable or metastatic HER2-positive breast cancer who have received two or more regimens. The payload used is called Trastuzumab deruxtecan and was approved in 2019.
Trodelvy
The payload of this ADC with an antibody targeting TROP2 is called Sacituzumab govitecan and is used in the therapy of adults with metastatic triple-negative breast cancer or mTNBC who have received two prior therapies. It was developed by Immunomedics and approved in 2020.
Blenrep
Blenrep was developed by GlaxoSmithKline (GSK) and used in the therapy of adult patients with relapsed or refractory multiple myeloma. It was approved in 2020. However, it was withdrawn in 2022, because it did not fit FDA standards regarding progression free survival.5
Zynlota
The payload in Zynlota is loncastuximab tesirine-lpvl. The ADC is used in the therapy of large B-cell lymphoma. It was developed by ADC Therapeutics and approved by the FDA in 2021.
Tivdak
The payload in Tivdak is called Tisotumab vedotin and was developed by Seagan Inc for recurrent or metastatic cervical cancer therapy. It was approved in 2021.
Elahere
Elahere uses the payload Mirvetuximab soravtansine and was developed by ImmunoGen for the therapy of Platinum-resistant ovarian cancer. The FDA approved the ADC in 2022.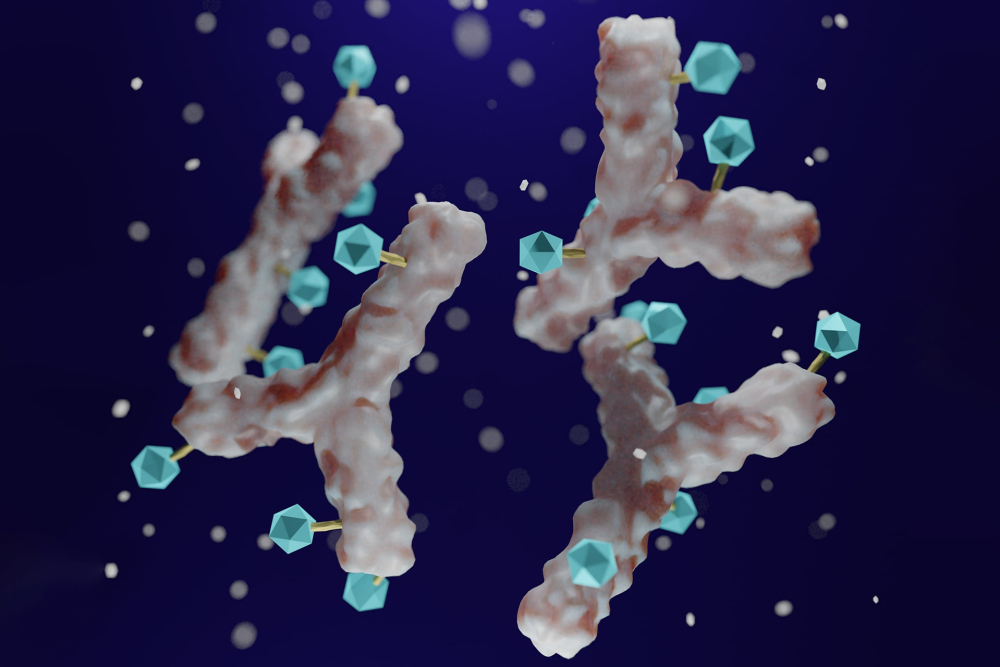 Antibody-drug conjugates currently reviewed for approval
Due to the development of immunotherapy, ADCs are part of a rapidly growing market. At the moment, more than a hundred ADCs are in development and there are 57 new ADCs in clinical trials, waiting for their FDA approval, many of which target human epidermal growth factor 2 (HER2) like in HER2-positive advanced breast cancer. Past examples have shown that many advances in ADCs meant to target HER2 will bring new insights to the therapeutic possibilities for other diseases like EGFR and MUC16 as well.6 7
ADCs: Fields of research and prospects
Even though the first generation of ADCs from clinical development was regarded as a disappointment,8 the advances made in research on new ADCs are numerous and positive.9 Especially in the treatment of breast cancer, ado-trastuzumab emtansine based ADCs have proved valuable.
At the moment, ADCs are selected based on solid tumor characteristics. However, in the near future it could be possible to select therapies targeting tumor antigens.10
In many cases, several players are involved in the production of ADCs. This means safe transport and storage of ADCs from one manufacturing site to the other is a necessary measurement. For this purpose, ADCs are frozen and then thawed, which can lead to product alterations if not performed under controlled circumstances.
Further, process safety in fluid management of ADCs is necessary to protect staff and prevent product loss. For this purpose, Single Use Support provides fully automated solutions with single-use equipment that makes safe filling and aliquoting of ADCs possible.8 9 9
Summary: List of approved antibody drug conjugates by April 2023
Below, we list the ADCs approved by the FDA as of today – with hopefully many more to join them in the future.11
| Trade name | Approval Year | Drug | Payload |
| --- | --- | --- | --- |
| Mylotarg | 2017 | Gemtuzumab ozogamicin | Gemtuzumab ozogamicin |
| Adcetris | 2011 | Brentuximab | Brentuximab |
| | | vedotin | vedotin |
| Kadcyla | 2013 | Trastuzumab emtansine | Trastuzumab emtansine |
| Besponsa | 2017 | Inotuzumab ozogamicin | Inotuzumab ozogamicin |
| Lumoxiti | 2018 | Moxetumomab pasudotox | Moxetumomab pasudotox |
| Polivy | 2019 | Polatuzumab vedotin-piiq | Polatuzumab vedotin-piiq |
| Padcev | 2019 | Enfortumab vedotin | Enfortumab vedotin |
| Enhertu | 2019 | Trastuzumab deruxtecan | Trastuzumab deruxtecan |
| Trodelvy | 2020 | Sacituzumab govitecan | Sacituzumab govitecan |
| Blenrep | 2020, withdrawn November 2022 | Belantamab mafodotin-blmf | Belantamab mafodotin-blmf |
| Zynlonta | 2021 | Loncastuximab tesirine-lpyl | Loncastuximab tesirine-lpyl |
| Tivdak | 2021 | Tisotumab vedotin-tftv | Tisotumab vedotin-tftv |
| ELAHERE | 2022 | Mirvetuximab soravtansine | Mirvetuximab soravtansine |