April 27, 2021
Introducing the next level of single-use freezing and thawing technologies
With more comfort and safety through smart automation - as well as hybrid use (Bags as Bottles) we're entering the next level.

With bulk drug substances playing an increasingly important role in the pharmaceutical and biopharmaceutical industry, reliable freeze thaw equipment as well as processes and ease of handling are becoming ever more important. This is why Single Use Support have added a new feature to their single-use freeze & thaw system for the handling of large volumes.
The new, additional feature of an auto loader to the large-scale RoSS.pFTU platform allows you to take freezing of drug substance and thawing of drug substance to the next level: Not only does the hybrid platform offer a controlled and scalable handling of large volumes of drug substance in either single use bags or bottles but the newly added auto load function now makes handling - especially of heavy loads - much easier.
RoSS.pFTU Auto Load loads and unloads filled RoSS shells in a fully automated manner, and when it comes to handling heavy loads, it assists staff in loading. All tasks can be controlled via the easy-to-use control panel to facilitate efficient and reliable filling, freezing and thawing of RoSS shells while
adhering to all compliance rules with regards to handling heavy loads
decreasing the risk of damages caused by breaking or dropping
ensuring correct placement of RoSS shells between cooling plates
The auto load function adds to an already existing range of benefits:
It will not only increase process reliability and speed but also your output.
At the same time it will minimize the risk of human error as the staff required to handle the platform can be reduced.
The handling of heavy loads overhead is assisted by the platform.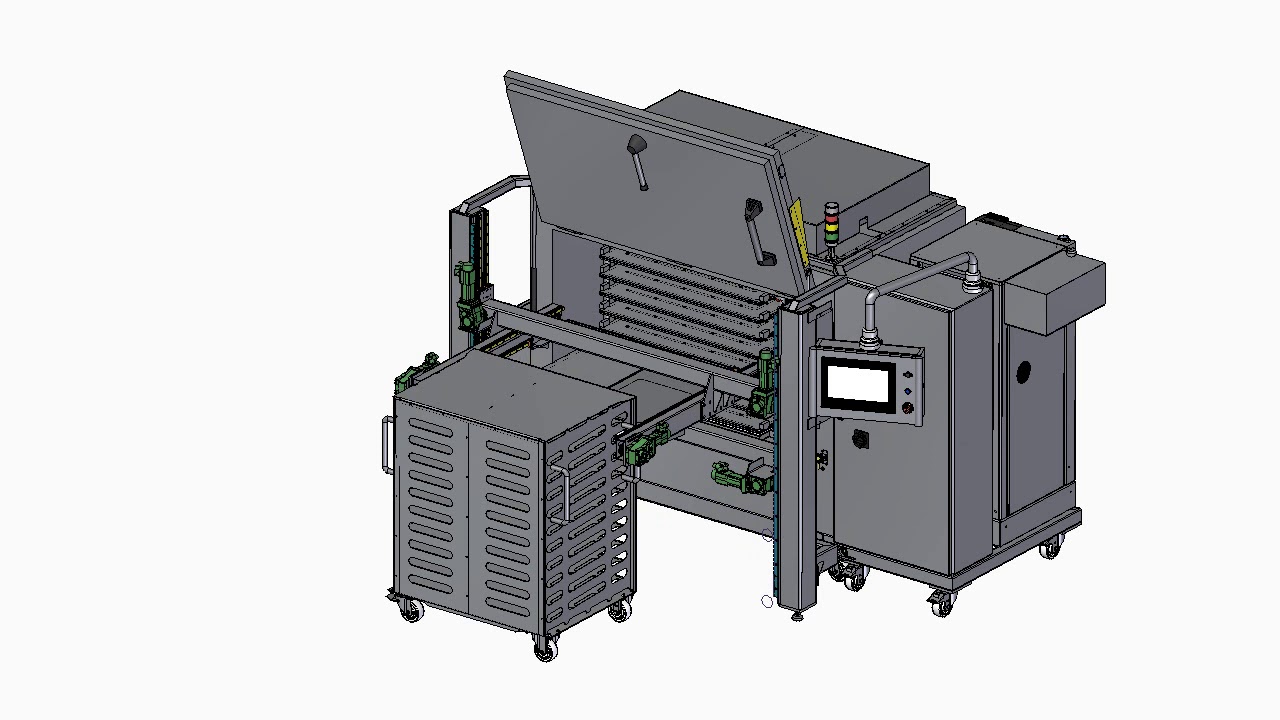 The benefits of a hybrid platform – processing bags as bottles
Even though single use bags have become the gold standard for drug bulk logistics, bottles are still being used and cannot be neglected. This is why Single Use Support's plate freezer for biopharma, RoSS.pFTU, is a hybrid platform that allows freezing and thawing in either bags or bottles. While single use bags are clearly at the core of the company's DNA, so are flexibility and agility: The team's rationale has always been to look closely at what is needed and to leave enough room for feasible alternatives. As long as bottles are still in use, there will always be a solution to accommodate them. This
ensure both single use bags and bottles can be filled with the same platform
allows for a smooth eventual transition to single use bags.
In true Single Use Support fashion, the newly added autoload function is a hybrid solution that accommodates both options.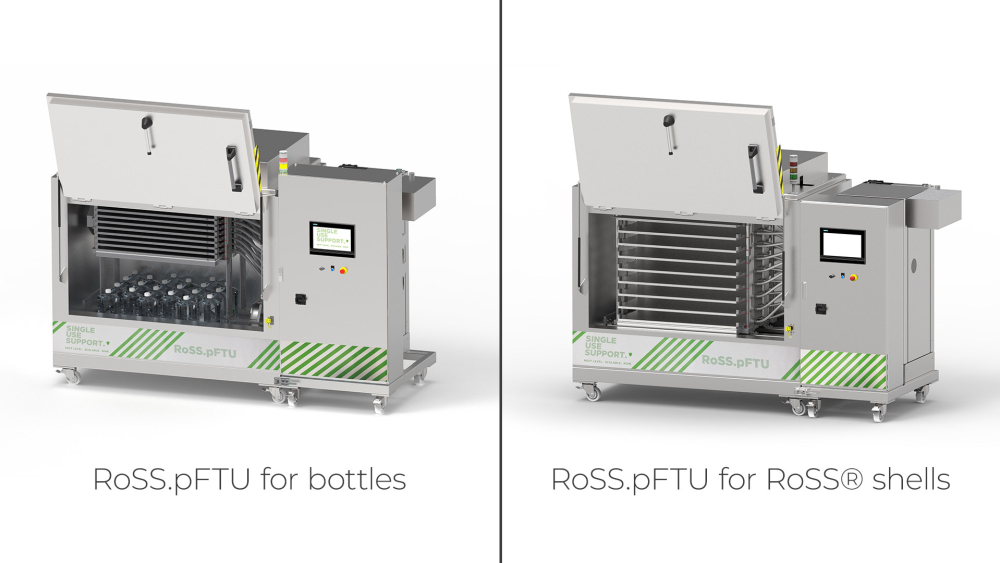 Secure and intuitive handling of bulk drug substance with RoSS.pFTU freeze thaw platform
While the auto load function is a fantastic new tool, the well-established utilization of advanced single use technologies facilitates a safe and protected handling of highly valuable and sensitive drug substances throughout the entire process. The RoSS.pFTU freeze thaw platform contributes to a safe journey and warrants the bottle's or single use bag's intact arrival at its final destination, keeping its precious contents protected from biocontamination and other damages. Furthermore, the plate freezer unit is scalable for volumes of up to 200 l and offers the option of user-specific regulation and adaptation.
It goes without saying that the fully automated hybrid RoSS.pFTU freeze thaw platform is FAT/SAT validated as well as GMP compliant. With its intuitive control panel it offers user-friendly operation while the stainless-steel shells offer full protection for the tubings and bags with their valuable contents.
Advantages of frozen drug substances over liquid storage
So what are the advantages of freezing drug substance over liquid storage? In order to guarantee the valuable drug substance's safe transport to its destination, it is usually frozen. This prevents product loss caused by leakage while at the same time reducing the risk of contamination. As opposed to the slow freezing process of static freezers, the RoSS.pFTU plate freezer offers improved freezing results.
The stainless-steel shell's direct contact with both the bag on its inside and the freezing plate on the outside allows for a homogenous freezing result that maintains the characteristics of the drug substance. And while viscosity tests conducted by Single Use Support have shown that the degree of viscosity does not impact the filling process, RoSS.FILL allows for an intuitive regulation and adjustment of both speed and force of liquid throughput. With all these functions you can be sure that your single use filling and draining process is covered from beginning to end.
As an added benefit, frozen drug substances take up less storage space: Where liquid storage requires bulky containers that take up a lot of space, the same liquids can be frozen for storage in a compact and space-saving manner.