June 29, 2021
An overview of relevant suppliers: Freeze Thaw in Biopharma
Players in the biopharmaceutical industry are dealing with a variety of highly valuable and very sensitive goods. In order to preserve their properties, bulk drug substances are commonly frozen before they are being stored or sent on their way around the globe. With the volume of (new) therapies being developed increasing and the pace of said developments accelerating, there is a growing demand for reliable and flexible freeze-thaw platforms that can meet and adjust to the industry's demands.
Along with it the number of dedicated suppliers is growing. They are serving the international biopharmaceutics market with progressive freeze-thaw technology and freeze-thaw platforms as well as the necessary add-ons.
Market Overview - Freeze Thaw Technology in Biopharma
The characteristics of medical solutions are to be maintained throughout their progression from raw material to final product to being applied. To achieve this, it is common practice to freeze the precious goods, which are not only highly valuable but often also very sensitive. With 59.4% of manufactured biopharmaceuticals now shipped in a frozen state, freezing and thawing has become an inherent part of many drug substance development or manufacturing processes.
This is why freeze-thaw platforms used in the biopharmaceutical industry are crucial. They have to comply with various standards and meet an ever-changing set of requirements. The development of such platforms and the necessary add-ons is a highly specialized task. Besides expertise and skill it takes a dedicated R&D department and the willingness to not only adapt but to progress.
To address the realities of today's market, most freeze-thaw platforms are modular so they can be modified and scaled as needed. Some of the most established competitors of Single Use Support and its RoSS® freeze-thaw platform are:
Meissner (CryoVault™)
Sartorius (Celsius® CFT)
HOF (static plate freezers)
Meissner Filtration Products
Based in California, Meissner Filtration Products develops and manufactures advanced process solutions including single-use systems and microfiltration products that are supplied to customers in fields as varied as bioprocessing, pharmaceutical, biologics, and food and beverage.
Meissner's single-use systems, which include containers and path assemblies, serve the complete range of microfiltration requirements and are utilized to provide optimized fluid handling in the biopharmaceutical industry. In addition, Meissner provides an end-to-end process solution for freeze-thaw processes that covers every process step from filling to dispensing.
Meissner freeze-thaw system
While being based on single-use assemblies, Meissner's freeze-thaw system CryoVault™ is constructed of rigid walls to provide robust protection throughout the freeze-thaw process. The modular system is composed of rigid HDPE containers with configurable fluid path assemblies to allow for flexibility and scalability.
The freezer is available in two sizes, with the larger one accommodating up to 300 L nominal working volume and the small-scale freezer accommodating up to a 96 L nominal working volume. The Meissner freeze-thaw system CryoVault™ is only compatible with their own single-use bags. There is no flexibility to change the system.
HOF Freezing Systems
Based near Marburg, Germany, HOF Sonderanlagenbau GmbH has been a leading specialist for manufacturing individual freeze drying systems, loading and unloading systems and freezing and thawing equipment for 30 years for a range of industries. With their main clientele being companies from the pharmaceutical and biotechnology sectors, it was only a logical step to venture into the development of freezers for the biopharmaceutical industry.
The company was founded in the late 1980s with the aim to provide innovative and reliable solutions from a single source, from development to engineering to final automation and software products. All of their products comply with all necessary standards and regulations and it is quite common for new models to be developed in cooperation with leaders of the respective market, be it biopharmaceutical or the food industry.
HOF plate freezers
HOF's individually designed and manufactured freezers house state-of-the-art technology that offers adjustable freezing speed and full control over the freezing process. Thanks to using indirect refrigeration, the German freezing systems do not use any energy when idle, while large doors ensure fast loading and unloading.
The tried-and-tested, static plate freezers, which can be found around the globe, are compatible with single-use bags of different volumes and any established brand.
Sartorius
Like HOF, Sartorius is a company with German roots that was founded in Goettingen in 1870. What back then was a producer of fine precision weighing devices today has grown into a global supplier of pharmaceutical and lab equipment.
Since its humble beginnings, the company has turned into a major global player, not least thanks to its first design of membrane filters, which have become a mainstay in research and production. Innovation has always been part of Sartorius' nature and thanks to its ongoing developmental efforts, the company has evolved to become a leading international partner of the biopharmaceutical industry and the research sector.
Today, it is supplying manufacturers and laboratories around the globe with a range of innovative single-use technologies and systems to guarantee a reliable and protected bulk substance logistics process.
Sartorius freeze systems
Apart from their Celsius® FFTp, a solution for static plate freezers, Sartorius has developed a freeze-thaw platform based on single-use technologies. Celsius® CFT combines rigid-container strength with single-use flexibility. It is a complete system for proven freeze-thaw performance, designed to minimize manual handling of drug substance and mitigate the associated risks.
Unlike freezers from other manufacturers, their current model is only compatible with Sartorius' own single-use bags and shells. Their single-use bags on the other hand can be used with other freeze-thaw platforms, such as Single Use Support's RoSS®.
Single Use Support RoSS® Systems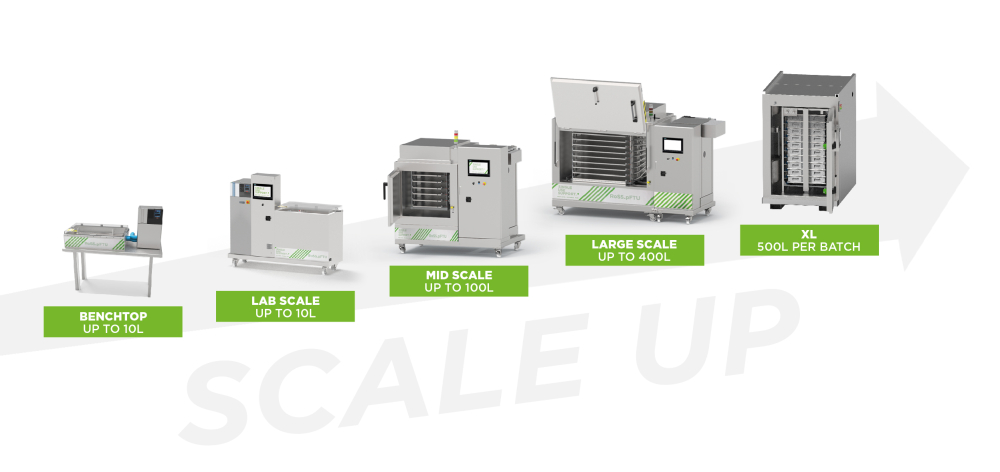 Just across the border from Germany, in Austria, Single Use Support is another specialist in freeze-thaw technologies for the biopharmaceutical industry.
RoSS® is an innovative, state-of-the-art secondary packaging to protect single use bags in all sizes and raw materials such as polyethylen, EVA or fluorpolymer, regardless if they are multi-layer or single-layer bags. The protective shell based on single-use components allows it to be scaled and adapted to a number of needs and uses, from lab environments to bulk production. It can used to freeze & thaw bulk drug substance, different components of cell and gene therapies, or intermediates in Upstream Seed Train Intensification, thus offering highly effective end-to-end process solutions for multiple areas of application.
The pharmaceutical freezer, RoSS.pFTU freeze-thaw platform is bag-agnostic, allowing you to choose your preferred bag brand and volume. It is a comprehensive end-to-end solution that offers perfectly harmonized add-ons - like protective shells - as required. As opposed to standalone "silo" platforms, which are anything but flexible, end-to-end solutions can be adapted and scaled to meet specific manufacturer or lab needs with e.g. the small lab freezer. It is a comprehensive, intelligent and cutting-edge system that allows you to cover all your needs, including compact primary packaging to
protect your valuable product throughout its journey
increase product stability and quality of your mAbs, proteins or mRNA
provide options to scale-up or -down or to go hybrid - freezing bags and bottles
minimize the risk of contamination through breakages and
save space during storage and shipping of drug substances
The RoSS® shells have been specifically designed for the above listed purposes. They are made of stainless-steel, which is very robust and tamper-proof, while at the same time offering ideal temperature-transfer properties.
Keep your valuable drug substance protected and ensure an efficient and reliable logistics process by opting for RoSS® and adapting it to your respective needs.