November 29, 2021
Protecting single-use bags to foster their progress
Twenty years ago there was only steel.
Biopharmaceutical manufacturing has been conducted by fixed stainless-steel installations for a long time. Pharmaceutical products were produced in rigid, inflexible vessels and pipings by cell culturing and/or fermentation, purification, filtering, filling and freezing. Only until single-use systems, such as single-use bags, aseptic fluid management tubings made of plastic, have proven to provide manufacturers with way more advantages for bioprocessing.
They are more flexible, scalable, faster and cost effective. And yet there is hesitation.
How can single-use technologies continue to thrive?
What are the advantages of single-use systems
Single-use solutions outperform in multiple areas:
Universal applicability: Be it large scale manufacturing of vaccines, antibody-drug conjugates or emerging regenerative medicine, such as cell and gene therapy, single-use bags have solutions for every pharmaceutical manufacturing facility and every batch size. Diverse drug products and areas of applications benefit from single-use technologies.
Process Efficiency: Single-use systems facilitate cost-competitive production processes in the biopharma industry by massive reduction of ressources for cleaning. These are for example costs for cleaning media, time consuming cleaning cycles, operator time and analytics. Also there is reduced risk of cross-contamination given. Having end-to-end solutions in place for drug substance handling that are compatible throughout different bioprocessing steps, such as liquid transfer, freezing & thawing and transportation, prove to have even higher efficiencies. [1]
Scale-up process: Breaking up conventional batch sizes shifting to small volumes for the clinical phase and large volumes in commercial productions, single-use bags allow companies to work more flexibly. Especially for innovative approaches of regenerative and individualized medicine and tissue engineering, single-use solutions are the logic process solution: It is necessary to fill, freeze and ship medication within a short period of time. Single-use equipment offers a multipurpose production due to enhanced throughput and changeover times. Also, scalable manufacturing productions with modular setups have made single-use systems recognized among manufacturers. [2]
Sustainability: Single-use technologies are more sustainable than stainless-steel equipment on a holistic view. It is not only plastic to be recycled: Stainless-steel reactors and pipings are less sustainable since enormous amounts of water, energy and chemicals are required to ensure sterility. [3]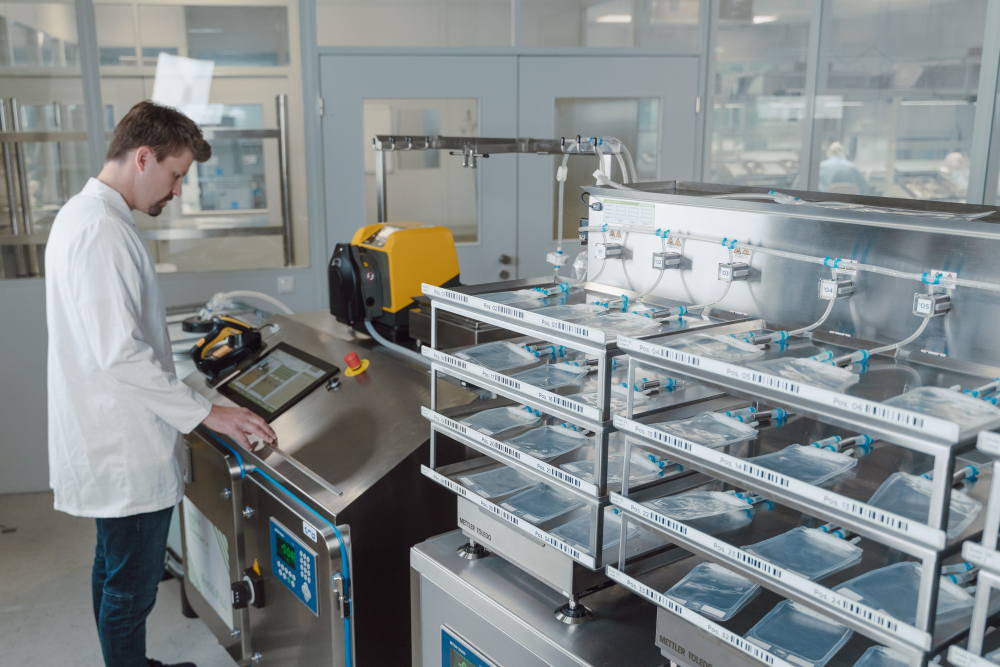 What are concerns caused by single-use systems to get full acceptance?
In short: There is still potential product loss with unprotected single-use bags and there are still human errors dampening the euphoria of single-use systems.
Single-use bags containing highly valuable drugs consist of multi-layer plastics which are vulnerable even at ambient temperature. They become glass-like when frozen and without protection are prone to breakages when handled incorrectly. Or sometimes even when handling correctly.
RoSS (abbreviated for "robust storage and shipping") is a protective shell for all 2D single-use bags. Independent from any single-use bag manufacturer or from any size, RoSS shell protects the bag from external forces during freezing, handling storage and shipment, but also from the inside: A soft 3D foam – as counterpart complementing the protective robust stainless-steel – absorbs the products' natural expansion during freezing, provides full immobilization and hence guarantees avoidance of product loss. For smaller single-use bags the CAR T therapy single-use bag protection system RoSS.KSET is the ideal solution.
Its protective measures help to reduce human errors by mishandling single-use containers. The single-use bags are tamper-evidently sealed as closed system which prevents susceptibility to misuse.
"We have achieved a 0% failure rate out of several batches after implementing RoSS shells"
Principal Engineer, Multinational Biotechnology Company
The RoSS shell has been invented by Single Use Support. Since then it has been tested in real-world scenarios by operators and experts in biopharmaceutical manufacturing. The big interest in such advanced innovations reflected the desire to avoid product loss by breakages.
Read more: How to avoid single-use bag leakages in bioprocessing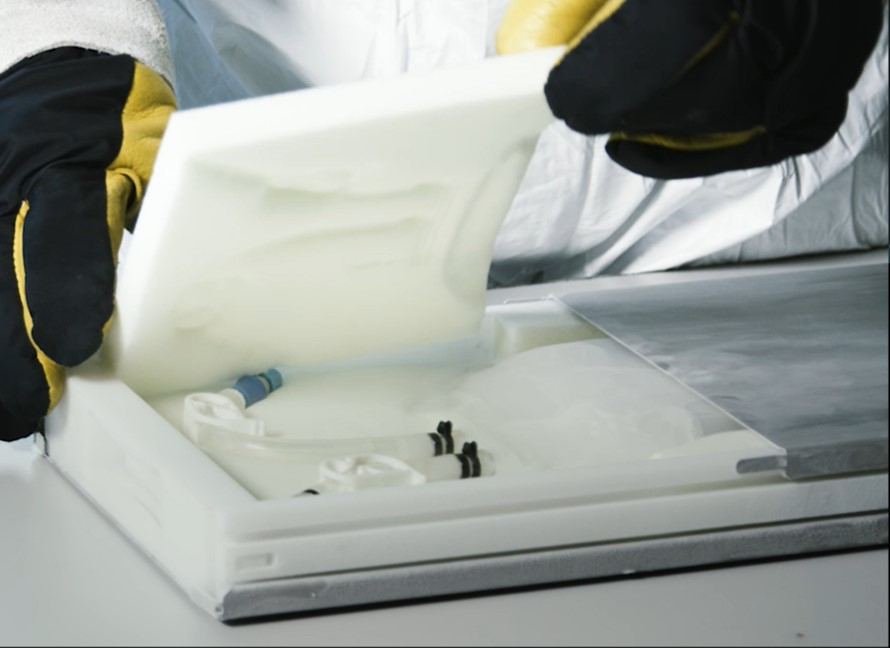 Proven and tested protection
One of Single Use Support's numerous customers, an innovative global biopharma company, which has evolved as partner for further development of different products started to use RoSS shells almost 3 years ago. They have now reported "0% failure rate out of several batches" in 2020. This real-world evidence has strengthened the company's plans to rely on RoSS for another product launch in 2021. [4] The concept of RoSS platform has been proven trustworthy and reliably over the last years and adds a new perspective for companies which are still suffering from product loss caused by inadequate protection of single-use bags to regain trust in single-use systems.
Shaping Biopharma future trends
The rising trust in RoSS' ability to enhance security standards mirrors the willingness to further establish single-use systems. It supports common goals to increase patient safety but also corporate goals to gain efficiency, safety and flexibility by implementation of smart end-to-end single-use solutions in biopharmaceutical processes.
RoSS is a composition of both, robust stainless-steel and novel soft 3D foam. The latter metaphorically absorbs the remaining weaknesses of single-use bags – being the temporary highlight of the journey from a stainless-steel prone industry to a more and more single-use defining Biopharma industry.