December 20, 2022
Upstream processing with single-use systems
The manufacturing process of biopharmaceuticals such as monoclonal antibodies, mRNA and bioconjugates is divided into upstream and downstream processing. Manufacturers seeking reliable automation and optimization fit for scale-up are increasingly employing single-use bioreactors, titers, filtration and other components, especially during upstream.
The following article explains how process development and manufacturing processes in biomanufacturing can be impacted by the implementation of single-use technologies, and highlights both benefits and potential challenges.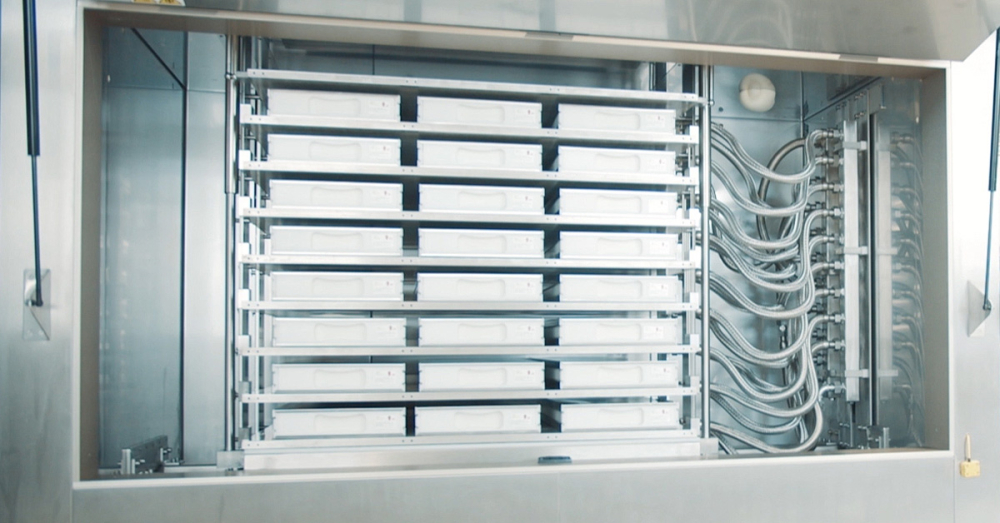 Upstream Processing and the requirements in the respective steps
Upstream processing describes the growth of either bacterial or cell culture-based protein products, referred to as microbial fermentation or mammalian cell culture respectively. It comprises all preparatory steps for the fermentation of cell lines, which can be done in different ways, such as perfusion or fed-batch.
Apart from the development of microorganisms, this biotechnology process includes proper storage of microorganisms, cell isolation and cultivation of the cells until the final harvest and is made up of
nutrient preparation with different nutrients, such as amino acids and glucose
cell cultivation in controlled cell culture vessels or so-called bioreactors
cell separation or harvesting, either by centrifugation or chromatography, with subsequent filtration to get rid of impurities
Cleaning and sterilization is a necessary step in upstream processing as far as reusables like stainless-steel bioreactors are used. Well known cleaning methods are the CIP and SIP processes. CIP means "Cleaning In Place", it refers to a validated, fully automatic system cleaning of process plants. It is a cleaning method that can be used to clean internal surfaces of closed systems without disassembling. The SIP (Sterilization in Place) process represents an extension of the CIP process by an additional sterilization and is usually run via the same installation. Sterilization takes place at the end of the actual CIP cleaning process. This ensures that any microorganisms still active in the system are killed with the aid of hot water or saturated clean steam at high temperatures.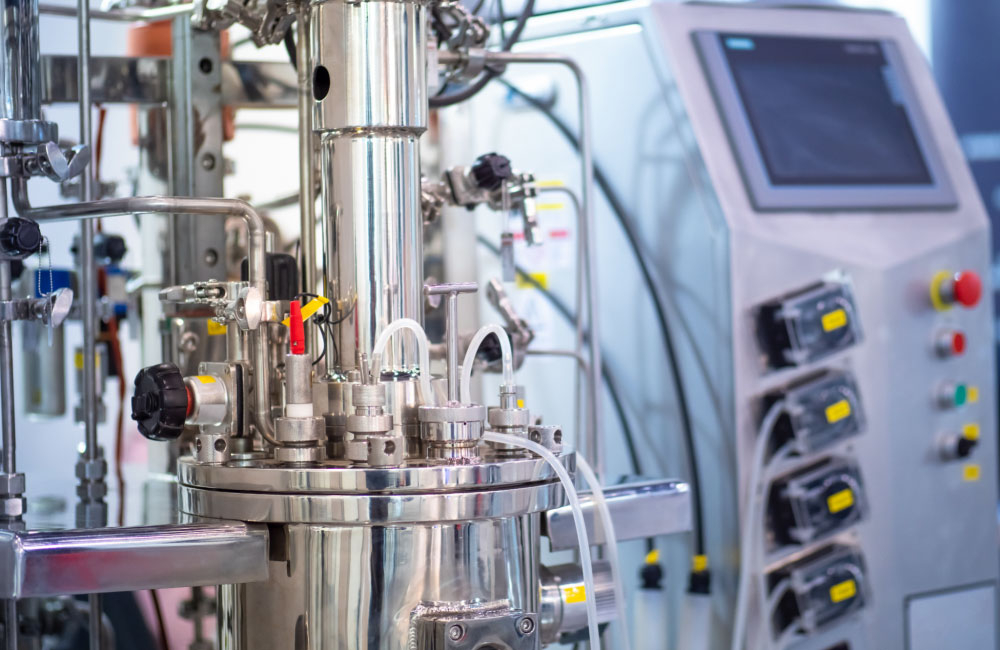 While in the past, bioreactors used for upstream and downstream processing were generally made of stainless steel, more and more biopharmaceutical manufacturers are switching to single-use solutions, be it in the fermentation process or during filtration. Whereas traditional bioreactors are rigid and usually designed to serve a predetermined production process, thus being hardly adaptable, single-use bioreactors and sterile consumables allow for more process speed and flexibility to production plants at all scales from lab all the way to large-scale production.
Application of single-use systems in upstream manufacturing
There are a variety of single-use systems available for cell-culture seeding, media preparation, aseptic sampling, fermentation, and filtration, with the number of disposable bioprocess applications constantly growing.
Single-use technologies have become widely accepted in cell culture-based production - for both upstream and downstream processing - especially in CHO and other high-titer mammalian cell culture systems. The goal is to produce raw materials, such as live cells or recombinant proteins, required to move biochemical formulations from the laboratory to validation.
When it comes to cell culture media used in trials and in market-ready vaccines and other pharmaceutical products, contamination must be prevented at all costs. This need is one of the driving factors behind the increased use of disposable single-use components for upstream processes, including bioreactors, sensors, filters and connectors.
Benefits of single-use technologies in upstream processing
Apart from preventing contamination, another major benefit of implementing single-use systems is flexibility and speed in the production process while staying compliant with all regulatory requirements and adhering to cGMP standards. Single-use technology also allows an easy scale up with increased throughput and a reduced need for space. In addition, the entire cleaning process is no longer required, saving a great deal of time, resources, and lifecycle costs. It is especially this factor that makes single-use more sustainable than reusable equipment. Read more about this topic in the article sustainability of single-use technology.
That being said, single-use systems come with their own challenges, especially in terms of extractables and leachables, where optimization is still needed.
Considerations with single-use systems in upstream processing
Because single-use technologies have become a complex part of biotechnology and biopharmaceutical operations, they require an ever increasing amount of coordination of many factors to be successful, including complete integration.
Standardization of process steps is important and is on the agenda of every manufacturer since increased use of single-use technology has resulted in complex supply chain requirements, large inventories, and high numbers of stock keeping units provided by multiple suppliers. In effect, any process development including single-use systems requires a long-term vision as well as a certain degree of standardization. Ongoing developments will always show improvement possibilities on the way to fully automated single-use processes.
Seed Train Intensification - the shortcut in biopharma upstream manufacturing
The process of seed train intensification can be one of the answers to the multiple challenges faced by the industry. By using already expanded cells, the continuous "back to start" with its potential pitfalls in terms of sterility during cell growth can be circumvented. Scalable and agile single-use technologies, along with advanced automation and process controls, are key for intensified processing that is at the same time reliable and sterile.
A modular and scalable end-to-end process solution developed by Single Use Support for advanced seed stream intensification, promotes the next generation of cell culture intensification. This process includes end-to-end qualification during filling, freezing, thawing and draining of drug substance at all scales. As the term "train" suggests, the process can be fitted with a smaller or greater number of wagons, or in this specific case, modules – single use bags containing cell cultures – just as needed to achieve the required volume. In order to secure sterility, the very fragile cells need
all of which can be achieved by advanced single-use technologies that are flexible and scalable, and accelerate the speed of production.