April 18, 2019
Single use bags are not perfect: How you can make sure they are nonetheless 100% safe to use
Single use bags have become an integral part of the biopharma industry. Why? Because they offer many advantages that allow for smooth handling. The entire process around "drug substance logistics" can be managed with one single use bag.
Factors like scalability, efficiency and patient safety play a major role. That is why the single-use bioprocess container has become an indispensable tool when it comes to the biopharma logistics process.
Single use bags are advantageous in terms of storage as they require much less space than plastic bottles.
In addition, single use systems are much more ecologically friendly than stainless steel reactors, the constant cleaning and sterilization of which requires copious amounts of water and chemicals.
In the end, the CO2 footprint of single use systems is improved by 35% and the use of water can be reduced by 46%.
All advantages of single use bags at a glance:
Single use bags are an industry standard
Single use bags require hardly any storage space
Single use bags are cheap
Single use bags are available in different sizes and for a range of volumes
Single use bag manufacturers can supply big quantities at a time
Single use bags are easily disposable
Single use bags offer a high degree of safety
The risk of loss of drug substance is significantly lower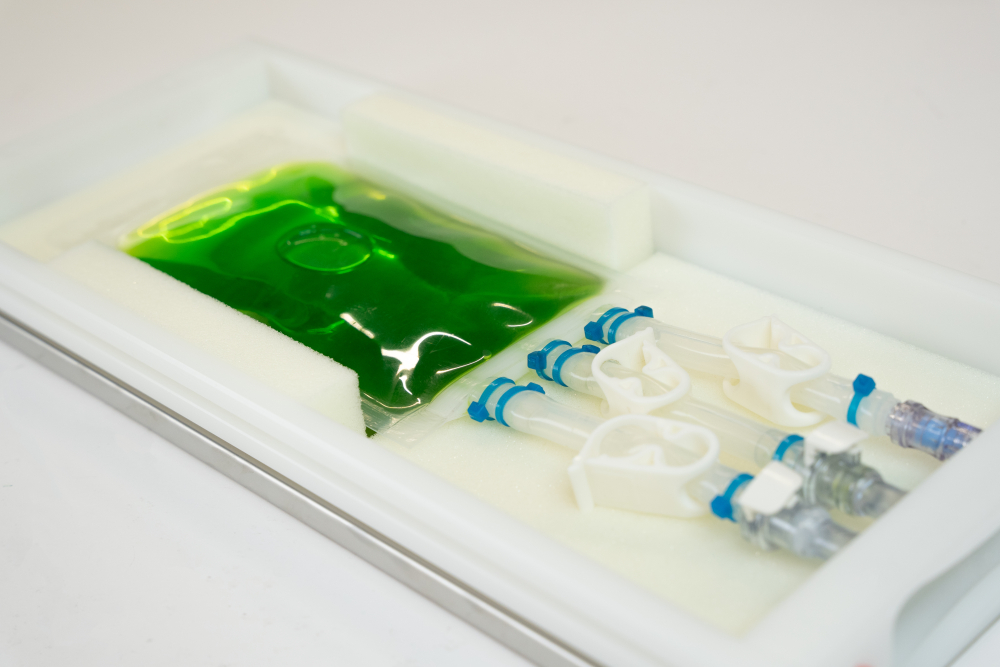 Are there any disadvantages besides all the advantages?
Despite all the advantages it cannot be denied that single use bags can be faulty.
Flaws may occur during the logistics process. They are caused by external factors and mechanical damages, for instance during the freeze/thaw process or shipping.
Single use bags can be faulty upon delivery. Tiny holes can lead to the contamination of the bag's entire content.
Either case leads to a "loss of drug substance", rendering the high-quality liquid useless. Not only does this pose a risk for the patient but it also leads to financial losses for the manufacturer.
How can single use bags be used and handled safely?
At Single Use Support we have found a solution that allows for a 100% safe use of single use bags despite its weak points. The risk of high-quality drug substance loss can be minimized towards 0%, thus ensuring patient safety.
In order to achieve this ambitious goal, we have developed two single use technologies that test the single use bags for their integrity and on the other hand make sure that they are protected from external impact during handling.
MITS.2D = 100% integrity
MITS.2D is our mobile testing device for single use bags. This integrity test makes absolutely sure that your single use bags are faultless and protect their contents.
Thanks to the use of helium, the testing device detects holes of a size as small as two microns, which would allow for the content's contamination with bacteria. To date, our technology is the only one that can detect holes of that size – and what is more, the entire process takes less than 60 seconds.
The liquid's contamination and loss of drug substance can thus be ruled out.
We have saved the best for last: Like all Single Use Support products, MITS.2D is compatible with any single use bag. This means that you can use the device for bags or all sizes as well as all established brands.
Once you have tested your single use bags and eliminated faulty ones you can start the logistics process. But what happens if the single use bags get damaged during the freezing or shipping process? Do not despair – we have found a solution!
RoSS® = 100% safety
RoSS is an absolutely safe protective shell for your single use bag; it is compact and easy to handle during storage and shipping. The shell consists of the perfect combination of different materials that protect the bag from external impact.
On the inside, it protects the single use bag with a soft core of 3D foam, which offers optimum protection from shocks. The foam adjusts to the expansion of the liquid during the freezing process.
The hard external shell is made of stainless steel and offers maximum stability and protection during the entire logistics process. Thanks to its extensive contact with the bag itself it offers the ideal basis for end-to-end protection and efficiency.
The frame is made of highly dense and temperature-resistant special plastic.
Thanks to this construction, mechanical damages and material loss caused by shock or similar can be eliminated.
Conclusion
Single use bags are already an important tool and integral part of the biopharma logistics process. We have demonstrated how the use of single use bags can be made more efficient with our technologies.
Flaws in material as well as damages can be detected and prevented immediately, thus pushing safety and practicability to the next level.
Thanks to the autonomy of our systems our products are compatible with any brand and can be easily integrated in your processes.