March 28, 2022
Costs for CAR T-cell therapy - How to deploy cost-efficiency
When Novartis' Kymriah (tisagenlecleucel) gained US Food and Drug Administration (FDA) approval for acute lymphoblastic leukemia (ALL) in 2017, closely followed by Gilead subsidiary Kite Pharma's Yescarta (axicabtagene ciloleucel) for non-Hodgkin lymphoma, a major breakthrough in oncology was accomplished.
Since then, the oncologist's toolbox of cancer therapies has been expanded by five more chimeric antigen receptor t-cell therapies (CAR T therapies).
CAR T-cell treatments are deservedly on the rise, as the effectiveness of CAR T-cell products for formerly hard to treat hematology malignancies has been established in clinical trials, but T-cell immunotherapy may come with severe side effects such as cytokine release syndrome and CNS toxicity.
This article will highlight one of the less discussed issues of immunotherapy in cancer treatment: it's current price tag could hamper the broad accessibility to patients.
CAR T-cell therapy costs
In spite of the massive drug costs, a 2018 study of the Institute for Clinical and Economic Review found that CAR T-cell cancer treatments' cost-effectiveness is within or close to the threshold of $100.000 to $150.000 per quality adjusted life year.​1​
However, this represents a great challenge to insurance companies, health care system and perhaps the American society on large.
Oftentimes, cost studies of cancer care with immunotherapies do not include necessary follow-up treatments like chemotherapy or bone marrow transplants. A 2021 study by Prime Therapeutics found the acquisition costs of CAR T-cells to treat conditions such as diffuse large b-cell lymphoma (DLBCL) in pediatric, young adult and adult patients to be $373.000, but the real-world costs for payers could be much higher.​1 2
What makes CAR T-cell therapy so expensive?
A 2020 study of the Fred Hutchinson Cancer Research Center (Seattle, Washington), in collaboration with Juno Therapeutics, examined the economic differences in autologous T-cell therapy by the site of care and incidence of adverse events.​
The researchers found that treatment of patients in inpatient medical centers led to much higher reimbursements than an equal treatment in outpatient cancer centers, using cost estimates from the Centers for Medicare & Medicaid Services, among others.
Moreover, the overall costs increase significantly with the incidence and severity of adverse effects. A completely separate aspect is the possibility to optimize the logistics of the process, thus reducing the base-treatment costs.3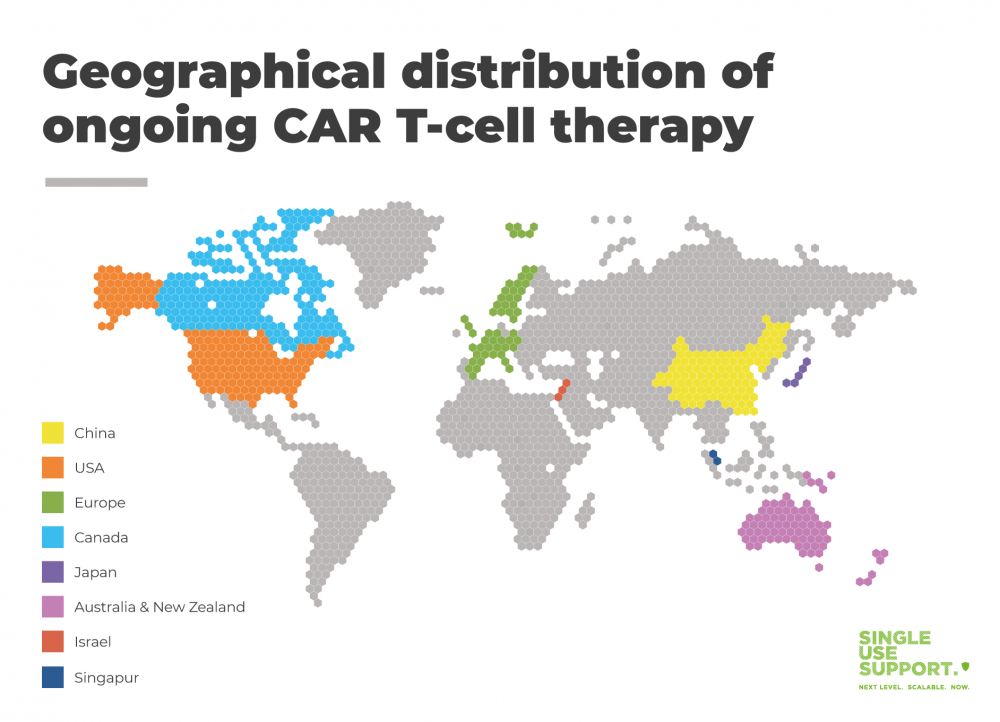 Processes to improve affordability
The total cost of care with CAR T-cells and hence their affordability is influenced by the effectiveness of the associated supply chains. The current paradigm of mass production, stock keeping and linear distribution can't support such advanced therapies.
Autologous cell therapy ultimately requires an integrated, patient centric supply chain network that ensures reliable and cost-efficient orchestration of key processes and participants such as leukapheresis, T-cell transportation to and from the manufacturing site, health care centers and the receiving patient of course.
This approach is going to streamline traditional processes, while ensuring the highest safety and adherence to regulations, thus reducing long term costs and improving affordability.
Cost efficiency through single-use technologies
Improvements in logistics and liquid handling in the Cell and Gene Therapy area contribute significantly to increasing efficiency. This directly affects the costs for the end consumer. Single-use technologies are particularly suitable for use in the field of cell therapies, such as CAR T-cell therapy, where agility and speed are required.
Single Use Support offers solutions for the cell and gene area. With the CGT stream, there is an end-to-end solution from clinical start to the final application. Products based on Single-use systems eliminate bio contamination and enable safe transport and 0% product loss.
Therapeutics' study shows total cost of care for CAR-T plus post-treatment events can exceed $1 million, https://www.primetherapeutics.com/. Published April 12, 2021. Accessed March 28, 2022. https://www.primetherapeutics.com/news/prime-therapeutics-study-shows-total-cost-of-care-for-car-t-plus-post-treatment-events-can-exceed-1-million/#:~:text=Although%20CAR%2DT%20product%20to,some%20cases%20exceeded%20%241%20million, Published March 28, 2022
Chimeric antigen receptor T-cell therapy for B-cell cancers: effectiveness and value : final evidence report., https://icer.org/wp-content/uploads/2020/10/ICER_CAR_T_Final_Evidence_Report_032318.pdf, Published March 28, 2022
Economic Evaluation of Chimeric Antigen Receptor T-Cell Therapy by Site of Care Among Patients With Relapsed or Refractory Large B-Cell Lymphoma, http://dx.doi.org/10.1001/jamanetworkopen.2020.2072, Published 2020-04-06