December 20, 2021
Supply chain optimization in cell and gene therapies
The logistics branches of biopharma companies experience a major paradigm shift. The supply chains for conventional small molecule drug products and biologics involve the acquisition of raw materials, the manufacturing process of pharmaceutical substances, transporting them to pharmacies or respective warehouses and finally distribution to the patient.
Critical aspects in Cell & Gene Therapy Supply Chain Management
With the introduction of cell and gene therapy products (CGT) like CAR T-cells therapies and allogeneic therapies to the healthcare market, this linear logistic concept for therapeutics was shattered in several aspects:
flow of material, information and financials
reimagine process flows and logistics
diminishing separation between clinical sites and biopharmaceutical manufacturers
challenges for distributors used to linear setups: modification of patient's own cells for autologous cell therapies result in closed-loop supply chains
shift from rationalizing storage capacities towards providing on demand inventory for immediate process start of distribution
strict clinical site schedule adherence to ensure meeting patient's treatment timeline and expiration dates of gene therapy products
cell & gene therapies require use of emerging interorganizational digital platforms to orchestrate all stakeholders in real-time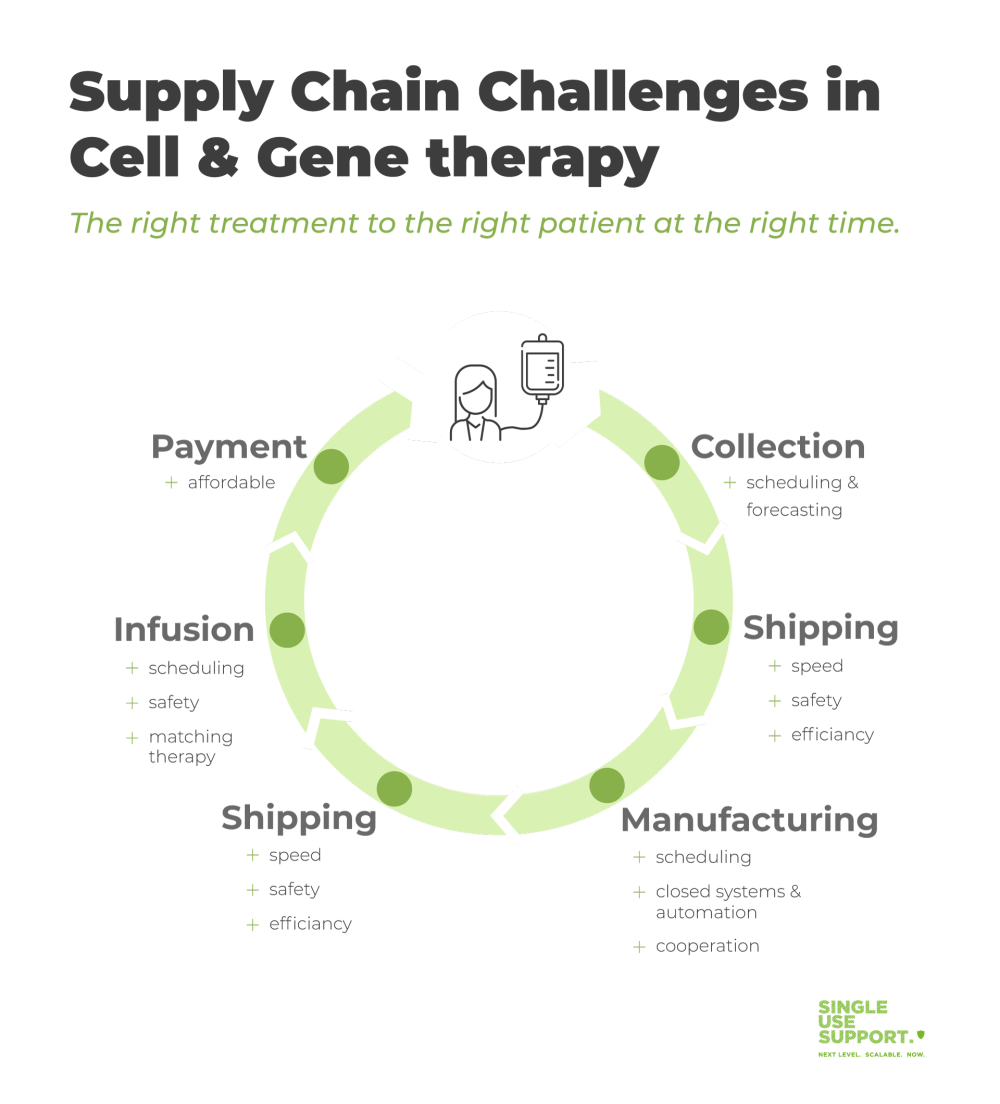 Cell and gene therapy - a rapidly expanding market
The ground-breaking approvals of Novartis' Kymriah (tisagenlecleucel) and Kite Pharma's Yescarta (axicabtagene ciloleucel) CAR T-cell therapies in 2017 paved the way for hundreds of potential innovative cell and gene therapies, that are in early to late-stage clinical trials right now. These developments are highly promising for patients with life-threatening diseases, life sciences and biopharmaceutical companies alike. This market growth is expected to further accelerate with a projected approval rate of 10-20 CGTs per year by 2025, as predicted by former FDA commissioner Scott Gottlieb.
The scale-up needed to successfully commercialize cell and gene therapies provides many opportunities, but also obstacles and challenges. The CGT production process requires a specialized environment to ensure high-quality personalized therapies that cannot be provided in traditional large volume manufacturing sites. Additionally, the supply chain management for CGTs will become increasingly complex to sustain their specific requirements.
Cell and Gene Therapy Supply chain challenges due to increasing complexity
For over one century, a mostly linear supply chain from the manufacturing site to patients was predominant. Cell and gene therapies require biotech companies to follow a different approach.
As an example for autologous cell therapies, the production of CAR T-cells begins in healthcare centers with harvesting blood cells from patients in a process termed apheresis. The blood cells must be frozen and transported to the pharmaceutical manufacturing site, in many cases partnerships with contract manufacturing organizations (CMOs). Transport must occur under strictly controlled conditions.
After modification of the native T-cells into therapeutic CAR T-cells, the drug substance logistics for treatment of the patient have to be taken care of. This requires orchestration of all stakeholders:
the biopharma company's manufacturing site to prepare the shipment
the delivering organization to organize the appropriate mode of transportation and cold chain shipping
the healthcare center to receive the shipment, and prepare facilities and personnel
the patient to be ready to receive the treatment
Additionally, such personalized, advanced therapies are naturally patient centric and require a chain of identity and chain of custody as validation that they arrive at the right patient, as potential mix-ups are absolutely intolerable.
Any mistakes or transgressed lead times in supply chain management are probably devastating for patients and can cause tremendous financial loss. Therefore, measures must be taken to minimize biopharma supply chain risks.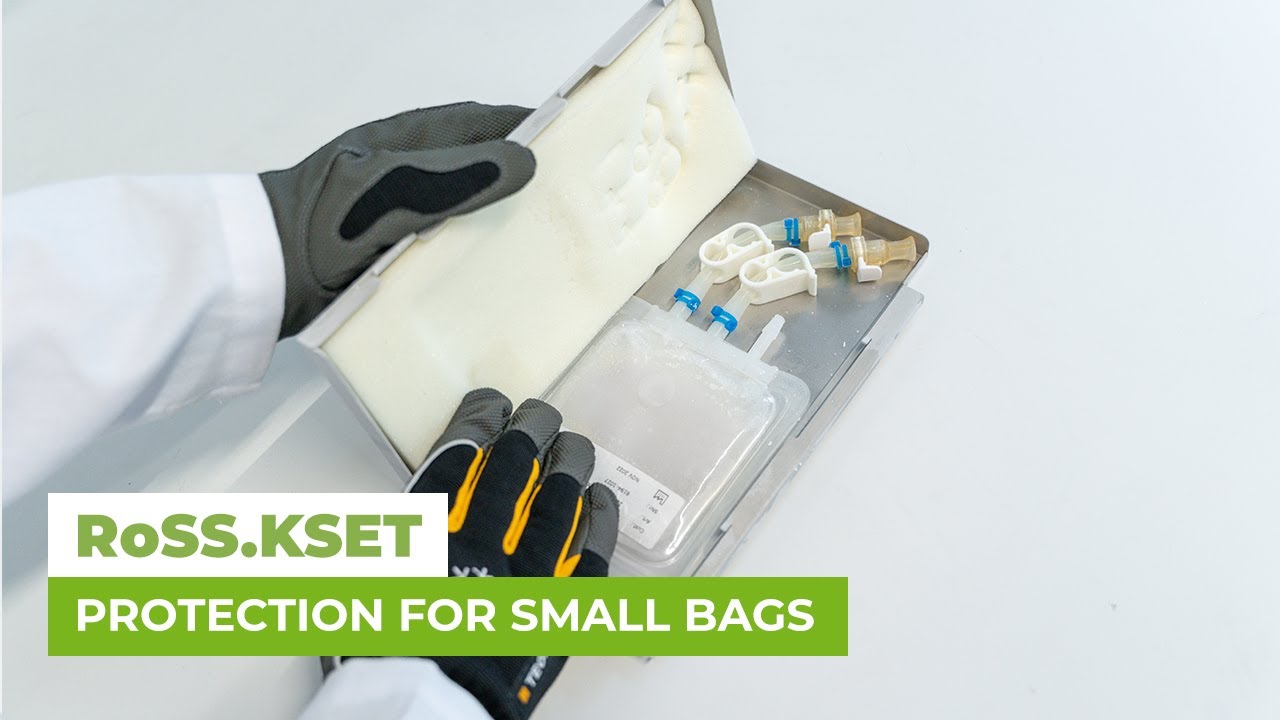 Rise of smart packaging and technologies has started
A much needed approach to solving problems related to supply chain management is the development of smart cell and gene therapy packaging solutions and related smart technologies for full traceability and tracking. Ideally, smart packaging enters the picture in the very first steps of CGT production, e.g. during cell collection for CAR T therapy. It should be easy to use for personnel in the clinical setting, e.g. taking care of convenient labeling or tagging of vials and bags and allow for fast, controlled freezing to enter the cold chain. During the shipment monitoring is required with transmission of physical variables such as temperature, location tracking, orientation and shocks and send notifications to stakeholders when exceeding certain predefined limits to allow rapid intervention. Moreover, it should reliably protect the contents from negative external impacts, like shaking, tearing or mechanical forces.
Innovative companies like Single Use Support take these changing requirements into consideration and work on the development of scalable supply chain solutions to overcome any emerging hurdles. The scalability of cell and gene therapy depends on innovative smart packaging companies.