September 28, 2020
The call for industrial end-to-end solutions in Biopharma has been heard
What exactly are biopharmaceutical end-to-end solutions?
Irrespective of what industry we are talking about, the term end-to-end solution describes a principle that takes a system or service – from beginning to end – and delivers a complete functional solution. This solution is usually provided by a single source. This means that generally speaking there is no need to obtain any components from other providers or third parties.
In terms of the biopharma industry, end-to-end solutions offer a platform to cover an entire production and/or logistics process along every single step from beginning to end. After all, the global life science industry is already faced with enough obstacles – there is no need to make things even more complicated.
What advantages and options do end-to-end solutions offer?
End-to-end solutions for the biopharma market are preferably and increasingly composed of single-use components that can be adapted to a wide range of needs and requirements. One of the advantages offered by such comprehensive solutions is the possibility to transfer and scale either up or down at any stage during the procedure. This means it can be adapted to pretty much any condition, be it in the lab or at the manufacturers' premises.
Other benefits include, but are not limited to, reduced lead times, optimized warehousing costs, and – most importantly – a significantly higher degree of flexibility and agility throughout the entire development and manufacturing processes, including logistics.
What are disadvantages of end-to-end solutions?
It is a clear advantage that all parts for a flexible end-to-end solution can be sourced from one supplier. Under certain circumstances this can also be seen as a disadvantage. Certain scientific institutions and major manufacturers may consider sourcing from a single supplier to be impacting their independence rather than boosting their flexibility.
However, such disadvantages are clearly outweighed by the number of apparent advantages. By definition, an end-to-end platform can provide a solution for multiple processes – from drug development to manufacturing processes – within a plant or lab. It thus proves to be an agile allrounder.
What does Single Use Support's end-to-end solution look like?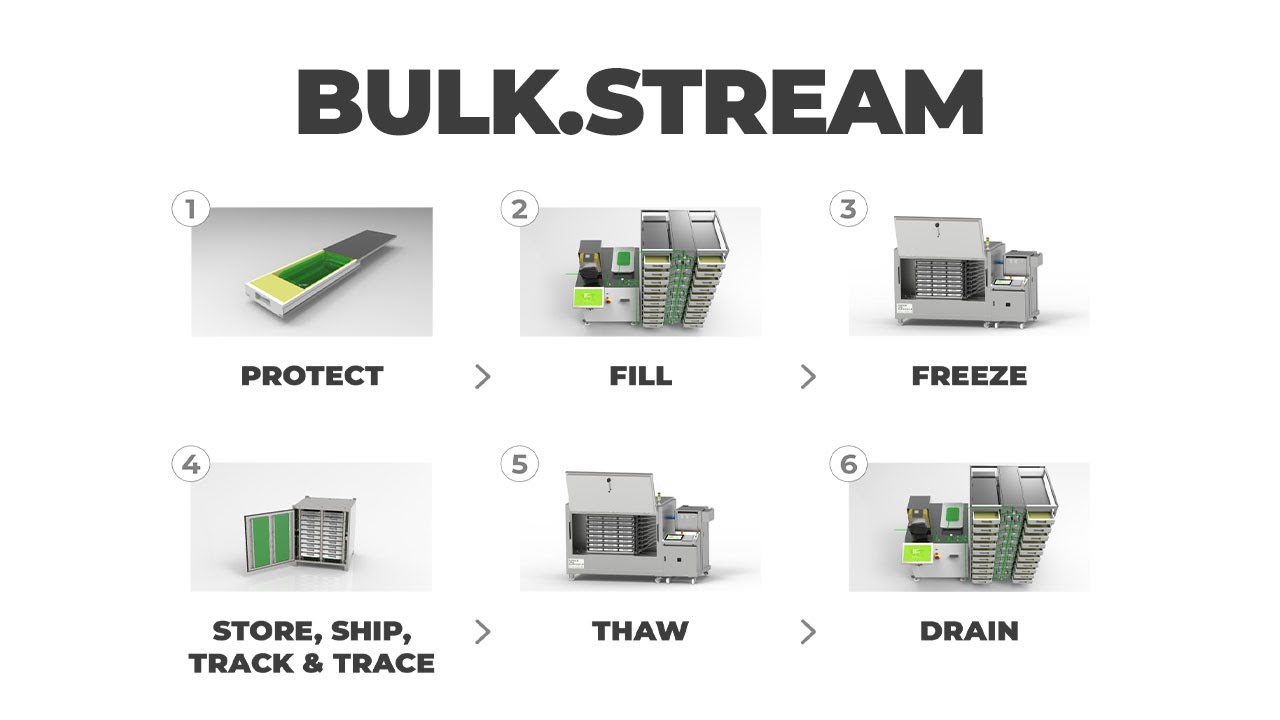 Based on their platform BULK.STREAM, Single Use Support have developed highly flexible and scalable end-to-end solutions for several purposes – industry leading examples for what a progressive and holistic development approach can achieve.
BULK.STREAM enables labs and manufacturers to store and ship valuable high-quality substances of practically any volume in a secure and reliable manner – and the platform includes every step of the process, from filling to freezing and thawing to draining.
Their CGT.STREAM is designed for small batches that are required in advanced personalised therapies like CAR-T, whereas SEED-STREAM is specifically geared towards cell culture intensification.
In line with the meaning of end-to-end and its inherent single-use architecture, all three platforms offer the option to be adapted, be it by adding a number of optional components such as filtration systems or by scaling up/down to larger/smaller volumes and batches.
Some of the Single Use Support's most advanced GMP solutions are described below.
Single use bag protection
The filled single use bags need to be stored and shipped in a protected manner. This is where RoSS® comes into play. Like an oyster, this container offers a robust and tamper-evident shell for the frozen goods contained in the single use bags. RoSS® is composed of heavy-duty plastic frames and stainless-steel tops and bottoms to offer the best possible protection to the contents within.
Thanks to the right compounds, tolerances and material strength, RoSS® absorbs shocks and reduces the tension in the single use bag. Additionally, the direct contact of stainless steel and bag offers the ideal basis for an effective initial and ongoing freezing process as well as a consistent and gentle defrosting or thawing process.
Automated filling and draining process
As a flexible platform, RoSS.FILL handles the fully automated allocation and distribution of bulk drug substances in single use bags. Single use bags of all established manufacturers and of different sizes and capacities are compatible and can be filled with a filling speed of up to 200 liters per hour and, with individual weighing cells, the accuracy stands at +-10 ml for 10 liters.
This modular system allows for the inclusion of filtration systems and offers the option to take samples or integrate MES. As with basically all of Single Use Support's solutions, this platform too can be scaled up or down to meet various needs.
Plate-based freezing and defrosting with freeze/thaw platform
With their Freeze/Thaw platform, Single Use Support are aiming to improve the quality of the freezing and thawing process for drug substances, irrespective of volume and vessel. Due to their bulky and rigid nature, stainless-steel Cryovessels, which have been the industry's leading standard so far, are inflexible and generally used for large volumes.
A freeze-thaw platform composed of single-use components is a prime example of how solutions based on the end-to-end principle can be adapted to an endless variety of environments, needs and requirements.
Highly secure shipping for high quality substances with RoSS.Ship
RoSS.SHIP holds up to 20 ROSS trays and more in a compact volume. Most frozen substances can be stored and shipped in a protected manner and in compliance with international standards.
The statically highly solid RoSS.SHIP stainless steel container is designed for passive cooling with cooling gel, "phase change materials" (PCM), or dry ice pellets or blocks – depending on your temperature requirements and preferences.
IQ and OQ: Optional installation- and operation qualification and validation services
In order to guarantee both a smooth installation and operation process for their solutions, Single Use Support offers optional qualification and validation services to guide the customer through the introductory phase and initial implementation.
Depending on the respective needs and requirements as well as a functional risk assessment, the optional service is an individual and customer-specific process. In line with individual conditions and circumstances it can include the adjustment of the platform to the respective compound/recipe, both in terms of volume and freezing point.
Due to the ongoing COVID-19 pandemic, these customized services, which are normally rendered on-site at the plant or lab, are currently implemented via video call, and Single Use Support experts are available until the new technology has been implemented to the customer's full satisfaction.