June 2, 2021
Single-use end-to-end solutions - flexible, scalable and reliable
In an extremely complex, competitive and constantly evolving sector such as the biopharmaceutical industry, flexibility is key, not least since it is an immensely varied and compliance-driven field.
This is one of the reasons why more and more logistics solutions - covering all steps from filling to freezing, thawing and distribution - are primarily based on single-use technologies. They allow for the greatest flexibility and agility and can be adapted to lab and production-site environments in equal measure.
Thanks to their versatility, they are set to gain ever more importance and traction in the competitive race to develop new products or manufacture tried-and-tested compounds and bring them to the market respectively to the patient.
Thanks to their modular design and set-up, single-use systems can be adapted and scaled to meet specific manufacturer or lab needs, which sets them apart from standalone "silo" platforms. They facilitate safe and reliable, bespoke, logistics processes for highly valuable and sensitive drug substances, while at the same time offering the highest degree of flexibility.
Simplification is key - optimizing performance and efficiency with single-use technologies
Simplification is key - especially when it comes to complex areas such as the development and production of medical drug substances. Based on the idea of maximum elasticity, Single Use Support have reinterpreted basic production and logistics processes to offer flexible and agile solutions such as modular freeze thaw platforms to players in the biopharma industry.
With their products, they aim to simplify elaborate processes, thus making life easier for manufacturers and service providers. All processes are dismantled into single steps, which can then be strung together as per requirement to deliver a bespoke functional solution that covers every single step from beginning to end, without subjecting the substances to any form of contamination risk.
All Single Use Support platforms are:
compatible with both single-use bags and bottles
scalable for volumes from a few milliliters to several hundreds of liters
adaptable thanks to their modular design and set-up
reliable - offering a monitored and controlled process from beginning to end
One platform serving every need - usable with bags and bottles
RoSS is a sophisticated end-to-end freeze thaw platform that is composed of single-use components, thus facilitating a comprehensive and elaborate logistics approach. It provides for reliable and safe freezing and shipping of both single-use bags and bottles filled with your precious content. Its single-use architecture rules out risks of incompatibility while at the same time minimizing potential product loss or other damages caused by human error.
In line with the definition of end-to-end and its inherent single-use architecture, RoSS is a flexible and scalable freeze thaw platform that can be adapted as needed, be it by adding a number of optional components such as filtration systems or by scaling up/down to larger/smaller volumes and batches. And while it is ultimately designed to be used with single-use bags of any brand or size, it can be combined with bottles commonly available on the market.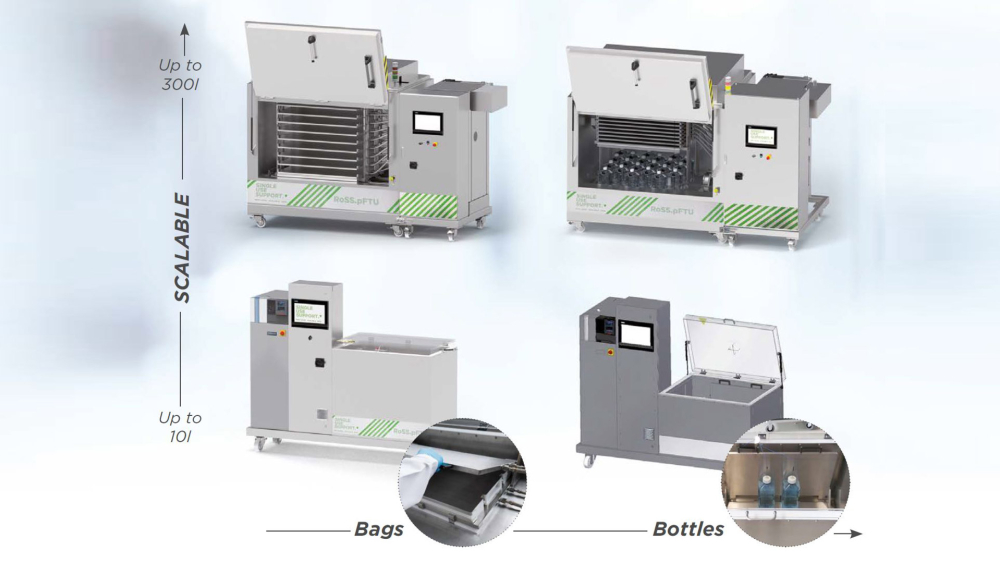 One automation software - transferable to all scales
As is the case with all of Single Use Support's technologies, RoSS is a scalable platform that fits into existing environments for different areas of application. It is designed to handle any volume of high-value liquid drug substances in a variety of primary packaging that will be protected by the RoSS shell, which is a container made of stainless-steel and foam to offer maximum protection of your precious goods.
Thanks to the integrated automation software, the platform is transferable to all scales. While you may be starting out with small batches, you may well need to upscale to meet the need on the market once your product has been approved.
All available technologies are elaborate modular platforms on the basis of a closed system. They cover everything from filling and filtration to the freeze/thaw process and shipping. At a glance, the following options are available:
RoSS Fill: 1 CU with an option of different racks available
RoSS pFTU: 1 automation software that is transferable to all scales
RoSS FRIG/SHIP: compatible with single-use bags and bottles
It goes without saying that every single process step is performed in a fully automated manner in order to allow for the highest degrees of accuracy and simplicity.
In addition, this allows customers to reduce human error to a minimum thanks to its controllable automatic design and with the substances being protected throughout their journey. While there is a trend towards utilizing single-use bags as primary packaging, Single Use Support's platforms are compatible and can be combined with bottles commonly available on the market - like this you remain bag supplier independent.
And you - quite literally - can take your production to the next level - all thanks to an intelligent software that is transferable to all scales, from lab to blockbuster production.