July 19, 2022
Ultra-cold freezing and storing – considerations & solutions
When dealing with the proper handling of some of the most innovative biologics – whether they are already on the market or still in the stage of clinical trials –, ultra-cold freezing and storing is a necessity.
Since many pharmaceutical substances come with specific storage requirements that a standard refrigerator simply cannot cope with, the biopharma industry depends on dedicated solutions to guarantee maximum stability with regards to storage temperatures.
And since a considerable amount of biologics require ultra-cold storage in order not to lose efficiency or even become damaged when administered, ultra-cold freezing represents a crucial component in their supply chain.
What is ultra-cold freezing?
Ultra-cold freezing is a procedure where pharmaceuticals and other products are extremely cooled down. It is characterized by especially low temperatures, usually with a temperature range between -40 and -80 °C (or between -40 and -112 ° Fahrenheit) that samples are stored at – depending on their specific characteristics and demands. Ultra-low temperature freezers (also known as ULT freezers) come in different sizes and capacities, allowing them to be used both in scientific research within laboratories and in the bulk production of biologics.
What is ultra-cold storage?
Ultra-cold storage is a way to store temperature-sensitive goods at very low sub-zero temperatures, corresponding to those achieved in the ultra-cold freezing process.This is because the two procedures are strictly aligned to each other, in that products need to be prepared for ultra-cold storage by the means of an ultra-cold freezer.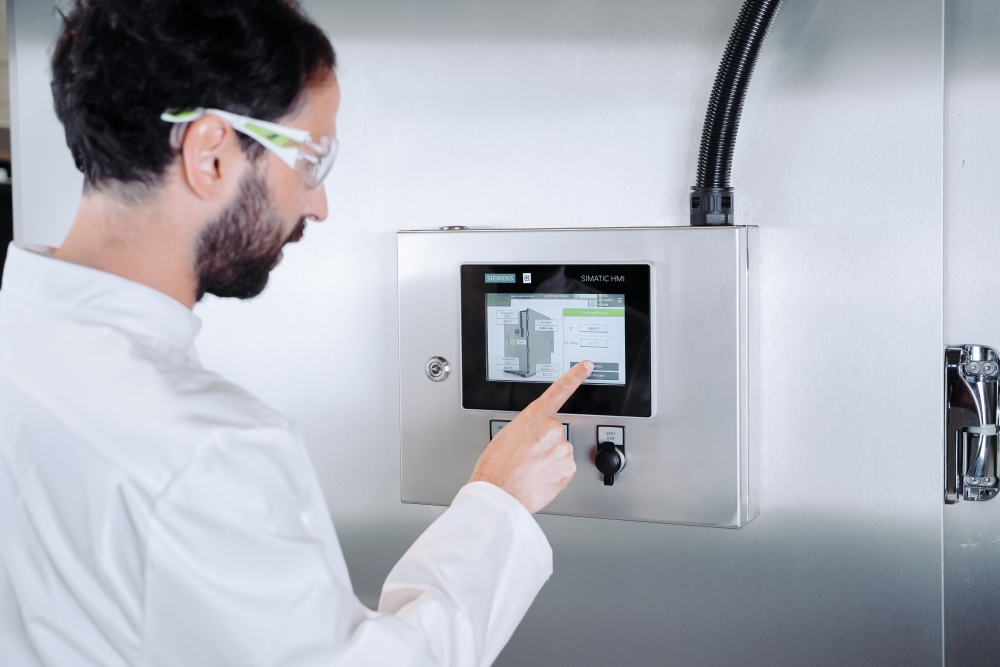 In order for pharmaceuticals to reach the cold temperatures they are due to be stored at, plate freezing is a common practice: It delivers fast freezing times in a secure and stable process, reducing the risk for cryoconcentration and resulting in higher product quality.
When to speak of ultra-cold freezing
The requirements on cold chain transportation and storage of different products vary, depending on the very product. This is why the first level of cool chain temperature is called after the victual it is most frequently used for: the banana. Banana temperature lies between 12 and 14 °C and is a common transport temperature for tropical fruits. Ultra-cold storage, on the other hand, is characterized by temperatures as low as -80 °C, requiring powerful freezers to provide the highest possible stability in temperature. In between are different levels of transport and storage temperatures, each best achievable by dedicated cooling solutions.
Fridge as cold storage: When it comes to the fridge as a cooling device, refrigerator temperatures are usually between 2 and 8 °C. A considerable amount of liquids is stored under these conditions.
Cold freezers: One step below lies the area of cold freezers: With temperatures as low as -40 °C, this frames the storage conditions of many heat-sensitive substances.
Ultra-low temperature freezers in biopharma industry: Some biologics require to be stored at even lower temperatures; for instance, already in the stage of being vaccine candidates for an immunization against the coronavirus, mRNA vaccines have shown their need of ultra-cold freezing to ensure their effectiveness and safety.
Ultra-cold freezing and storing: fields of application
When it comes to cell and gene therapies, cryopreservation plays a significant role in the manufacturing process of respective products. Stem cells, for example, are kept at ultra-low temperatures to ensure their viability, thus making ultra-cold freezing a door opener in regenerative medicine.
Another – growing – field of application of ultra-low temperatures is the Covid-19 vaccine storage or, to be precise, the storage of mRNA vaccines. Since their formulation is based on RNA as a very sensitive biological component, the U.S. Food and Drug Administration (FDA) furnished a fact sheet for healthcare providers on how to adequately handle the BioNtech-Pfizer vaccine against Covid-19, specifying a temperature between -90 and -60 °C as the required transport temperature.
If you want to learn more about single-use systems for safe and efficient storage and shipping of drug substances, read our article about shipping and storing frozen drug substances.
Cold chain requirements and how to meet them
As already stated previously, stability in temperature is key within the supply chain of various products, since many of them react with quality loss when being confronted with variations in temperature.
Additionally, the growing field of application of ultra-cold freezing – due to innovative therapies, not to mention the move to bulk production of mRNA vaccines – demands for serious considerations on the effectiveness of such devices in terms of scalability and capacity.
Single Use Support has been working on addressing these very needs in biopharma industry and provides dedicated platform solutions to ensure a seamless transition along every single step in the ultra-low temperature freezing, storing and cold chain shipping process.
High density ultra-cold storage – RoSS.FRDG
Designed to provide ultra-cold storage capacities for frozen substances in different sizes, RoSS.FRDG is an ultra-cold freezer equipped with a precise temperature control and allows holding temperatures down to -80 °C. Also, given its space efficiency, this ultra-cold storage freezer is versatile in terms of usability, yet constant when it comes to ensure maximum product quality.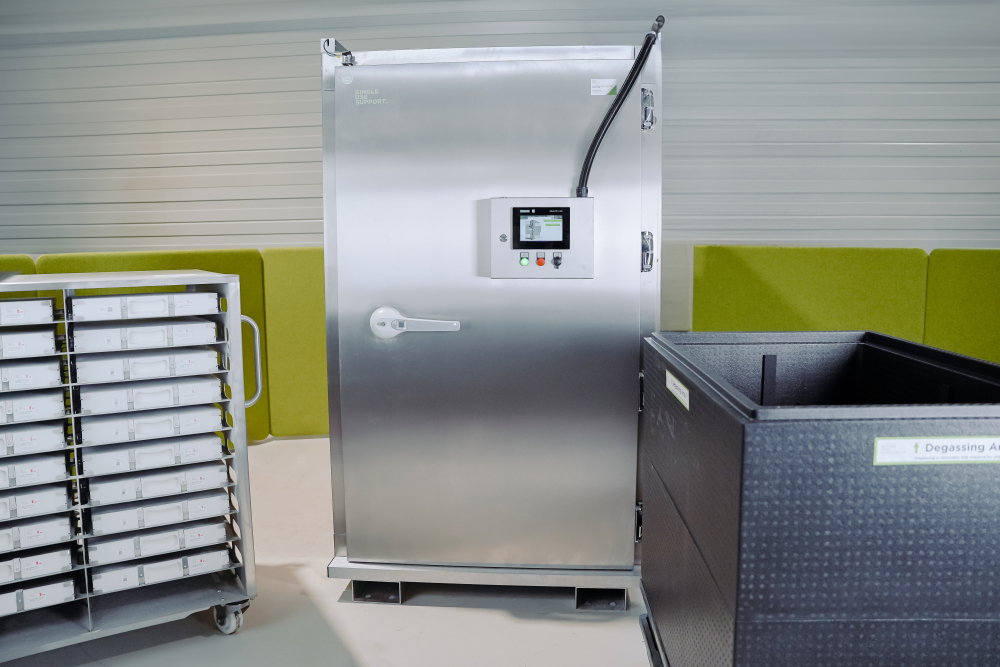 Fast freezing down to -80°C with laboratory plate freezers – RoSS.pFTU Lab Scale
The requirement of smaller capacities in order to ensure maximum (cost) efficiency does not at all diminish the need for highest effectivity and process stability – neither for maintaining ultra-low temperatures nor for achieving them. On the contrary: Clinical studies demand extreme consistency across their conduction, including the freezing process of delicate substances.
This is where the pharma lab freezer RoSS.pFTU Lab Scale comes into action: This plate-based freeze and thaw unit is designed to deliver a controlled and scalable freezing process down to -80 °C, suitable for smaller batches and bags with a drug substance volume from 1 mL up to 5 L.
Read more about freezing of high volumes in the article: Freezing drug substance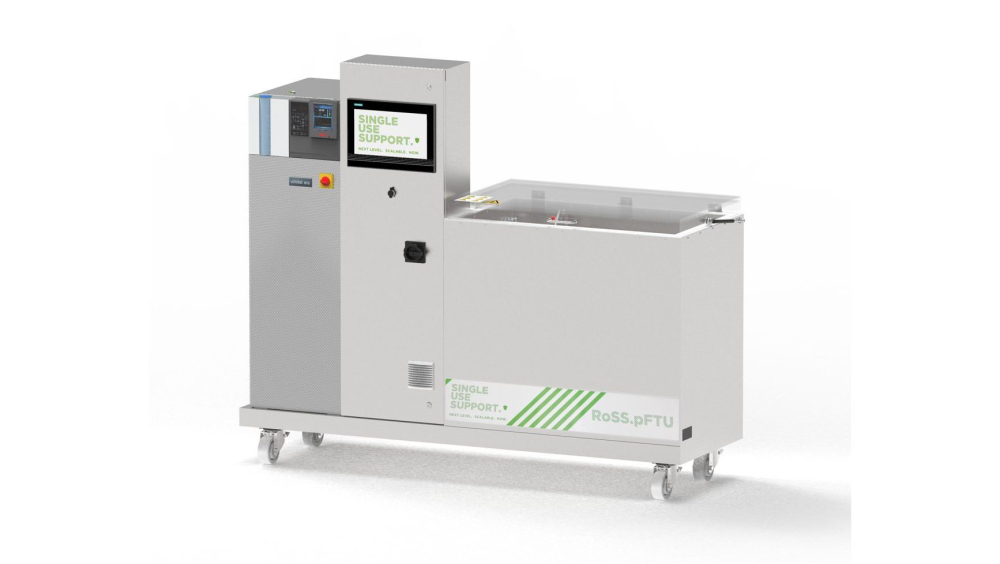 Pharmaceutical freezer for bulk production
The RoSS.pFTU line-up of pharmaceutical freezers offers more than one product with an unalterable capacity. Instead, different sizes are available, according to the users' specific needs. When, for instance, a scale-up in the production of pharmaceuticals is to be achieved, the pharma freezer RoSS.pFTU is the ideal plate-based freeze and thaw unit to combine both process stability and a high capacity, suitable even for bulk production. It is compatible with single-use bags of any manufacturer and size and offers a capacity of up to 200 L and more – depending on the bag type. That way, it embodies the top end of the freeze and thaw platforms by Single Use Support, adding to our wide offer of high-quality end-to-end solutions for the biopharma industry.