September 22, 2020
Bulk filtration for biopharma purposes
An explanation and definition of bulk filtration: What is bulk filtration, what are the different filtration methods and what did bulk filtration look like before single-use technologies came along?
The filtration of liquids – commonly done in bulk – is a crucial part of most biopharmaceutical manufacturing processes. Amongst other purposes, this important step serves to ensure the purity and sterility of medical solutions – for various reasons. Not only can impure substances cause an entire batch to go to waste or harm patients, but contamination can also be a cause of equipment failure or downtime. In both cases the consequences are dire and costly.
The process can be explained on the basis of bulk filtration biology or bulk filtration anatomy: Bulk flow describes the capillary filtration and reabsorption of fluids where the capillary fluid exchange is determined by factors such as the net filtration pressure.
Filtration is one of many critical process steps. It requires the highest degree of precision and can be very tedious. Recent years have seen the introduction of bulk filtration methods based on single-use components that are a means to simplify both the procedure itself and the workflow in labs as well as on-site at manufacturing plants.
Bulk filtration as a process can be divided into either active or passive bulk filtration. As with other steps, the increasingly common automation of the filtration process is helping to reduce variation while increasing productivity and improving overall safety. The flexibility and versatility of single-use add-ons, on the other hand, allows for a larger degree of adaptability. It facilitates individually customized solutions as well as a bigger variety in terms of application, whereas traditionally used stainless-steel reactors are most notably characterized by their rigidity.
What are current challenges the industry is faced with?
While automated processes are a big and important step in the right direction, both the pharmaceutical industry and the science industry are still tackling certain issues. With the number of therapies and compounds growing at an ever increased rate, labs and manufacturers are faced with new challenges on an almost daily basis.
They have to keep up with a wide range of varying demands while meeting different requirements for different products. Pressure – both temporally and financially – is another bottleneck that needs to be addressed by any player who wants to succeed in the highly competitive industry.
One of the answers/solutions to face the growing variety and demand for biopharmaceuticals is the utilization of single use technologies, components and -systems in any step of the development and production processes, be it allocation, filtration, filling or freezing.
What has changed with the utilization of single-use components?
It is safe to say that the utilization of single-use components and systems has somewhat simplified a number of procedures and helped increase reliability and safety. Not only the science industry but also biopharmaceutical manufacturers are progressively shifting from immobile stainless-steel tanks to more flexible and user-friendly single use technologies and systems.
Not least thanks to their adaptability to changing needs and requirements and the added bonus of optional compound and segregation attachments, single-use platforms are becoming more viable for large-scale production. They are no longer only employed in labs as used to be the case until recently.
As such, they are gaining traction and are set to become the new standard for biopharma processes. Disposables are taking over in applications where they have not traditionally been used, including filtration, for instance in order to reduce bioburden or capture viruses for gene therapies and vaccine purposes.
What is Single Use Support's RoSS.FILL?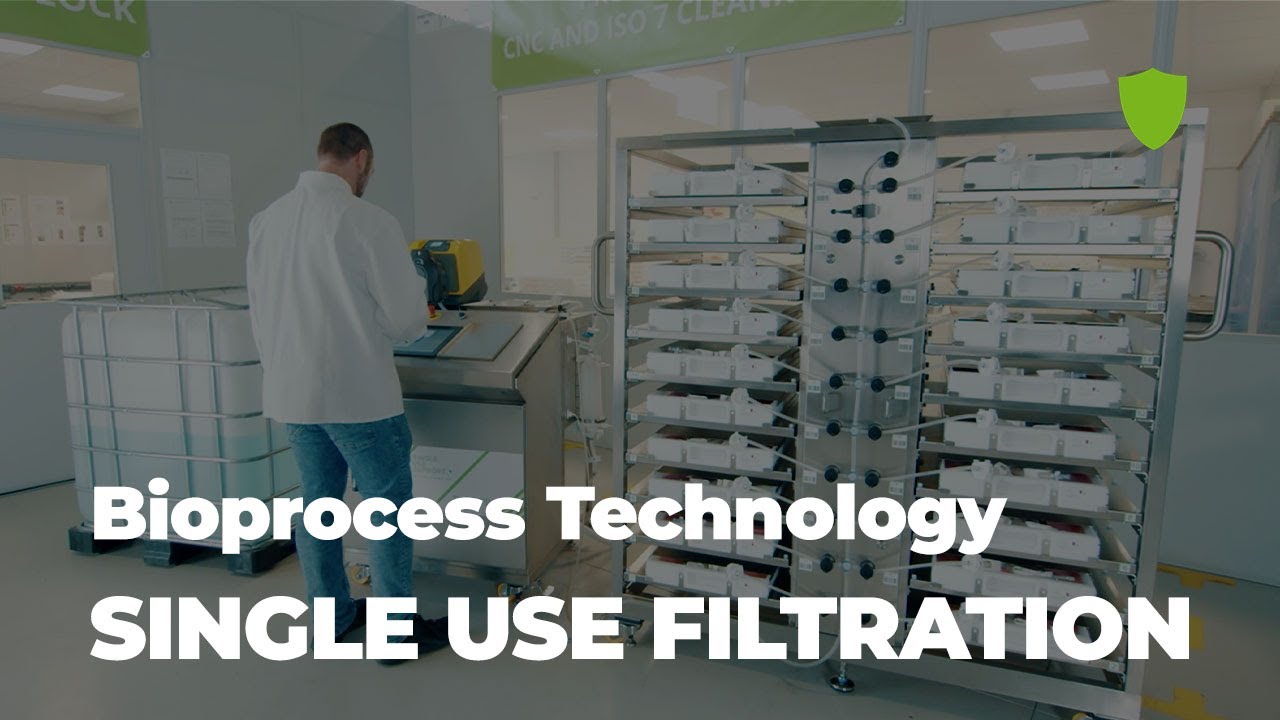 As a platform that addresses many of the challenges that biopharma players are faced with, RoSS.FILL facilitates the automated allocation and distribution of bulk drug substance in single use bags with the option to add integrated single use filtration or other components.
Major parts such as the liquid path are fully disposable and highly versatile, making RoSS.FILL the go-to choice for many different purposes: The liquid path for instance can accommodate a multitude of sterile compound- and segregation options, which proves to be an ideal solution for today's complex lab and production requirements and demands where flexibility is key.
How does RoSS.FILL work?
RoSS.FILL works with Single Use Support's RoSS®, a single use bag protection system fitting all single use bag manufacturer. The units on the rack – composed of single-use components – are filled in a fully automated manner and with a speed of up to 200 liters per hour. What makes this solution stand out is that it offers limitless choices of scalability, as it is compatible with single use bags of any size, volume and brand.
At the same time RoSS.FILL displays an accuracy of +-10 ml for 10 liters with individual weighing cells and the option to integrate various compound and segregation options such as MES, bulk filtration or the taking of samples.
What are the advantages of RoSS.FILL in terms of the bulk filtration process?
The success of a single use platform such as the RoSS® system is not least based on its disposable nature and the fact that it is plug-and-play so it can be adapted to meet virtually any requirement. Another bonus is its compact size that requires less floor space while at the same time reducing the need for an elaborate infrastructure.
With RoSS.FILL specifically, bulk filtration and other components are cost-effective, easy to install and to adapt – i.e. they are basically infinitely scalable – plus they require neither cleaning nor maintenance. Waste management is easy and does not take up precious time that is better employed elsewhere.
If you require a versatile system for your bulk filtration process step, RoSS.FILL offers you a solution that in addition to being flexible is also scalable and adaptable. Depending on your needs, it can be scaled up or down to suit virtually any purpose and volume from lab environments all the way to manufacturing in bulk.