December 27, 2021
Single-Use Assembly Tubing: Medical Tubing Manufacturers
The big players in the international market and their advantages
It's no secret that pharmaceutical substances are of high value in most cases. Even a small defect rate of biologics or ATMPs causes high financial losses. It is therefore of great importance to establish solid process logistics around freezing, transporting, defrosting, transferring and connecting drugs.
For fluid management of liquids there are many single-use components that come into play. Sterile connectors, clamps, fittings, tubing solutions and further components play a critical role as assembled single-use system. Tubing's prerequisites are to grant integrity and consequently sterility throughout its use. Important factors are also its ease of use, versatility and lead time.
In the following, we will take a closer look at the topic of medical tubing as well as at the most important manufacturers.
What is a medical tubing for?
Medical tubings link different other single-use components with each other to ultimately build single-use assemblies. Tubings are sterile connections that enable an integer fluid path. Ideally, they can be tailored to the respective customer's requirements and can reach high complexities in size and number of aliquotations. In a nutshell, disposable tubings as part of single-use assemblies play a critical role in enabling a safe and sterile connection during liquid transfer in different pharmaceutical manufacturing process steps such as upstream, downstream and fill & finish.
For example, tubing solutions support dispensing of liquids from bioreactors into bioprocess containers, rigid bottle containers and other primary packagings. What can be integrated in the single-use assemblies are different tubings, connectors, disconnectors, filters and more. Adjusting different components on tubings requires high-quality materials, ISO certified clean rooms, and experts in professionally assembling single-use components based on customers' requirements.
Which medical tubing sizes are available?
Medial tubings have different lengths and can be cured with platinum for medical purposes. Tubings are available with a hardness degree of 50 Shore A and above. What is crucial in terms of compatibility of single-use components are ID (inner diameter) and OD (outer diameter) measurements. These are ranging from 1/32 inches (0.8 mm) Inner Diameter upwards. Most common Inner Diameter sizes are 1/4 or 3/8 inch. These specifications vary depending on the manufacturer.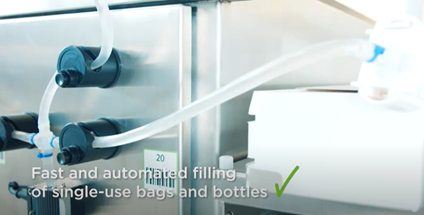 Market overview - medical tubing manufacturers
The requirements for medical tubings are very high as they secure a sterile and integer fluid flow. The following companies are the most common manufacturers of tubings in the biopharmaceutical industry that meet these high product standards:
Sartorius
German Sartorius Group can look back on a rich company history. 150 years of development from a precision-engineering workshop to a leading international life science group that is successful in supporting biotech scientists and engineers all over the world. Today the company's focus lies on the supply of numerous technologies that support the development and manufacturing of drugs, their storage, transport and the optimization of the drug fluid management.
Tuflux® SIL silicone tubing from Sartorius
Tuflux® SIL and Tuflux® TPE are two categories of medical tubings from Sartorius. These high-quality silicone and TPE tubes offer absolute security for the transfer of important liquids. Maximum cleanliness and safety across all process steps are the prerequisite for a wide range of medical tubing, which are adapted to the respective process requirements. These products are suitable for different types of pumping applications and can withstand sub-zero temperatures. They can be used for fluid transfer of media and buffer processing, filtration, fermentation and cell harvesting in a wide range of pharmaceutical and biopharmaceutical applications.
DuPont Group
DuPont was founded by a French entrepreneur in Brandywine Pennsylvania, USA, in 1802 as powder-making company. In 1915 the company has entered the plastics industry with applied research and innovation followed by pioneering polymer engineering in the mid 20th century. Today the product line ranges from building materials to fabrics, fibres & non-wovens, packaging materials and solutions, personal protective equipment and solar/photovoltaic materials, to name just a few. DuPont's area of application for its products is primarily but not limited to medical devices.
DuPont medical tubing- Liveo® series
In the field of pharmaceutical tubings, the products of the Liveo series by DuPont must be mentioned.
The Liveo series features five different tubing systems for different fields of application: They offer tubings for transferring liquids, air or steam, for high-pressure/low-pressure gas, steam or liquid transfer. DuPont medical tubings are made of high-quality platinum cured silicone tubes. For ultra-pure transfer applications in biopharmaceutical and pharmaceutical manufacturing processes, DuPont also offers custom molded silicone assemblies.
Saint-Gobain Life Sciences
The Compagnie de Saint-Gobain is a listed French industrial group and one of the oldest companies in the world. The company, which was founded under King Louis XIV in the 17th century, originally manufactured glass. Today the French corporation Saint-Gobain covers the core areas of construction, mobility, healthcare and life science.
The Saint-Gobain Life Sciences division offers a broad spectrum to supply patient care: biopharmaceutical systems, medical components, cell therapy solutions, fluid transfer solutions and others.
C-Flex® biopharmaceutical tubing
With C-Flex Saint-Gobain offers the patented thermoplastic elastomer tubing which is often used for biopharmaceutical fluid transfers. Depending on the area of application, the tubing must meet different requirements. With its product portfolio of braided tubings, FEP tubings, silicone tubings and high-purity tubings, Saint-Gobain has the answers to different pumps, different pressures and other parameters. Aseptic welding and sealing is possible. Besides C-Flex there are more options for process conditions to handle high and sub-zero temperatures, or to withstand the rigors of peristaltic pumping movements.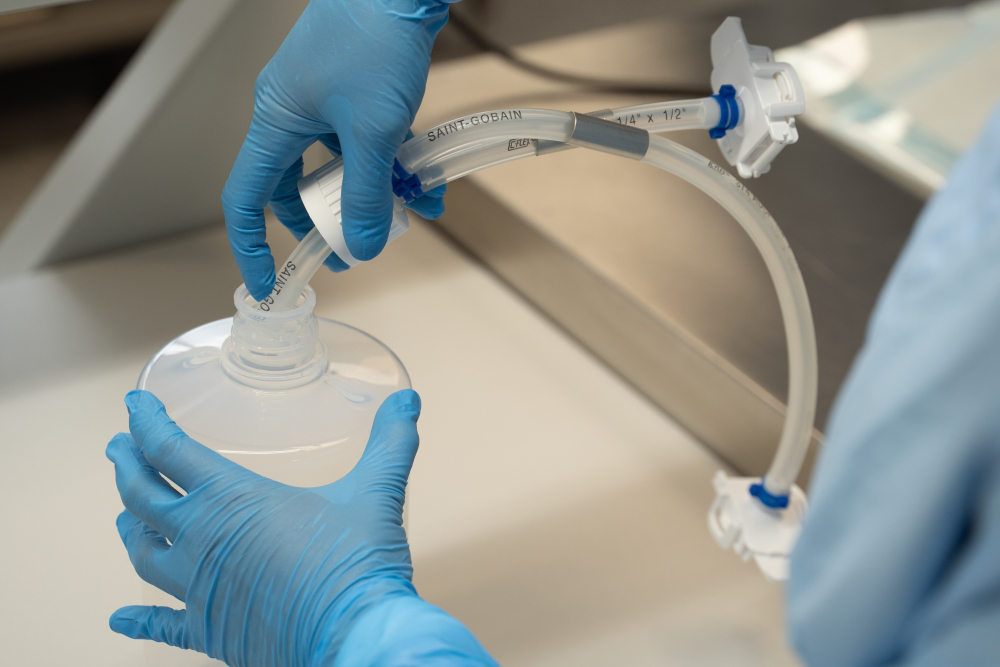 AdvantaPURE
NewAge Industries, the parent company of AdvantaPure, was founded in 1954 by Raymond Baker and is now based in Southampton, Pennsylvania. AdvantaPure® is the purity products division that is dedicated to the manufacturing of high purity tubing, hose, and single-use assemblies. These ultra-pure products can be found in the pharmaceutical, biopharmaceutical, but also in the food and cosmetics industries.
AdvantaPURE® and AdvantaFlex®
The company's portfolio of tubings for biopharmaceutical use includes various options under its series AdvantaFlex® and AdvantaSil®. It includes biopharmaceutical pump tubing, platinum cured silicone tubing and reinforced tubing, as well as reinforced PTFE, FEP, and EPDM tubings. AdvantaPURE develops tubings for different needs, such as high pressure silicone tubing, low temperature silicone tubing, tubings specifically for the durability of pumping systems and tubings which enhances the pressure capabilities.
AmiPolymer
Contrary to the previously mentioned companies, AmiPolymer is a young Indian company that was founded in Mumbai in 1998. It is one of the leading manufacturers and suppliers of biopharmaceutical and silicone-based products in India. They excel with advanced technology and production capacities in plastics, solar and steel for the manufacturing of silicone products for the pharmaceutical industry, the food processing industry, biotech and medical industries.
Imapure®, Imaflow®, Imaprene® - AmiPolymer biopharma tubings
For the manufacturing of medical tubing, Ami Polymer distinguishes among the products Imapure®, Imaflow®, Imaprene®, Imaweld®, Imachemton®, Imapex™, Imapex™, Imafep™ and Imaliner®, which also adapt to the various requirements of medical tubing. These are for example medical tubings suitable for pumping system, ideal liquid transfer from low to high viscosity of medical products, heat and cold resistant, or tubings for highly corrosive chemicals and solvents.
Venair
Venair is a specialist in silicone having three production centres in Spain, Vietnam and Romania and 30 delegations in Europe, America, Asia and Africa. With over 30 years of experience, Venair offers silicone products in the bio-tech, food, pharmaceutical and industrial industry.
VENABIO® - Venair medical tubing
In the biomedical field, Venair offers a wide range of medical tubing with the VENABIO® series. These products fit the needs in the medical field and in laboratories such as high pressure resistance. Moreover, its pharmaceutical tubings are suitable for aggressive chemicals, for long pump life or high pressure applications. Optionally they are highly transparent and semi-flexible.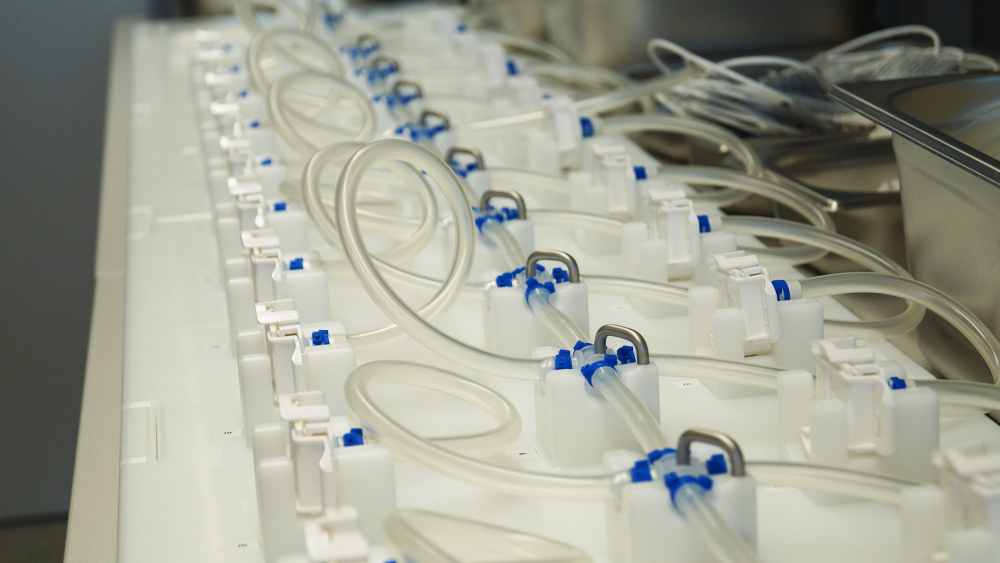 All the manufacturers of medical tubing presented show a range of tubing perfectly adapted to the requirements of the biopharmaceutical industry. It is often a challenge to find the perfect tubing system out of a variety of options. This is where Single Use Support comes into play.
Single Use Support and single-use biopharmaceutical tubings
With Single Use Support medical tubings and single-use manifold assemblies are specifically adapted to the customer requirements. Depending on the area of application, the customers can choose from most suitable tubings. The Austrian process solution provider is vendor-agnostic and obtains single-use components from different tubings manufacturers. Thanks to great stocks assembling single-use systems can be realised in the shortest time possible. Depending on the customer's requirements, tubing and connectors can be connected and seamlessly linked to bags, bottles, filling systems and a lot more.
With this principle, processes can be accelerated, made safe, convenient and controllable and the delivery times can be shortened considerably.
Single Use Support adapts the tubing specifically to the customer's requirements. Perfect connections for perfect processes topped off with absolutely short delivery times between 14 days with standardized and available tubesets up to 8 weeks with complex assemblies.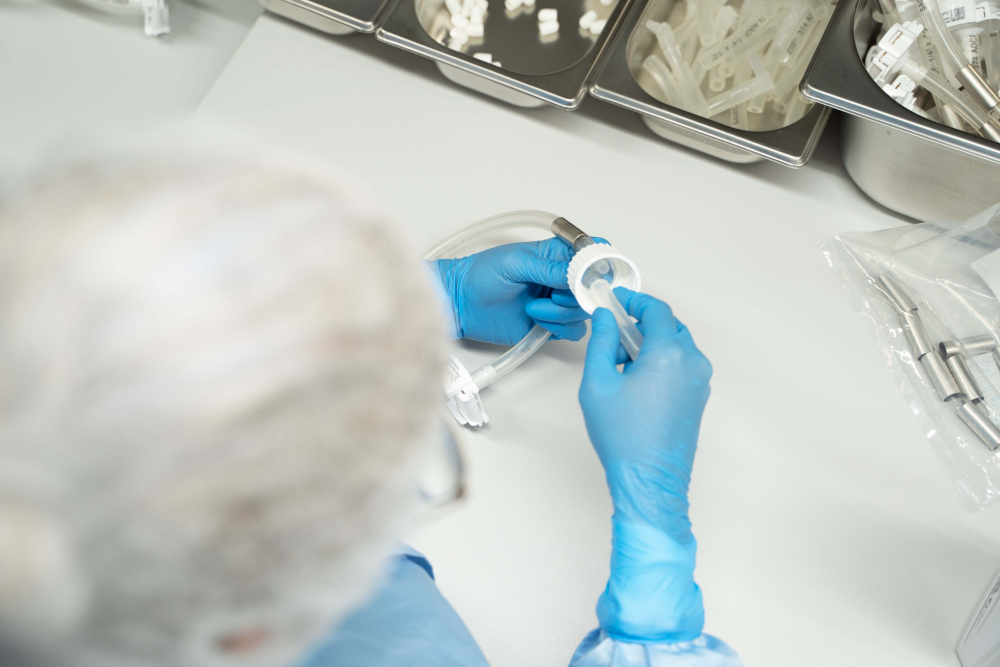 Highest quality combined with supplying the industry at shortest lead times is our top priority. For example, distributers are fixed twice with cable ties not to cause leak of entrapment problems. Maximum sterility is guaranteed through gamma irradiation or e-beam sterilization.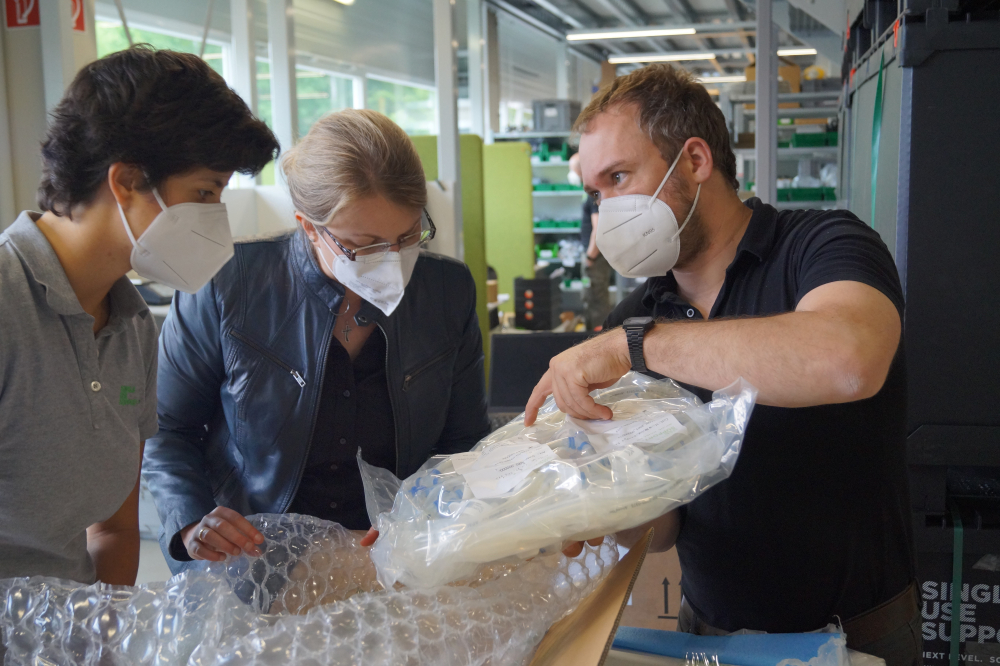 Advantages from Single Use Support at a glance
Combining single-use systems with single-use technology platforms: maximum flexibility and full control
Individual customer service along the purchase of assemblies for tailored manifold system
Highest quality thanks to gamma or e-beam radiation and compliance requirements through QA release and certificate of quality
Sterile liquid transfer
Simple and uncomplicated assembly
Double tied with cable ties; no leaks or product loss
Custom aliqotation from bioreactor to the filling system to the primary packaging in Upstream, Downstream or to pre-filled syringes in Fill & Finish.
Business continuity with single-use assemblies to avoid production downtime
Convinced? Configure your single-use assembly online!