September 1, 2021
Weak Point: Avoiding leakages of Single-Use Tubings in Biopharma
The quick and efficient aseptic filling transfer of highly valuable and at the same time extremely sensitive drug substances is a critical process step. While in the past pharmaceutical and especially biopharmaceutical manufacturers have relied on stainless-steel tanks and rigid systems as the go-to choice for process steps like filling, single-use technologies are taking over.
Not only are they becoming widely accepted, but they have in parts already been established as industry standards. They abolish the need for cleaning, and the chosen materials offer a degree of flexibility that was unknown in the past.
While single-use solutions may offer new levels of flexibility, they come with their own set of challenges, mainly based on the fact that certain single-use components, like bags, are more prone to ruptures and leakages than traditional stainless-steel containers. However, CMOs have recognized the need for reliable protection and come up with viable solutions to reduce the risk of contamination.
Another pain point of modular single-use systems is their increased number of ports and interfaces, leading to more need for human interaction, which can, naturally, lead to human error. But if these issues are dealt with, the adoption of single-use tubing systems and piping can present biopharma manufacturers with a welcome alternative to traditional - and traditionally inflexible - systems.
Single-use Technology vs traditional operations
One of the main benefits when employing platforms based on single-use technologies is the sheer number of options and possibilities available. As opposed to traditional stainless-steel systems, single-use technology offers easy agility and scalability, which helps in streamlining processes even further.
Hard piping transfer lines require intensive, costly and time-consuming cleaning and validation processes while at the same time proving to be hard if not impossible to scale to different levels of productivity. In the past, biopharma manufacturers have accepted the time, labor and costs involved in bioprocessing with rigid systems - simply because they did not have any viable alternatives.
The growing acceptance and implementation of single-use systems however is about to change the biopharmaceutical manufacturing landscape with a lasting impact. Manufacturers now have the choice between different options: Single-use molded manifolds provide a seamless transition from tubing to bag and to filling system, this provides a continuous, unrestricted flow. At the same time, the change to single-use technology eliminates the need for barbed fittings that are required with stainless-steel tanks; it offers new levels of scalability and agility. This not only speeds up but also adds to a safe and comfortable single-use filling process that is at the same time controllable.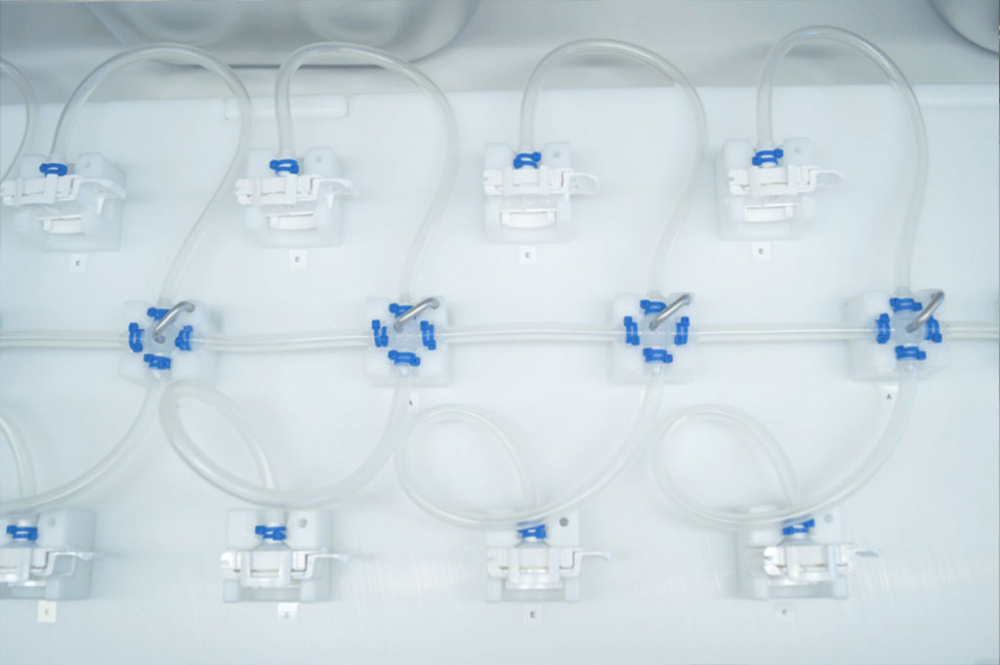 Avoid Product Loss through smart single-use tubing solutions
Single-use systems are designed to be disassembled quickly and easily; additionally, the different components are convenient to install and configure and allow for a seamless and leak-free integration with existing single-use systems.
Smart and sophisticated, modular systems, that are both flexible and scalable, are ideal for any plant wanting to simplify operations while at the same time looking to reduce loss of drug substances.
At mymanifold.com, a user-friendly configurator makes designing fully customized single-use manifold assemblies a breeze. At a glance, this will
increase efficiency,
reduce planning effort and decrease overall effort,
provide a blueprint for future single-use manifolds assemblies.
In addition, working with a trusted development partner will reduce/avoid delivery delays and shorten the time to market. What is more, working with third-party providers is a generally time-saving factor as those external partners are experts in their respective fields who will realize and implement any design in accordance with what is needed and in compliance with the required safety and quality standards.