June 9, 2022
mRNA vaccines: How to safely ship and store them
In the past few years, awareness of the mRNA vaccine supply chain has increased considerably, both in the pharma industry and among the wider public. These vaccines require the highest level of diligence during transport and storage. Single Use Support has therefore made great efforts to develop solutions for cold chain management as well as in fluid transfer, to achieve maximum safety when shipping and storing biologics such as mRNA and lipids, another important raw material of these somewhat new vaccines.

mRNA plays a key role in the process of protein synthesis, when information stored in the DNA is transported out of a cell's nucleus. This information contains the instructions needed to produce proteins. Now, this biological mechanism has been adopted and utilized by biotech, e.g. in vaccine production. Numerous manufacturers have joined the US government's initiative "Operation Warp Speed" and are working in partnerships to develop new vaccine formulations to facilitate mass immunization against Covid-19.
mRNA vaccine supply chain
The supply chain for mRNA vaccines must fulfill several criteria to ensure maximum product quality (e.g. the World Health Organization's requirements for ultra cold temperature storage and transport of vaccines); therefore, it is essential to meet these regulatory conditions at all times. However, it is not sufficient to optimize the delivery process alone, as the preparations for transport begin at the manufacturer's site.
Temperature plays an important role in the mRNA supply chain, as single vaccine doses must be kept at temperatures similar to those used in their clinical trials: -70 °C. To achieve consistency in the cold chain, which often is not equipped to deal with such low temperatures, optimization is necessary to protect pharmaceuticals and biologics from variations in temperature and must be achieved even before these products leave the manufacturer. Rapid and scalable manufacturing (including logistics) can help avoid shortages in Covid-19 vaccine supply.
Safe shipping and storage of vaccines through single-use technology
Single Use Support has developed novel single use technologies required for the transport of mRNA vaccines during the manufacturing process – from freeze-thaw technology and a safe cold chain shipping solution to integrity testing of pharmaceutical compounds.
Solutions such as the single-use bag protection RoSS Shell or the freezers from the RoSS.pFTU range are just some examples of the innovations developed by Single Use Solutions that provide integrity for the mRNA vaccine supply chain, beginning with the manufacturing process itself.
Controlled mRNA filling, filtration, and freezing for safe transport
To transport RNA-based vaccines to Fill & Finish sites, where they are filled into single-dose vials, they first need to be carefully filled into suitable bioprocess containers. As a solution in bulk production, with the ability to carry out filtration and fill a maximum of 300L per hour (necessary when coping with the scale-up of manufacturing capacities), RoSS Fill & Drain delivers a fully scalable platform to start the transport process, which is followed by the freezing of the single-use bags employed.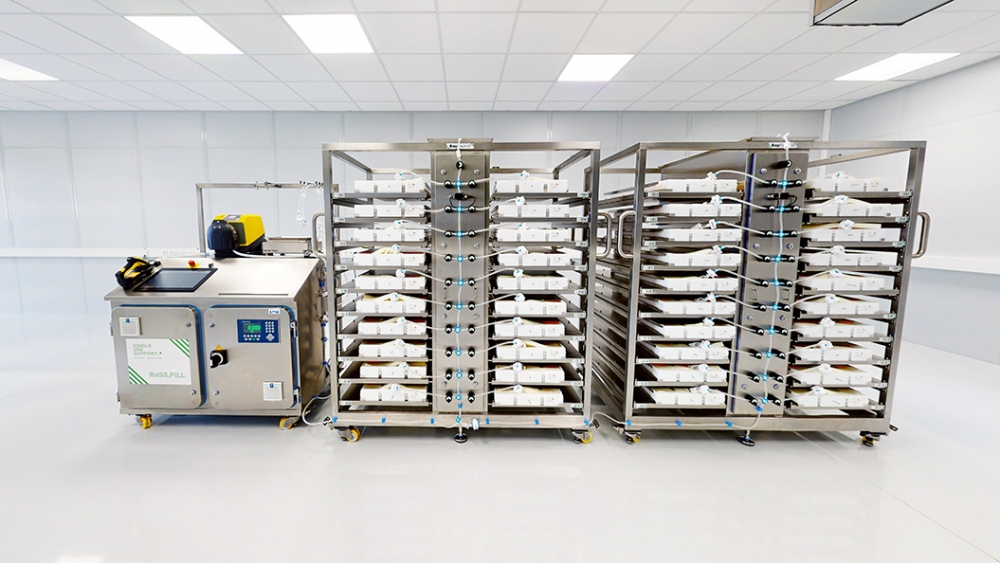 Considering the requirement in vaccine manufacturing for fast freezing procedures to achieve maximum product quality, plate freezing technology within the cold chain offers numerous benefits compared with blast freezing. Achieving temperatures as low as -80 °C, RoSS.pFTU was developed as a fully automated single use bag filling and filtration system that provides indefinite scalability as well as flexibility, being compatible with single-use bags from all established manufacturers. It not only enables safe and fast freezing but also controlled thawing.
Ensuring quality standards during Fill & Finish: Secure thaw and drain processes for mRNA vaccine production
Once the consumables reach a fill & finish site, they cannot simply be removed from the refrigerator and poured into vials. Instead, their cautious freezing (vital when dealing with lipid nanoparticle-formulated mRNA vaccines) must be followed by an equally sensitive thaw and drain process. With the aim of allowing a seamless merging of these two steps in the mRNA vaccine supply chain, by maintaining the same high standard throughout the entire process, RoSS.pFTU is designed as a platform that unites both freezing and thawing in a single device.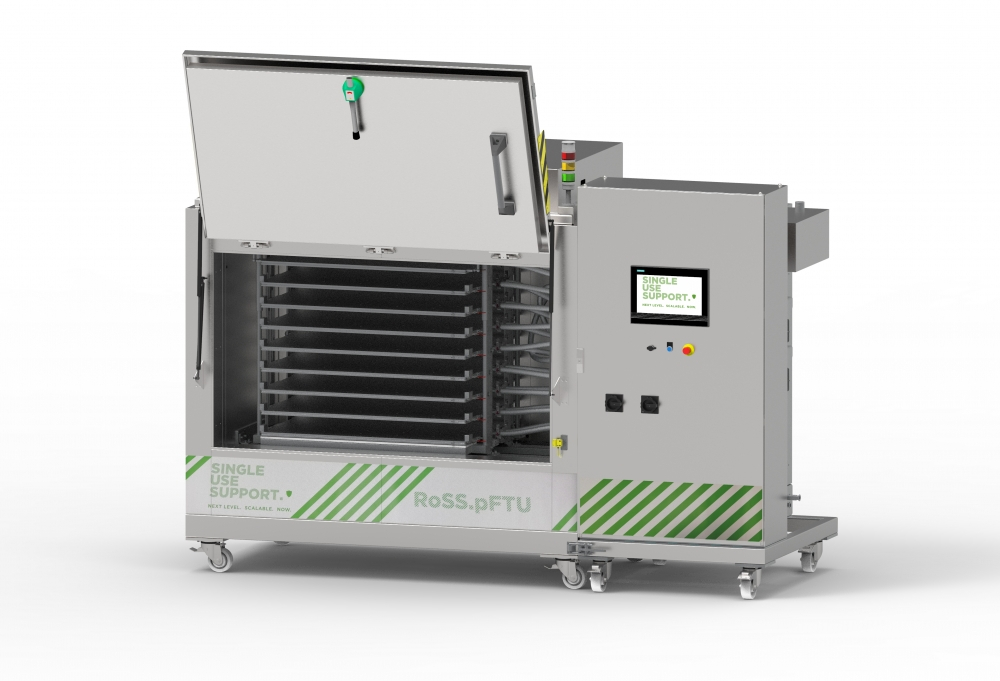 This freeze and thaw platform offers full control over the prevalent temperature in order to adequately handle the individual requirements of different consumables. Subsequently, the draining process means the end of the supply chain is drawing near. From here on, single vaccine doses are further transported prior to being drawn up in a syringe and administered.
Additional protective measures & ultra-cold storage
As a further measure to ensure consistency throughout the entire shipping and storing process, Single Use Support has developed specialized shipping containers. These containers provide protection for protective single-use bag shells such as RoSS Shells, allowing transport temperatures of less than -60°C for at least 6 days with the use of dry ice.

An additional element Single Use Support has developed to ensure a secure supply chain for biologics is RoSS.FRDG, designed to enable the ultra-cold storage required for the transport of many therapeutics. With a capacity of up to 300L and being stackable to achieve the greatest storage density, it allows a seamless transition from plate freezing to the thawing process.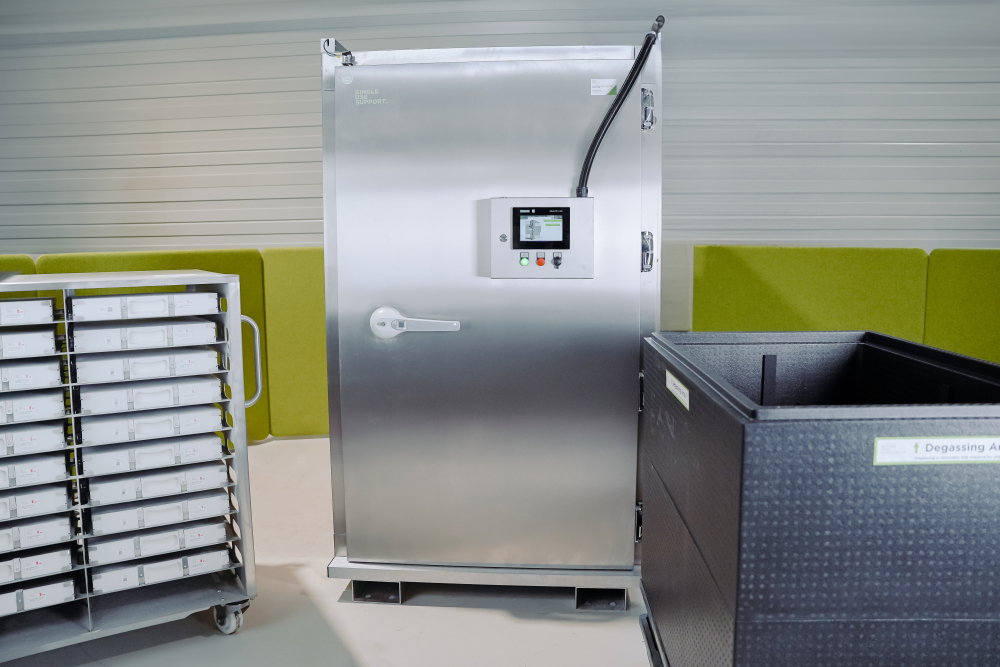 The Covid-19 vaccine: mRNA vaccines on the rise
In attempting to tackle the coronavirus pandemic and its global threat to public health, already early case studies of vaccine candidates have foreshadowed mRNA vaccines as a promising approach in the fight against SARS-CoV-2, the virus that causes Covid-19. Following unprecedented technology transfer as well as national programs such as Operation Warp Speed to support vaccine development, the US Food and Drug Administration (FDA) began to authorize some vaccine candidates for emergency use, which led to an increase in production capacities.

Since then, the newly developed vaccines have brought a highly desired easing of the stress on healthcare systems worldwide, thanks to a range of (not only mRNA-based) products available from various manufacturers. With initiatives such as COVAX in place to support global vaccine distribution, stakeholders will need to further optimize the supply chain for mRNA vaccines. Single Use Support is ready to assist stakeholders in facing these challenges.