May 14, 2019
Now available: Freeze-thaw platform for rent
Are you working with single use bags and looking for a flexible freeze/thaw solution that works with any single use bag brand? Or do you want to switch from bottles to single use bags but do not know yet what technology to use?
Why not test our RoSS.pFTU lab scale lab freezer rental– the perfect freeze and thaw technology for single use bags that is completely standalone, meaning it is compatible with any established bag brand. You can rent our freeze-thaw platform for up to three months. You will be reimbursed for the rent paid if you choose to purchase the platform.
Why freeze and thaw with RoSS?
RoSS.pFTU "lab scale" is the solution if you are looking for a monitored and scalable freezing process. The plate-based freeze and thaw unit is ideal for preclinical studies, small batches of liquid as well as CGT and BDS tests. Furthermore, our freeze-thaw unit is compatible with single use bags from any manufacturer, which guarantees maximum flexibility.
Our freeze thaw platforms not only offer maximum scalability, they also cater to any safety needs. Efficient freezing in a short amount of time makes the freeze-thaw process even more safe and secure. The risk of contamination and with it the "loss of drug substance" are being reduced to almost zero.
All of Single Use Support's freeze-thaw platforms at a glance
Apart from RoSS.pFTU lab scale we have also developed freeze/thaw platforms for larger quantities of liquid.
RoSS.pFTU small scale is next in size. This compact freeze and thaw unit has been specifically developed for small batches and studies.
RoSS.pFTU large scale is our "standard" freeze-thaw platform and an optimally scalable solution for medium-sized and large batches. Just like our lab-scale freeze-thaw platform, RoSS.pFTU is compatible with single use bags of all sizes and manufacturers.
RoSS.pFTU blockbuster scale is our biggest freeze and thaw unit for "bulk drug substance" with a volume of up to 300 L per unit. This freeze-thaw platform for extra-large batches will soon replace the Cryovessel as a single use option.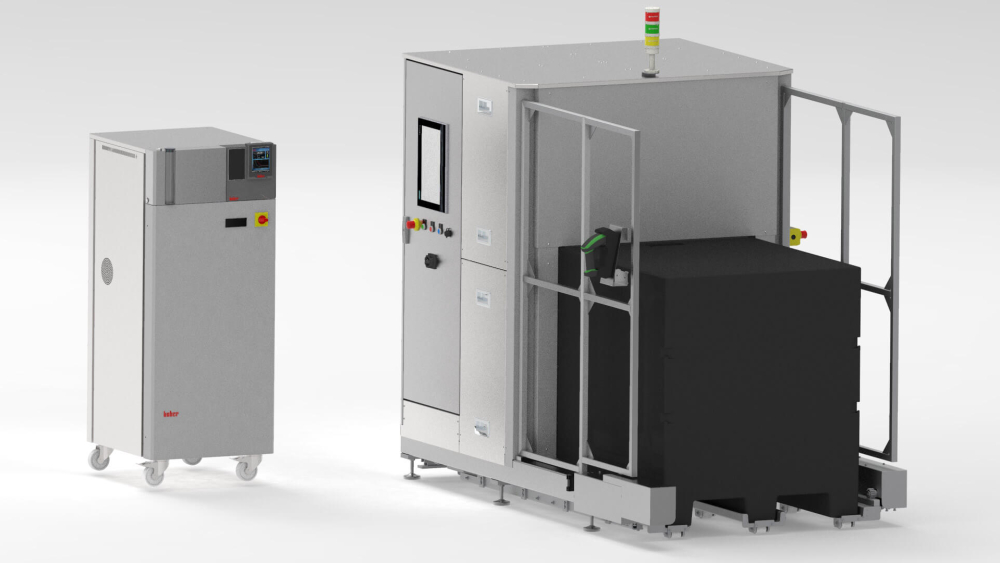 What are the advantages of Single Use Support's freeze-thaw platforms?
On the one hand, our freeze-thaw platforms offer 100 % scalability, while on the other hand Single Use Support's technologies guarantee a reliable freeze and thaw process, including single use filtration system.
Their compatibility with single use bags of different sizes and manufacturers turns our freeze-thaw platforms into the most flexible and versatile solution available for the Biopharma industry: You now only require one single-use technology for all clinical phases.
Our RoSS freeze/thaw units allow for the quickest possible freezing and thawing of drug substances. The platforms not only facilitate quick but also constant freezing and thawing of high-quality liquids with the advantage of maintaining the liquid's quality and consistency throughout the process.
Advantages of our freeze/thaw platform at a glance:
• Compatible with single use bags of any established manufacturer
• Maximum scalability (from lab to blockbuster production)
• One system for all clinical phases
• Quick and constant freezing assures a high level of patient safety
Find out for yourself and test RoSS.pFTU lab scale. Just rent it for three months – you have nothing to lose. You will be reimbursed for the rent paid if you decide to purchase. And in case our freeze-thaw platform did not convince you, you can just return it after the three-month trial.