August 3, 2021
Bulk drug substance management
With the rising need for novel therapies - and, based on the changes in the disease landscape as most currently highlighted by COVID - the global biopharmaceutical industry is evolving, and market needs are shifting. We are seeing an increasing number of drug products and APIs produced by an equally growing number of pharma and biopharma companies, as well as third-party CMOs.
The following article aims to take a closer look at the term "bulk drug substance" and its meaning, as well as to investigate smart solutions to shorten the phase between development and blockbuster production. It furthermore aims to give a concise definition alongside an extended view on the daily challenges facing the biopharmaceutical industry.
Bulk drug substance - the definition (FDA)
Bulk drug substance describes substances in various suitable forms used as an active ingredient in the compounding, manufacturing, processing, or packaging of a drug. Suitable forms can be liquid solutions as well as fine powder or crystals. The scientific definition of the term "bulk drug substance" does not include intermediates used in the synthesis of a medical drug.
According to the FDA, bulk drug substances or APIs (active pharmaceutical ingredients) - as they are also known - are used in the production of compounded medical drugs. As such, they must meet certain statutory requirements.
Compounded drugs can serve an important role for patients for whom an FDA-approved drug product is not appropriate, such as patients who, for example, have an allergy and need a medication to be made without a certain dye.
In order to be approved, any bulk drug substance must be manufactured by an establishment that is registered under section 510 of the FD&C Act, and additionally it must be accompanied by a valid certificate of analysis.
Micro to macro - from lab to commercial scale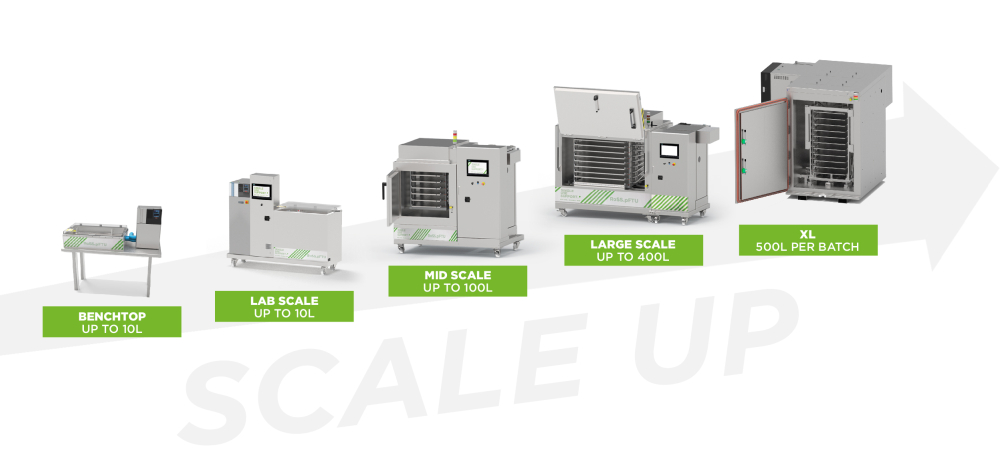 Once a newly developed product has been approved for the market, manufacturers are faced with having to scale up, so they can move from preclinical to commercial scale manufacture. This is a complex process that needs to be well managed, as it is not without its challenges. Furthermore, no two production sites are the same and the chemistry processes differ from manufacturer to manufacturer.
The obstacles and challenges are manifold, and they apply to scientific as well as to technical aspects, while legal regulations and standards have to be adhered to and complied with. Additionally, moving from micro to macro might lead to the FDA having to newly approve the entire process.
And if this was not complicated enough, the different departments involved in research, development and production may be spread out across various sites. Even if they all operate within the same organization, they may be geographically removed from each other.
These are all factors that influence the outcome of any project, and so they should be considered early on, with
clear steps determined for the scale-up process and
clearly assigned responsibilities for all individuals involved
While during research, medicinal chemists are focused on whether a certain idea is feasible, once they move ahead, they are more concerned with the scale-up of procedures and logistics. Good Manufacturing Practice (GMP) is key, and strict regulations mandate extensive documentation to safeguard both quality and traceability.
Single use technology - the modern, agile choice

While the challenges of scaling up the production process for bulk drug substances are obvious, all parties concerned are constantly working on improving existing technologies or coming up with new approaches to make life easier. One such development is the use of single-use components, which was first employed in lab environments.
Single use technology has become an accepted standard in small-scale environments such as the lab and when administering the drug to the patient. However, their modular design allows for great flexibility and as well as scalability, which is why is becoming increasingly common as an agile solution in all areas - all the way to large-scale commercial production.

The utilization of disposable equipment allows manufacturers to transfer the entire process - ranging from early-stage development to final product and logistics - relatively easily and without any major risks. The system, which involves both technology and equipment (including bags, connectors, tubings and manifolds) can be scaled up and adapted relatively easily thanks to the nature of the single-use components employed.
Bulk drug substance - filling, filtering and draining
The process of developing, manufacturing and storing or shipping bulk drug substance involves various filling, filtering and draining steps. Ideally, those steps can all be executed by a single plant, which again can be scaled up and adapted as needed.
Single Use Support's RoSS.FILL system is a fully automated single use bag filling and draining system that allows for maximum flexibility and scalability, both in terms of the filling and the draining process.
The platform can fill bags with volumes of up to 200 liters of drug substance in less than an hour. It can be modified by adding tubings or filters and the entire filling process is fully disposable, thus warranting an absolutely sterile fill & drain process.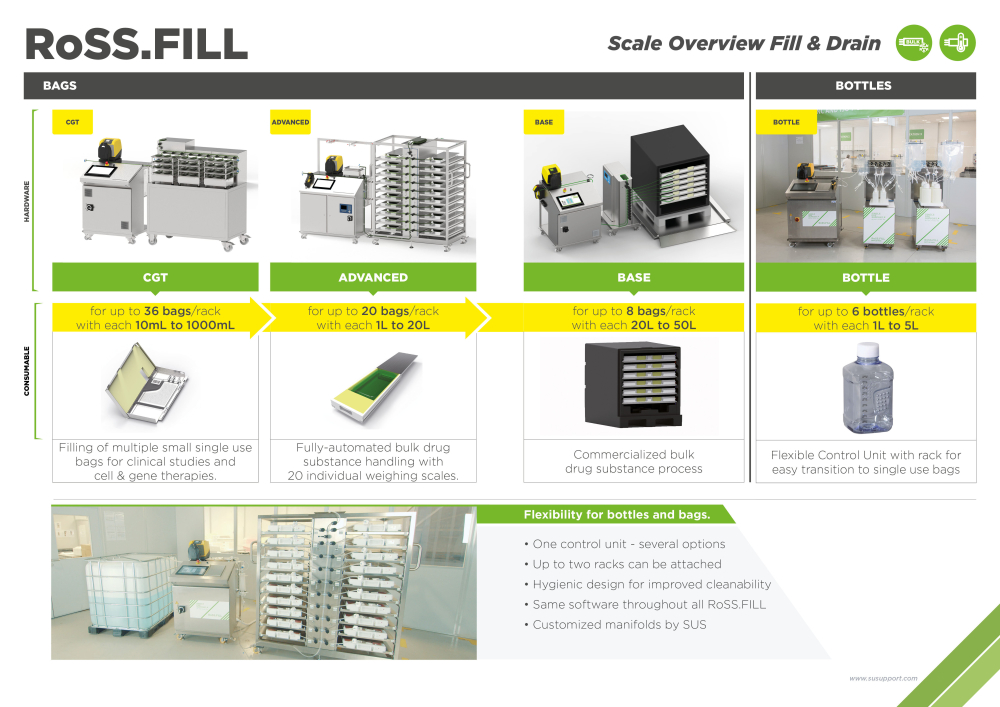 Freeze-thaw process in managing bulk drug substance
Based on the outcome - a more homogenous freezing result of high quality - fast freezing with plate freezers is now often favored over static freezers.
Single Use Support offers a modular freeze-thaw platform based on single-use plate-freezing technology that is characterized by its flexibility and scalability. Not only is it compatible with batch sizes and bags from all established manufacturers but it also offers a tamper-evident closed system with optimal freezing kinetics ensuring best results for mABs, BDS, CGT, ADCs, viral vectors or any other biopharmaceuticals.
Once the drug substance is frozen, it needs to be stored and shipped in a reliable manner. Irrespective of scale, bio-contamination needs to be prevented and the quality needs to be preserved all the way to thawing and administering. While safe and protected transport may be easy for small volumes, it also has to be guaranteed for large batches. One glitch, and an entire batch can go to waste, bringing with it immense financial losses and dire consequences for the patient.
The solution is to freeze small volumes and to bundle them into larger units, thus allowing for an agile approach and process. Single use bags are the ideal basis for such an approach, not only because they are available in various sizes and volumes, but also because they allow for a higher protein concentration.
blast freezer
"slow freezing"

plate freezer
"fast freezing"

Logistics - storing and shipping of growing volumes of APIs
So far, storing and shipping growing volumes of APIs (Active Pharmaceutical Ingredients) was a real problem. The biopharmaceutical industry was challenged with half-hearted storage and transport solutions as well as bags that were unprotected during the entire process, thus leading to possible contamination of their content
As biopharmaceutical companies are expanding their global manufacturing networks, these issues are set to become ever more pressing: With an increasing number of companies decoupling the production of drug substances from finished drug manufacturing operations, there is a growing need for an integrated approach to ensure safe and reliable logistics solutions for storage and shipping of frozen bulk drug substance.
This is where Intelligent comprehensive approaches such as Single Use Support's RoSS.FILL come in: In combination with the use of RoSS shells - protective containers for filled and frozen single use bags - Single Use Support's freeze-thaw platform offers a compact storage solution and a way to safely and reliably ship small or large volumes of frozen drug substance. The shippers are designed to facilitate easy and monitored storing and shipping, be it for lab purposes or for large-scale commercial production sites.
Trend: decentralized manufacturing means growing complexity
The biopharmaceutical industry has always been a fast-paced and challenging field but with an increased rate of new developments and growing decentralization, the already existing complexity is only bound to increase.
Teams spread out over geographically removed sites have to collaborate and work together, which has been made possible or easier thanks to a growing degree of digitization. Digitization can be seen as one of the reasons for ever-increasing levels of decentralization, as well as outsourcing to third-party CMOs.
These developments bring with them a growing need for standardized processes that are flexible and reliable in equal terms. They need to be compatible so as to ensure uniform processes across all sites and phases.
Thanks to its modular nature, single use technology is ideal when it comes to finding innovative solutions for the design of bioreactors and decentralized biopharma manufacturing processes. While in the past disposable production methods have generally been used for lower volume manufacturing and processing for clinical and commercial requirements, they are on the rise for large-scale production purposes and are set to become an established industry standard.
Conclusion
Where innovation and technology are working hand in hand, they can come up with revolutionary solutions that in turn allow to improve the time to market. However, this is only possible with a comprehensive and sustainable approach and by considering long-term prospects.
A newly developed medical drug is only as good as the entire process surrounding it. In other words, the initial work in the lab can be negligible if the required basic conditions have not been thought through and set up well in advance. Single use technologies offer ideal premises for the development and production of bulk drug substance: They are modular, thus allowing for the highest possible degree of agility. Flexible and scalable solutions are the future, and single-use is the way forward.