December 20, 2021
Advanced therapy medicinal products - a new era of medicine
Advanced therapy medicinal products (ATMPs) are medicines for human use that are based on genes, tissues or cells. Accordingly, they can be classified into three main types, namely
tissue engineered- and
somatic-cell therapy medicines.
According to Pink Sheet, which provides global policy and regulatory coverage, there are currently 14 approved types of cell and gene therapy available globally.​ However, there are a number of challenges that still need to be met in order to ensure unrestricted patient access to ATMPs in Europe, the US and beyond.1
ATMPs: An overview of regulated products
The term ATMP is an European Union specific classification. It ensures that products of this category are regulated as medicines according to the EMA's (european medicines agency) Advanced Therapy Medicinal Products (ATMPs) regulatory framework (EC/1394/2007). All ATMPs are autologous. They are produced through biological processes, with the biologically sourced active pharmaceutical ingredient either being a recombinant nucleic acid or cells. There are three subdivisions of ATMPs, which we will investigate more closely in the following paragraphs.
Gene therapy medicines
As a subcategory of cell and gene therapies, gene therapy products contain genes that lead to a therapeutic, prophylactic or diagnostic effect. They are used to treating cancer and different genetic disorders. Gene therapy products work on the concept of inserting recombinant or genetically modified genes into the body and are produced within a complex manufacturing process.
Somatic-cell therapy medicines
Somatic cell therapy medicinal products contain cells or human tissues that have been manipulated in the lab to change their biological characteristics. They can be used to cure, diagnose or prevent diseases such as cancer. One such therapy is the CAR T-cell therapy, an ex vivo cell therapy. It has proven to be a promising clinical development in the treatment of patients suffering from certain types of lymphoma and leukemia.
Tissue-engineered medicines
As a subcategory of ATMPs, tissue-engineered medicines contain tissue or cells that have been modified with the aim to repair, regenerate or replace human tissue. By enabling tissue regeneration where natural regeneration is impossible, tissue engineering in ATMPs are a promising approach in cases of organ failure or major tissue damage.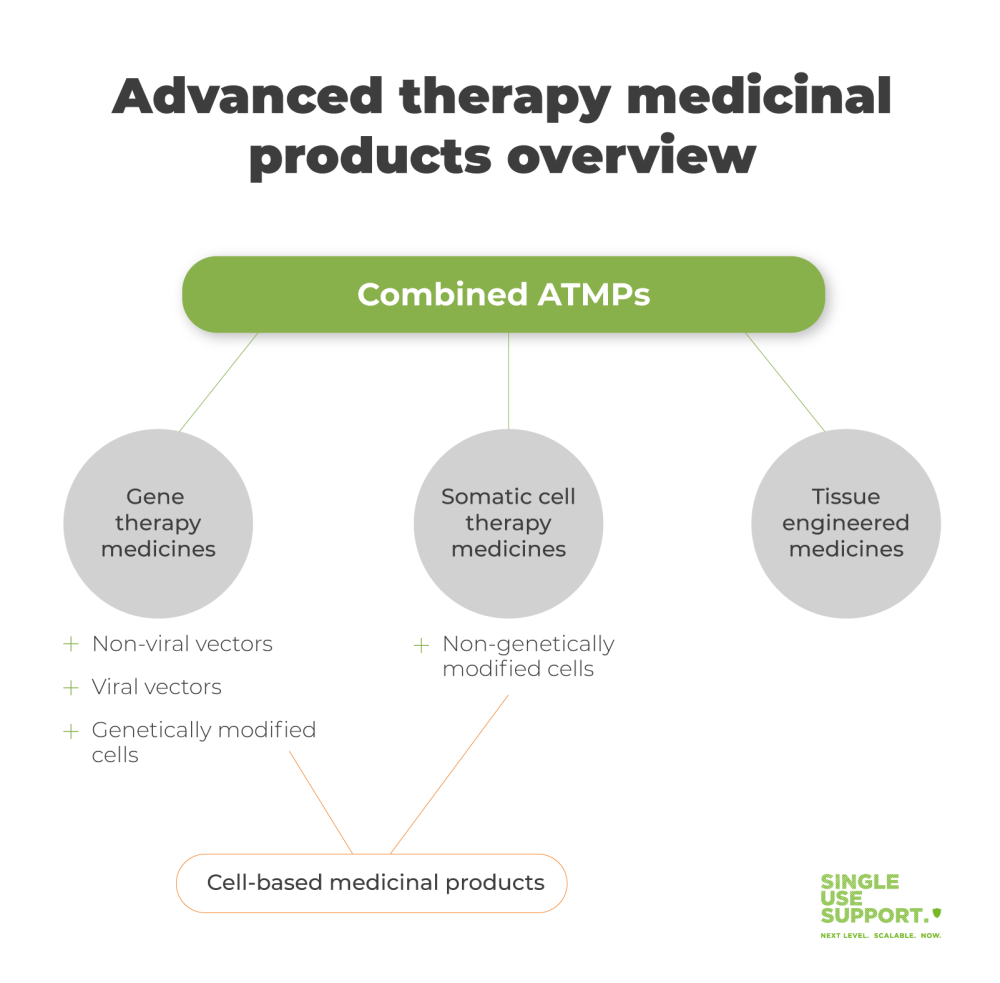 Availability & Costs of ATMPs
As of early 2021, there are 20 cell and gene therapies approved by the FDA available in the US, with a large number of ATMPs being investigated in preclinical and clinical trials.
The number of available advanced therapy medicinal products is constantly increasing. However, they are still an exclusive commodity, with patient access being limited. And so, while these innovative medicines may promise a cure for the previously incurable, they still have to overcome a number of hurdles before becoming widely available.
One of the major challenges is related to manufacturing: So far, only a precious few manufacturers of EMA- and FDA-approved ATMPs have managed to successfully transition from small-scale clinical development to a sustainable commercial development of ATMPs. This can, not least, be attributed to the requirements of autologous therapies, which differ greatly from traditional public health products.
Challenges in ATMP manufacturing
Cell and gene therapies as well as tissue-engineered products usually require small volumes of autologous matter. Along with the need for substantial manipulation, the inability to scale is driving costs in the field of regenerative medicine. This is why manufacturers are looking to adopt flexible systems and solutions that are capable of adapting quickly, both to changing demands and new technologies.
Apart from flexibility, safety and speed are key when it comes to of cell and gene therapy medicinal products or tissue-engineered products.
Safety: Regenerative medicine requires an environment designed to manipulate human cells and genetic material. The consequences of cross-contamination are dire, which is why every last aspect has to be designed according to a robust risk management strategy in compliance with all the applicable standards and regulatory considerations.
Speed: With patients' lives depending on speedy development and delivery of stem cell- or other autologous therapies, fast delivery is of the essence. It can only be achieved by ensuring that a functioning and reliable supply chain is in place. Without it, the healthcare system will fail to address even basic medical needs.
By implementing solutions based on single-use technology, all three of these pain points - flexibility, safety, and speed - can be addressed. In addition, single-use systems can be integrated in existing platforms, while offering the added benefits of being scalable. This makes them an ideal solution for any lab developing ATMPs and other innovative medicines as well as manufacturers in the field of regenerative medicine.
Good news: There are already solutions for ATMPs supply chains
The aim to find solutions that address bottlenecks in pharmacology is a driving force at Single Use Support. The company is replacing established systems with single-use technologies that are compliant with any regulatory considerations (EMA and FDA), thus
providing innovative end-to-end solutions for small and large batch sizes and
ensuring safe and fast drug substance logistics.
Being composed of single-use components, such comprehensive supply chain solutions can be adapted to a wide range of needs and requirements. They offer the option of being scaled either up or down at any stage. This is an important feature when it comes to cell and gene therapies, as well as other individual therapies that generally only require a small volume of autologous matter.
Other benefits include, but are not limited to, reduced lead times, optimized warehousing costs, and - most importantly - a significantly higher degree of flexibility and agility throughout the entire development and manufacturing processes including logistics.
Conclusion: The further development of Advanced therapy medicinal products
With their range of cell and gene therapies, ATMPs offer groundbreaking new opportunities for the treatment of various diseases and injuries. They provide innovative medicines that are addressing an unmet need in the aim to cure rare diseases.
This being said, so far the costs for treatment with any ATMP prove to be a challenge when it comes to patient access, as they are likely to exceed the theoretical acquisition cost. Single Use Support provides valuable solutions for CGT processes.