July 1, 2019
6 Advantages of Single Use Technologies in Comparison with Traditional Bioreactor Systems
In recent years, single use systems have become a more and more established standard in the biopharma industry, which comes as no surprise. After all, they offer a range of advantages like flexibility, lower costs and reduced energy consumption.
At Single Use Support, we are focusing on the development of single use systems and the entire logistics process for medical liquids in single use bags. Our single use technology comprises advanced systems for the entire process all the way from downstream to fill & finish, and is compatible with single-use bioprocess containers of various sizes and from any established manufacturer.
It includes a fully automated integrity test for single use bags, maximally compact and reliable trays, a flexible and fast fill-and-drain solution, plate-based freeze and thaw units for stability studies and small to large batch sizes, as well as highly robust, stackable and coolable containers for shipping and storage.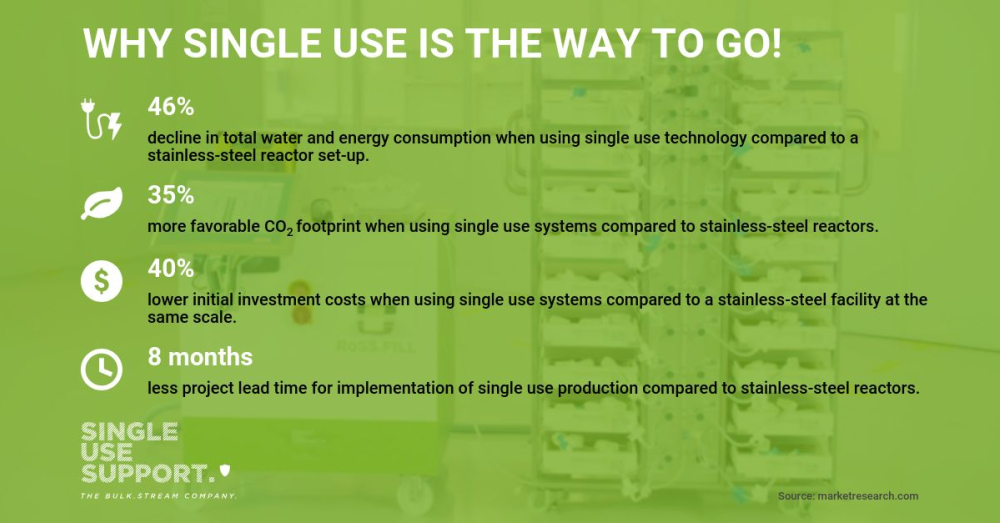 According to an article on marketresearch.com, the use of single use technologies offers the biopharma industry 6 significant advantages that will lead to a global expected annual growth rate (CAGR) of 17.8% between 2016 and 2021.
1. Low Production Costs
As opposed to bioreactor systems, single-use facilities are easier to maintain. Costs for complex production stages like cleaning (CIP) and sterilization (SIP) become void when using single use technologies, thus saving costs and resources.
Those direct savings in terms of material and labor costs are one of the main advantages of single use systems. Direct labor costs for installation as well as costs for water and chemicals can be minimized. Furthermore, the facilities do not require cleaning and sterilization, which in turn leads to a prolonged operating life and further reduction of total cost of ownership.
In addition, single use systems help reduce initial investment as well as R&D costs, which is a huge advantage given the ever increasing demand for biopharmaceuticals. The initial investment costs are approximately 40% lower than the price for a comparable stainless-steel facility.
2. Increase in Productivity
For biopharma companies, the use of single use technologies leads to an increase in productivity. Costs and the complexity of automatization are markedly reduced. Complex steps like cleaning and validation between the separate production stages can be omitted.
Traditionally, the production of biopharmaceuticals requires steel-based bioreactors. These need to be thoroughly cleaned and sterilized for the production of contamination-free bioproducts, thus increasing costs for the manufacturer.
3. Simple Disposal
As already mentioned, maintenance is the main differentiator between single use technologies and traditional biopharma facilities. As single-use systems are disposable they do not require any elaborate cleaning and disinfection, but can rather be disposed of immediately after their utilization.
4. Reduced Energy and Water Consumption
The transition from traditional devices to single use systems leads to an obvious decline in energy and water consumption. Biopharmaceutical production facilities using single use technologies could reduce their overall water and energy consumption by 46% when compared to stainless-steel reactors. Additionally, single-use facilities have a 35% lower CO2 footprint than stainless-steel reactors.
5. Time Saving
In general, single use systems are designed and dimensioned for disposable liquid pathways, which allows for quick and easy installation. This saves time and costs in terms of preparation, implementation, validation and documentation. The cessation of CIP- and SIP steps leads to an at least eight months shorter project duration for the implementation of single-use production facilities as opposed to stainless steel reactors.
6. Reduced Risk of Cross-Contamination
The prevention of cross-contamination is amongst the biggest challenges that the biopharma industry faces. The risk of contamination is particularly high if different antibodies and/or proteins are manufactured in the same facility.
Contamination leads to a loss of drug substance and requires additional cleaning steps. In the worst case, cross-contamination can lead to a potentially lethal treatment of patients. With the disposal of the liquid pathway after each batch, single use technology helps to overcome this challenge – like this, cross-contamination becomes practically impossible.