November 4, 2020
End-to-end solutions for optimized drug substance logistics
Optimized drug substance logistics through end-to-end solutions in pharmaceutical production – Anyone working in biopharmaceutics will be aware the risk of contamination due to human error has not been eradicated yet. Several studies confirm that more than 50 % of CMOs and biopharma manufacturers keep filling their products manually, offering a lot of space and potential for human error. Entire batches of highly sensitive substances can still be rendered useless by a tiny negligence or glitch – and it is needless to say that the resulting damages are far-fetching.
Apart from technical issues such as the way of filling, there are other aspects that impact an enterprise's success. Timely and financial investments often exceed common perceptions, making it hard for companies to break into or survive in the highly competitive biopharmaceutical market: The costs and efforts – both financially and technically – are simply too high. Effective and simple solutions are needed to counter these obstacles, irrespective of whether we are talking about global players, young startups or independent labs. After all, all of these facilities are handling more or less valuable and sensitive drug substances; any solution/system or platform to ease the process can be a critical success factor.
Elaborate end-to-end solutions a decisive factor of success
End-to-end solutions are comprehensive systems that cover entire processes and procedures in various areas and industries from beginning to end – mechanically, of course. In the case of biopharmaceutics they facilitate safe and reliable transport of highly valuable and sensitive drug substances from A to B. They also allow for stringing together several process steps without subjecting the substances to any form of contamination risk. In other words, advanced end-to-end solutions allow manufacturers to fill and freeze their product on site before shipping it to its final destination – and all this by employing a single platform.
Single Use Support's end-to-end solutions are scalable both in size and use, which gives the customer full control over optimization processes and areas of application.
There are three process steps in the industrial biopharmaceutical production chain:
Upstream
Downstream
Fill & Finish
There is a severe technology gap in the interface between downstream and fill & finish. These two areas are geographically detached, so the reliable, high-level handling of bulk drug substances is a prerequisite. With their BULK.STREAM, Single Use Support are offering an elaborate end-to-end platform on the basis of a closed system that covers everything from filling and filtration to the freeze-thaw process and shipping. This solution allows customers to reduce human error to a minimum thanks to its controllable automatic design and with the substances being protected by single use bags throughout their journey.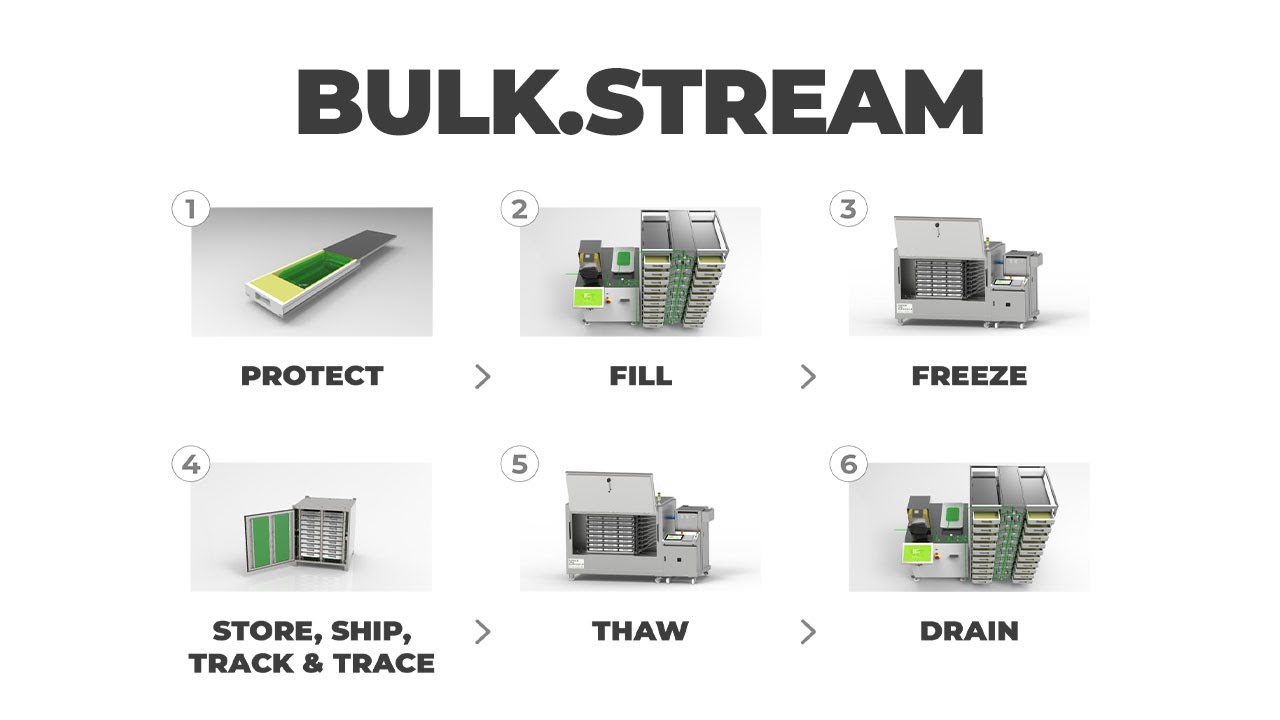 The benefits of utilizing end-to-end solutions
End-to-end solutions are set to gain ever more importance and traction in the highly competitive race to develop new or produce tried-and-tested compounds and bring them to the market respectively the patient. It is time to let go of the silo mentality that is still predominant in so many areas and industries. It is time to increase rationalization processes and to eliminate the risk of product loss. The industry requires comprehensive, intelligent and cutting-edge systems to cover the entire cycle all the way from filling to the final production steps. This includes primary packaging to protect the product throughout its journey and to minimize the risk of contamination.
This is where Single Use Support's BULK.STREAM comes into play. The system serves and handles all areas, be it filling, freezing, shipping, thawing or discharge and dispensation into vials and syringes.
It is a comprehensive and elaborate approach that at the same time offers a controllable means of transport, thus ruling out any risk of incompatibility and potential product loss or other damages caused by human error.